1 min ago
GOAL! Argentina makes it 2-0 against Mexico
Enzo Fernández just scored another goal for Argentina, likely securing the team's victory in the 87th minute against Mexico.
19 min ago
GOAL! Argentina takes the lead against Mexico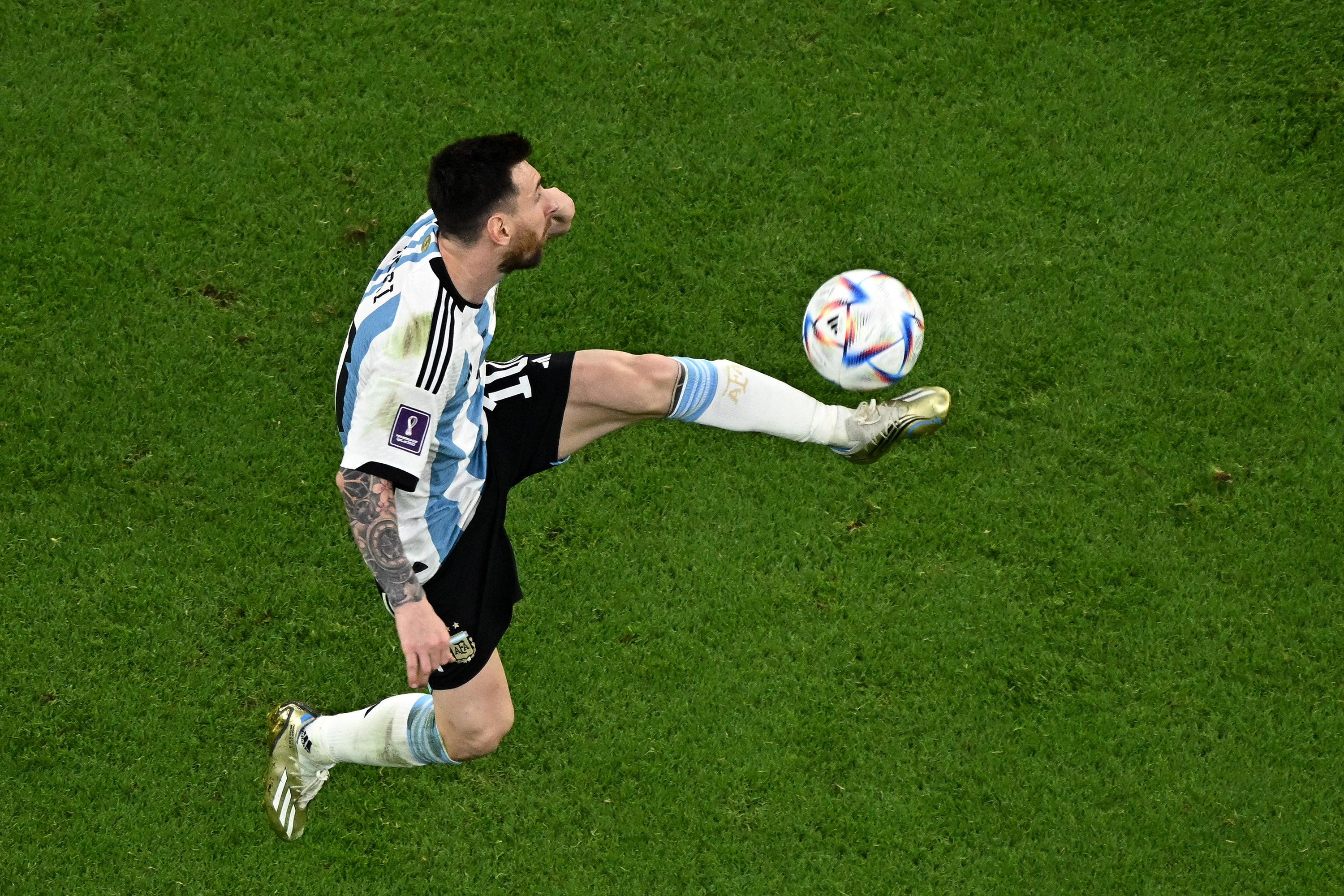 Argentina's #10 Lionel Messi kicks the ball during the Qatar 2022 World Cup Group C football match between Argentina and Mexico on Saturday. (Manan Vatsyayana/AFP/Getty Images)
Lionel Messi just delivered a resounding goal for Argentina in the 64th minute, making the score 1-0 against Mexico in the second half.
The 35-year-old captain, widely considered one of the best players in the world, faced immense pressure entering this match with his country at the bottom of the Group C standings.
45 min ago
The Argentina vs Mexico game is back from halftime
Both teams are looking to score in the second half. Let's see what happens!
48 min ago
A loss would doom Argentina's World Cup hopes. Here's what's on the line for both teams
Argentina can't afford a loss in this match after they fell to Saudi Arabia earlier this week, shocking the soccer world.
While a defeat would surely eliminate Lionel Messi's squad from the tournament, Argentina would have an outside chance at moving on in the case of a tie.
A victory would obviously boost their chances further, but not guarantee them a trip to the knockout stage.
Poland is next up for Argentina on Nov. 30.
Mexico will not have its fate sealed in this game either way.
Win, loss or draw, the Mexican team's future in the tournament will be determined on Nov. 30 against Saudi Arabia.
Remember: During the group stage, World Cup teams are rewarded three points for a win, one point for a draw and zero points for a loss.
Ties in the standings are broken by goal difference, meaning the total number of goals a team scored minus the number of goals it conceded.
Heading into this match, Poland leads Group C with four points, followed by Saudi Arabia with three points, Mexico with one point and Argentina with zero.
Check out FIFA's full guide to qualification and elimination scenarios here.
46 min ago
FIFA to investigate "hateful" flag displayed in Serbian locker room before World Cup match
From CNN's Homero DeLaFuente
FIFA has launched an investigation against the Football Association of Serbia, after a photo surfaced of a flag inside the team's locker room depicting the Serbian flag imposed over an outline of the independent country of Kosovo.
The photo of the flag, reportedly from before Serbia's World Cup match against Brazil on Thursday, shows the outline of Kosovo, which has been an independent state since 2008, filled in with the flag of Serbia and with the words "No Surrender" superimposed on it.
Kosovo's Minister of Culture, Youth and Sport Hajrulla Çeku called the image "disgraceful" in a tweet, saying it displayed "hateful, xenophobic and genocidal messages towards Kosova" while also exploiting the World Cup platform.
The world football governing body said the proceedings were opened on the basis of Article 11 of the FIFA Disciplinary Code and Article 4 of the Regulations for the FIFA World Cup 2022, which covers infractions of "offensive gestures, signs or language" and "using a sports event for demonstrations of a non-sporting nature."
Çeku and Kosovo's soccer federation (FFK) filed a formal complaint to FIFA for the "aggressive action of the national team of Serbia."
"FFK strongly condemns the aggressive action against the Republic of Kosovo shown by Serbia in the 'Qatar 2022,'" FFK said in a statement on Friday. "The World Cup is an event of joy and unity and should send messages of hope and peace, not messages of hatred. We call FIFA to take action against such actions."
The Football Association of Serbia did not immediately respond to CNN's request for comment.
More background: Kosovo has been recognized as an independent state by more than 100 countries but not by Serbia or Russia. Kosovo declared independence in 2008, backed by the United States, Britain and most EU member states, but its membership of the United Nations is blocked by Russia, Serbia's traditional ally.
Serbia, which lost 2-0 to Brazil on Thursday, is next scheduled to play on Monday against Group G opponent Cameroon.
1 hr ago
It's halftime for Argentina vs Mexico
It's tied at 0-0 in the match between Argentina and Mexico as we go into halftime.
1 hr 31 min ago
Argentina vs Mexico match kicks off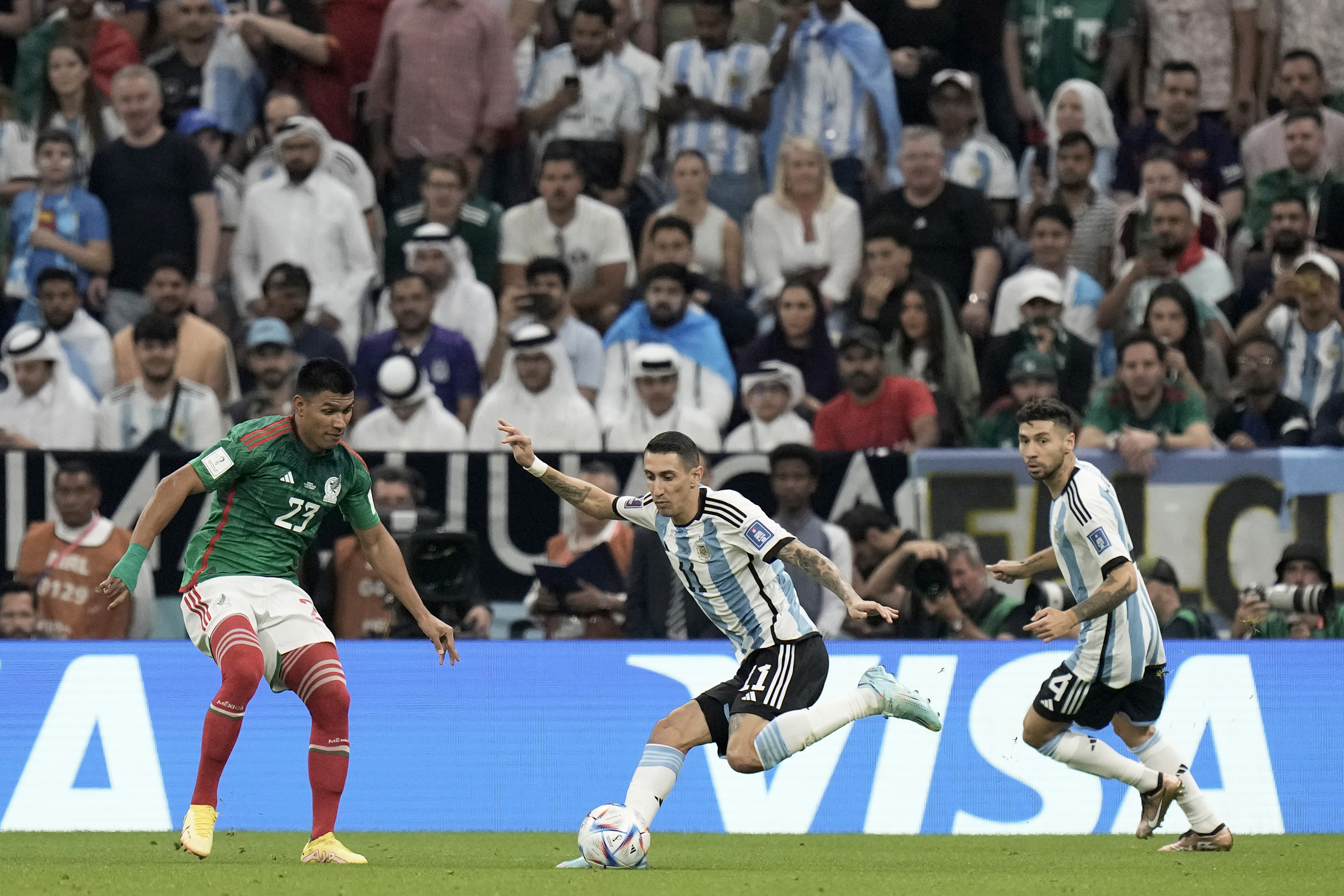 Argentina's Angel Di Maria, center, controls the ball next to Mexico's Jesus Gallardo, left, during the World Cup group C soccer match between Argentina and Mexico, at the Lusail Stadium in Lusail, Qatar, on Saturday. (Moises Castillo/AP)
The game between Argentina and Mexico has started at Lusail Stadium in Qatar.
Lionel Messi and his squad look for a vital win over Mexico after a stunning upset from Saudi Arabia earlier this week.
2 hr 8 min ago
Here are the Argentina and Mexico lineups ahead of today's Group C match
Argentina
Manager: Lionel Scaloni
Goalkeeper: Damián Martinez
Defenders: Marcos Acuña, Gonzalo Montiel, Nicolás Otamendi, Lisandro Martinez
Midfielders: Rodrigo de Paul, Guido Rodriguez, Ángel Di María, Alexis Mac Allister
Forwards: Lionel Messi, Lautaro Martinez
--------------------------
Mexico
Manager: Gerardo Martino
Goalkeeper: Guillermo Ochoa
Defenders: Néstor Araujo, Héctor Moreno, César Montes, Jesús Gallardo, Kevin Álvarez
Midfielders: Héctor Herrera, Andrés Guardado, Luis Chávez
Forwards: Alexis Vega, Hirving Lozano
For all the teams playing in the World Cup, click here.
2 hr 21 min ago
Did you know? The words "football" and "soccer" originated in the same place
By Allison Rosen, for CNN
Football — or soccer, depending on your preference — has been around for centuries, with its roots dating back over 2,000 years ago. But it was not until 1863 that England's Football Association (the FA) cemented the sport's full name of Association Football when they established the game's first rules.
Ebenezer Morley spearheaded the idea "that football should have a set of rules in the same way that the MCC (Marylebone Cricket Club) had them for cricket" … unifying the game under a consistent set of rules and regulations.
The addition of the word "association" was to prevent confusion with other popular forms of football played at that time, most notably rugby football.
According to Encyclopedia Britannica, "linguistically creative students at the University of Oxford in the 1880s distinguished between the sports of rugger (rugby football) and 'assoccer' (association football).
"The latter term was further shortened to "soccer" (sometimes spelled "socker"), and the name quickly spread beyond the campus."
By the time association football and its round ball made its way across the Atlantic, American Football was already the popular game claiming the name of football.
Unlike association football, American football is a game played mostly with one's hands and uses an oval ball.
Fast forward to 1974 and the United States Soccer Football Association (USSFA) – the sport's governing body in the US – distanced itself from the word football by changing its name to the United States Soccer Federation, commonly referred to as the USSF (US Soccer).
By the 1980s, the term soccer became less and less favored by the British as the word to describe the global sport and today is rarely used throughout the United Kingdom and also for much of the world.