NEWYou can now listen to Fox News articles!
Dan Bongino echoed on the left, too "embarrassing" to celebrate America's independence in "Unfiltered" on July 4th.
DAN BONGINO: When celebrating the birth of our country on the weekend of July 4, the left wing boycotts the holidayTalk about. Of course, they are ashamed of it, so that's right. They seem to want to point out all the grief and terrible things about America this weekend, especially after the Supreme Court's ruling. Remember, these are the same people who scream like madmen in the sky when a party is defeated, and the left-wing media is devastated ...
We really Do you expect something different? Even our own president — he has no problemsripping our country abroad.
Before July 4, America answers: Are you proud to be an American?
Isn't it really a sign of a great president? And did he really say he would overturn the Roe v. Wade case instead of an attack on privacy? It's hilarious. Since Biden took office, this administration has only destroyed your right to privacy.
…
Looking at this poll, only 39% of registered voters are proud of America today I'm saying that. I find it difficult to develop patriotism when always telling you how terrible a country is.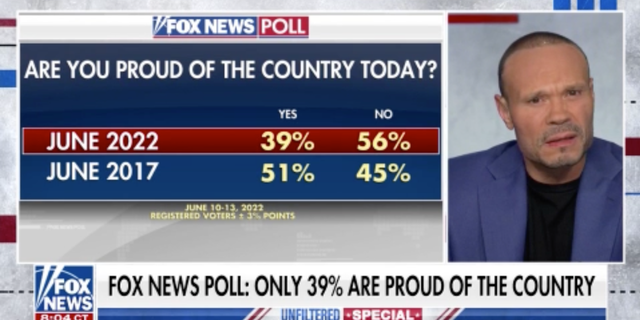 Data from Dumbongino Shows Fox News polls. (Screenshot / Fox News)
Download the Fox News app from here
See the monologue here:
This article was written by Fox News staff.