A series of large and devastating earthquakes have left parts of the Middle East in shambles. On Monday, Syria and Turkey were shaken by one of the deadliest natural disasters to hit the neighboring countries in recent years and one of the deadliest earthquake incidents to occur over the past decade.
As of Tuesday, more than 6,000 people are known to have died in southeast Turkey and northern Syria after a 7.8-magnitude earthquake struck the region the day before. That earthquake was only the start of the latest incident, with another 5.7-magnitude hitting on Tuesday and hundreds of aftershocks in between. Photos and videos from people on the ground show widespread rubble from collapsed buildings and countless people being rescued from crushing debris.
The death toll is only continuing to climb, making Syria and Turkey victims of one of the deadliest earthquake disasters in recent history. Here are the other deadly earthquakes to strike over the past decade.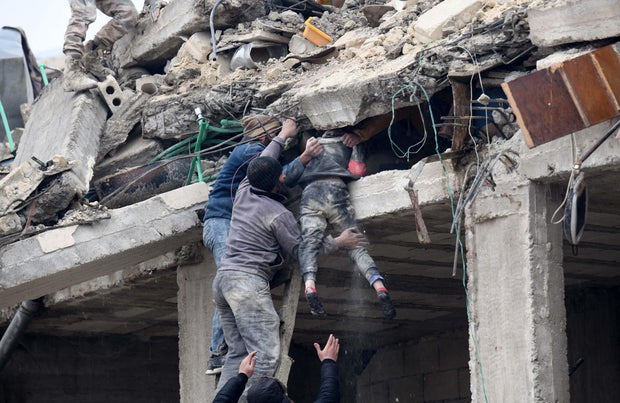 Residents retrieve an injured girl from the rubble of a collapsed building following an earthquake in the town of Jandaris, in the countryside of Syria's northwestern city of Afrin in the rebel-held part of Aleppo province, on February 6, 2023.
RAMI AL SAYED/AFP via Getty Images
Syria and Turkey – at least 6,000 people
Tens of thousands of people have been injured across Syria and Turkey since the 7.8 magnitude earthquake struck on Monday as thousands more bodies have been recovered. The countries hardest hit are known for having the "largest refugee population in the world," according to the U.N. refugee agency, as Turkey serves as a host to more than 3.5 million refugees who were seeking safety from Syria's civil war.
Ten Turkish provinces have been impacted by the temblors – and at least 1.7 million of the people residing there are Syrian refugees. In Syria, there are more than 6.8 million people internally displaced, as well as 60,000 Palestinian refugees.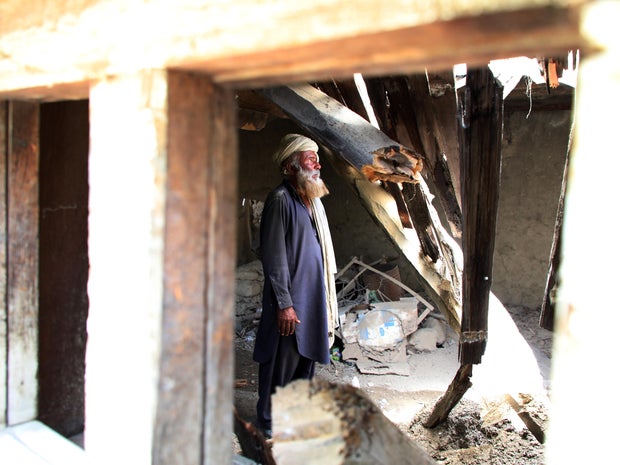 A man is seen in a collapsed building after an earthquake shook the border provinces of Paktika, Afghanistan on June 22, 2022.
Sayed Khodaiberdi Sadat/Anadolu Agency via Getty Images
Afghanistan – 1,100 people
On June 22, 2022, a 5.9-magnitude earthquake struck the Khost and Paktika provinces in eastern Afghanistan. After the disaster, Muhammad Amin Hafiza, the head of information and culture in the hard-hit Paktika province, told CBS News that "some families have completely vanished" in his province. It was the deadliest earthquake to hit the country in 20 years, and only worsened when, two days later, a 4.2-magnitude aftershock hit in almost the same exact spot and took at least five more lives.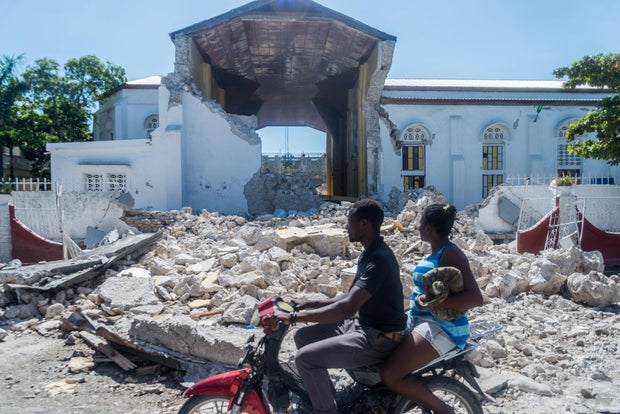 People drive past the remains of the "Sacré coeur des Cayes" church in Les Cayes on August 15, 2021, after an earthquake struck the southwest peninsula of the country.
REGINALD LOUISSAINT JR/AFP via Getty Images
Haiti – 2,200 people
A Saturday morning in Haiti quickly transitioned to turmoil on Aug. 14, 2021, when a 7.2-magnitude earthquake strong enough to be felt in neighboring countries hit the region. Initial reports showed that hundreds had been killed, but in a little over a week, it was realized that more than 2,200 people had been killed. Thousands more were injured and nearly 53,000 homes were destroyed.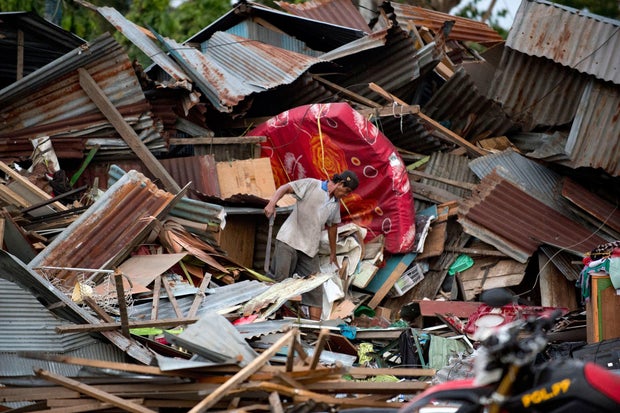 A man looks for his belongings amid the debris of his destroyed house in Palu in Central Sulawesi on September 29, 2018, after a strong earthquake and tsunami struck the area.
BAY ISMOYO/AFP via Getty Images
Indonesia – 4,300 people
The devastation in Indonesia in 2018 stemmed mostly from the triggering of a tsunami. On Sept. 28 that year, a 7.5-magnitude earthquake off the island of Sulawesi sparked a 10-foot-tall tsunami and several strong aftershocks, including one that had a magnitude of 6.7. It's estimated that at least 4,340 people were killed by the earthquake and its torrential aftermath, including at least 1,200 in the tsunami, according to NOAA's National Centers for Environmental Information.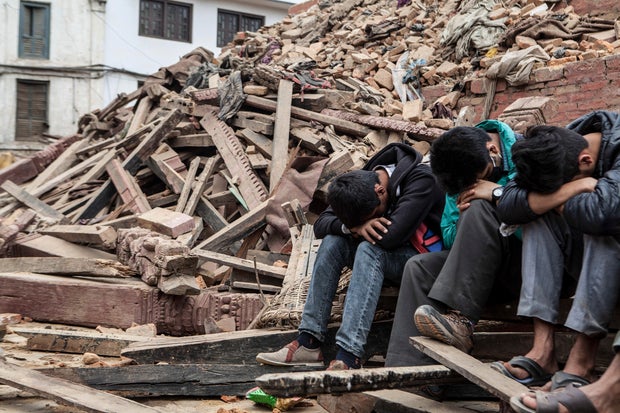 Boys resting in daylight the day after the earthquake, on rubble of what was the Maju Dega temple in Kathmandu, Nepal, April 26, 2015.
Credit: Kashish Shrestha/The Washington Post via Getty Images
Nepal – 8,800 people
The deadliest earthquake to happen in the past decade occurred on April 25, 2015 in Nepal. A 7.8-magnitude earthquake occurred that day, quickly becoming the worst one to hit the country in more than 80 years and strong enough to be felt in India, Bangladesh, Tibet and Pakistan and trigger an avalanche on Mount Everest. There were more than two dozen aftershocks, including a 7.3-magnitude one that happened nearly three weeks later.
More than 8,800 people were killed in the natural disaster, according to the United Nations.
In:

nepal

Haiti

Turkey

Death

Syria

Indonesia

Earthquake
Li Cohen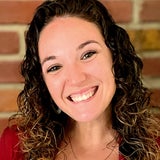 Li Cohen is a social media producer and trending content writer for CBS News.
Thanks for reading CBS NEWS.
Create your free account or log in
for more features.