The ticketing company Eventbrite notified Riley Gaines that she is prohibited from promoting her November 3 speech at the University of California, Davis on its website.
Eventbrite informed the institute in an email that the listing violates its terms of agreement.
"Hello,
We're reaching out regarding your event listing, Protecting Women's Sports with Riley Gaines," the email began.
RILEY GAINES UNIMPRESSED WITH NCAA PRESIDENT CHARLIE BAKER'S SENATE TESTIMONY
"We have determined that your event is not permitted on the Eventbrite marketplace as it violates our Community Guidelines and Terms of Service, with which all users agree to comply. Specifically, we do not allow content or events that – through on- or off-platform activity – discriminate against, harass, disparage, threaten, incite violence against, or otherwise target individuals or groups based on their actual or perceived race, ethnicity, religion, national origin, immigration status, gender identity, sexual orientation, veteran status, age, or disability. As a result, your event has been unpublished. Please be aware that severe or repeated violations of our guidelines may result in the suspension or termination of your Eventbrite account.
Please reply directly to this email if you have any further questions. We appreciate your understanding and thank you in advance for your cooperation.
Best,
Eventbrite Trust and Safety"
The leadership team at Eventbrite is steadfast that women should share their locker rooms with men who call themselves "women."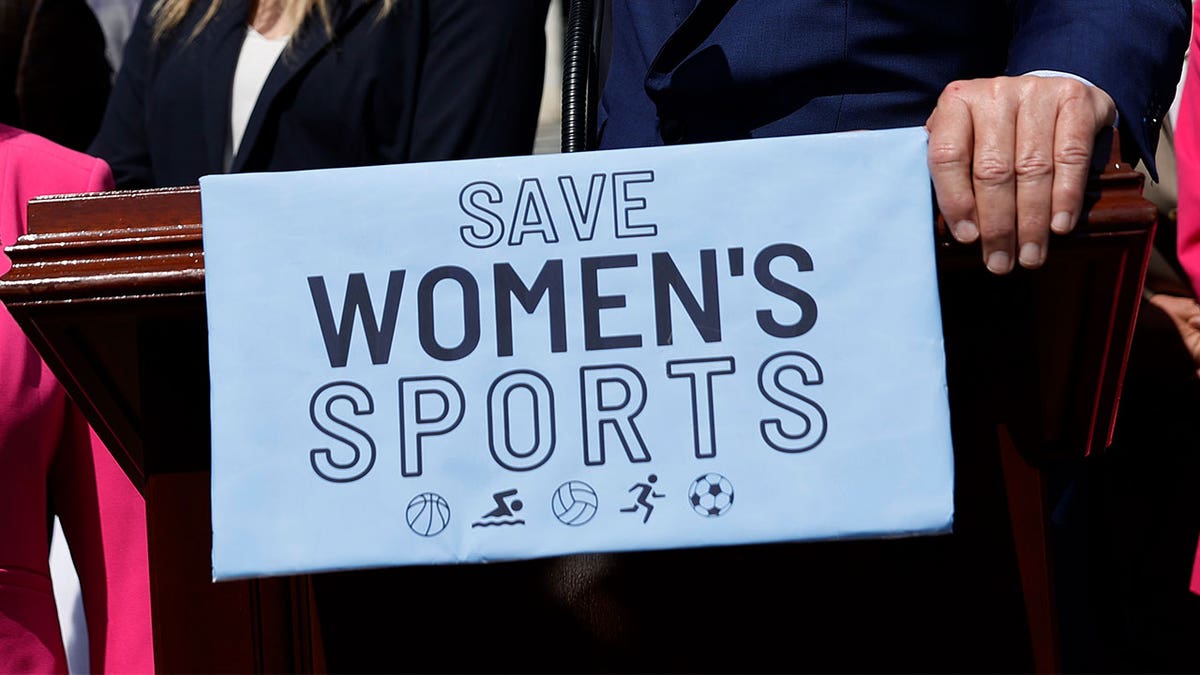 A sign supporting The Protection Of Women And Girls In Sports Act outside the U.S. Capitol on April 20, 2023 in Washington, DC. (Chip Somodevilla)
Thus, groups are not allowed to support a traditional view of female athletics or to protest the advent of transgenderism on the site.
The company made that clear in July when it removed the page for "Let Women Speak Austin," an event focused on protecting women's sex-specific spaces like bathrooms.
Eventbrite called that listing a violation of its "hateful content" policy.
But what is allowed, and apparently not hateful, at Eventbrite is the advertising of rallies that spread the messaging from the terrorist group Hamas.
FREED ISRAELI HOSTAGE SPEAKS OUT ABOUT TERRIFYING HAMAS CAPTURE, DESCRIBES 'SPIDERWEB' OF TUNNELS
Today, Eventbrite users can sign up to attend an event on Nov. 1 called "Stop the Genocide! Free Palestine!" at The Lesbian, Gay, Bisexual & Transgender Community Center in New York City.
A description for the event, uploaded to Eventbrite, carries the following telling of the events on Oct. 7:
"Early on Saturday, October 7th, Palestinian resistance fighters broke through Israel's siege of Gaza. In response, Israel has declared total war against the people of Gaza, completely cutting off access to food, water, and electricity, while bombing the Strip and killing entire families. This attack on Gaza takes place after 75 years of settler-colonial violence conducted by the Israeli state. This panel will explore the historical context that led to the current moment, the dynamics currently at play, and the possibilities for building international solidarity for Palestinian liberation.".
That is one way to describe how Hamas organized a coordinated offensive on southern Israel by massacring 260 civilians at a music festival, the largest one-day slaughter of Jews since the Holocaust:
Here is a look at the programmed radicals you can join using the Eventbrite website: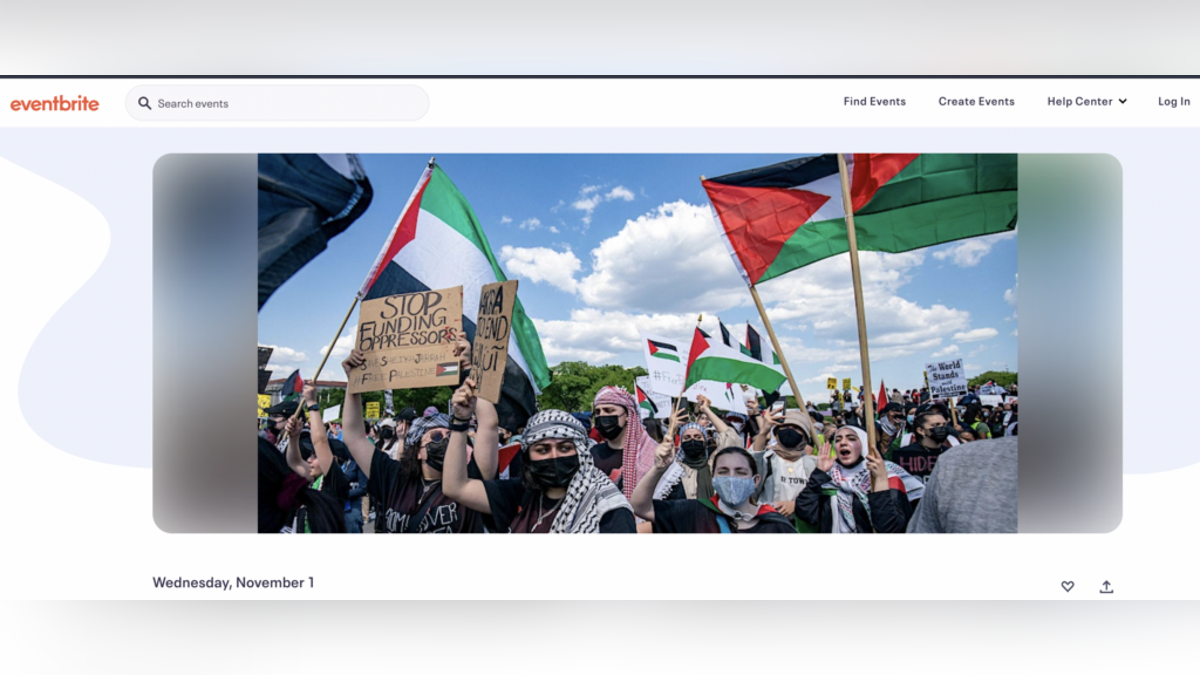 The site has also permitted the QMUL School of Law to advertise a similar rally called "Carnage in Palestine: Oppression, Complicity, and Ethical Responsibility" next month.
"Given Israel's siege and bombardment of Gaza the question of challenging western academic complicity with Israeli institutions that are directly complicit in the crimes of apartheid and genocide is more critical than ever. This talk addresses the importance Palestinians have attached to non-violent forms of solidarity in their struggle for freedom, justice and equality," reads the page.
You might wonder how Eventbrite could justify banning Riley Gaines' event but allow the promotion of terrorist sympathizers.
CLICK HERE FOR MORE SPORTS COVERAGE ON FOXNEWS.COM
We wondered the same. And if calling Hamas terrorists "resistance fighters" violates any of the policies the company says Gaines' event would.
OutKick reached out to a public relations executive at Eventbrite to find out. We also contacted Julia Hartz, the CEO of the company.
Unfortunately, we have yet to hear back from either party. If we do, we will be sure to update this article.
In the meantime, Gaines provided the following response to OutKick:
"By allowing pro-terrorist and anti-Semitic groups to keep their scheduled events on the Eventbrite platform, but canceling events discussing the importance of ensuring the safety, fairness, and equal opportunities for women, Eventbrite has sent a clear message to all. Eventbrite is the epitome of organizations taking a stand against women and our basic human rights. If being pro-woman in women's sports is deemed anti-trans, then being pro-trans in women's sports is inherently anti-woman. And that is the stand Eventbrite has taken. The event at UC DAVIS is still going to take place next month. My speech will not be stifled."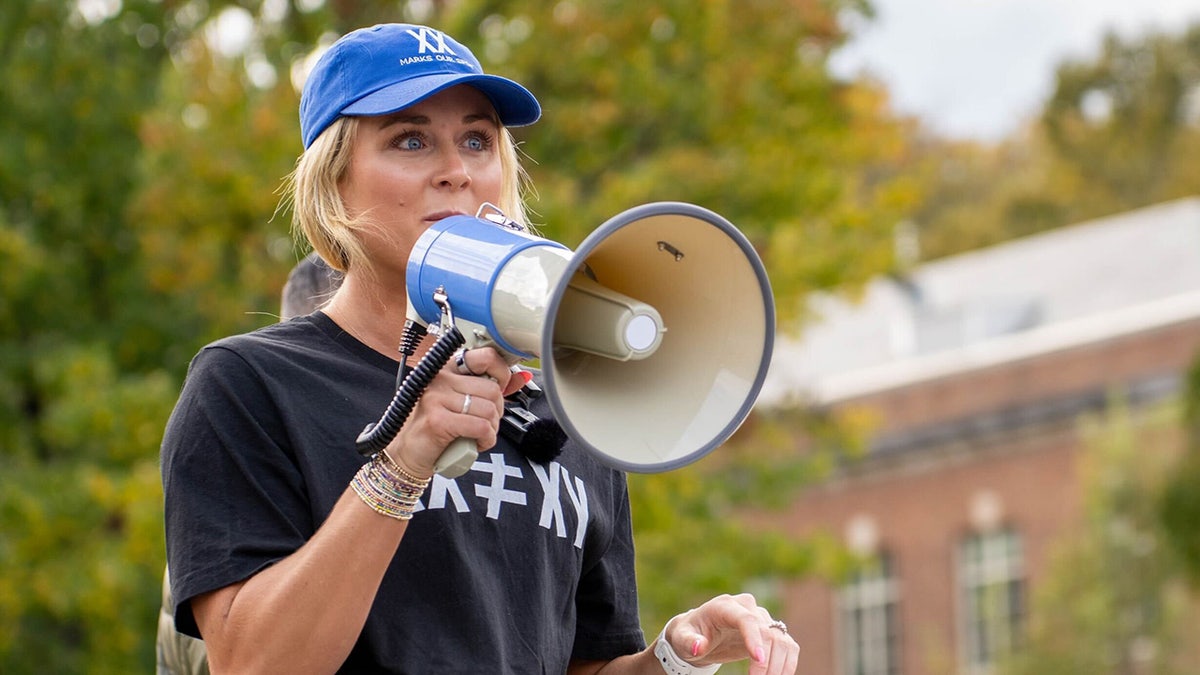 Riley Gaines gives a speech at Penn State. (Riley Gaines)
The difference is, of course, the anticipated response.
The transgender community is the most protected class in society. Trans people now sit firmly atop the Hierarchy of Victimhood.
Women sit somewhere above white men and Hispanics.
There is a profound level of sensitivity that surrounds the topic of transgenderism. That was made evident over the past 12 months.
CLICK HERE TO GET THE FOX NEWS APP
A Gallup poll in June found that 69% of Americans believe transgender athletes should only be allowed to play on sports teams that match their birth gender. Yet so few of them are willing to say so publicly.
Most groups and individuals would rather pretend to support the movement to avoid the consequences that so clearly come with questioning it.
Eventbrite is no different. It hopes to show through its policies that it stands with trans, women be damned.
Riley Gaines advocates for women's sports
The trans community has the support of those who control the message, and thus control the outrage: the media, politicians, lobbyists and entertainers.
This group of influencers unilaterally decided that trans inclusion would be on the right side of history, and female sports advocates like Riley Gaines would be on the wrong.
By comparison, the same influencers have not yet ruled on where it stands on antisemitism. In fact, early indications are they might side with Hamas.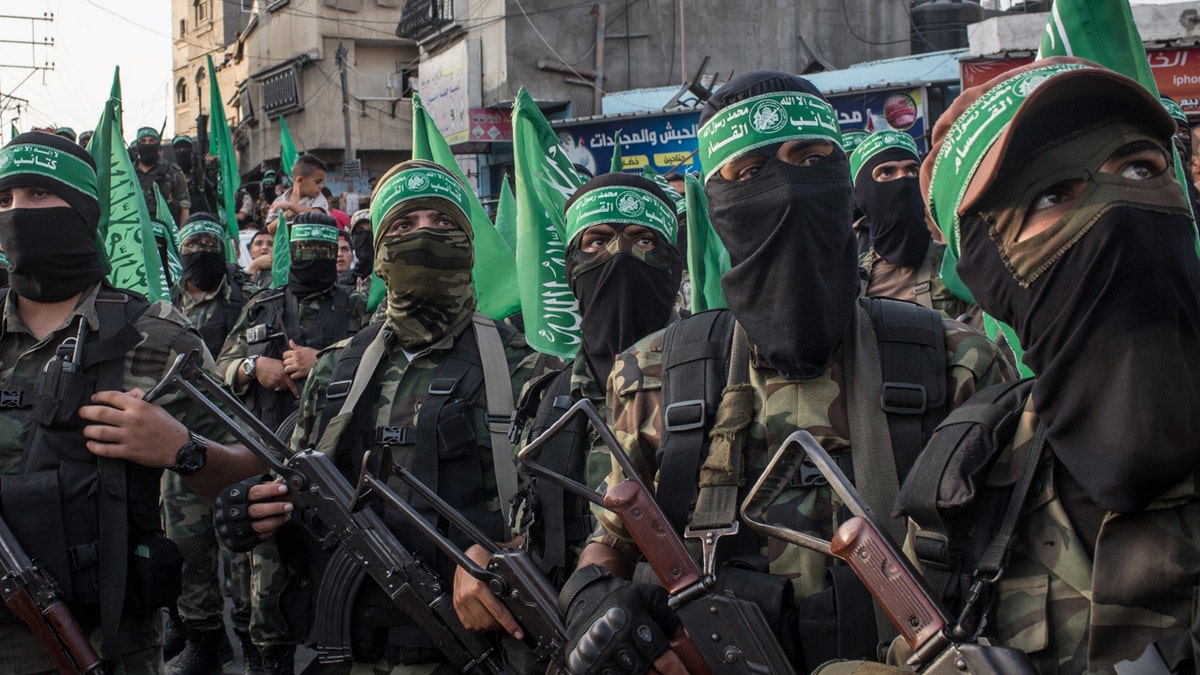 Palestinian Hamas terrorists are seen during a military show in the Bani Suheila district on July 20, 2017 in Gaza City, Gaza.(Photo by Chris McGrath/Getty Images) (Getty)
Already, Ivy League colleges, progressive politicians, and MSNBC have defended Hamas, primarily in the name of decolonization.
We can now add Eventbrite to that group.
There is, however, a silver lining in the brand's disparate treatment of Gaines and the terrorists. As we argued in a column last week, it's a positive that elite college campuses have come out in support of Hamas. By doing so, they have shown the country exactly who they are and where they stand.
It was an unmasking.
See, we don't want terrorist sympathizers silenced. We want them heard, to where they expose themselves.
Eventbrite has exposed itself. The ticketing company informed us they value the feelings of Islamic nationalists over the feelings of women.
Message heard.