4 min ago
Mayor in Newfoundland pleads with residents to stay off the streets as Fiona brings destruction
From CNN's Hannah Sarisohn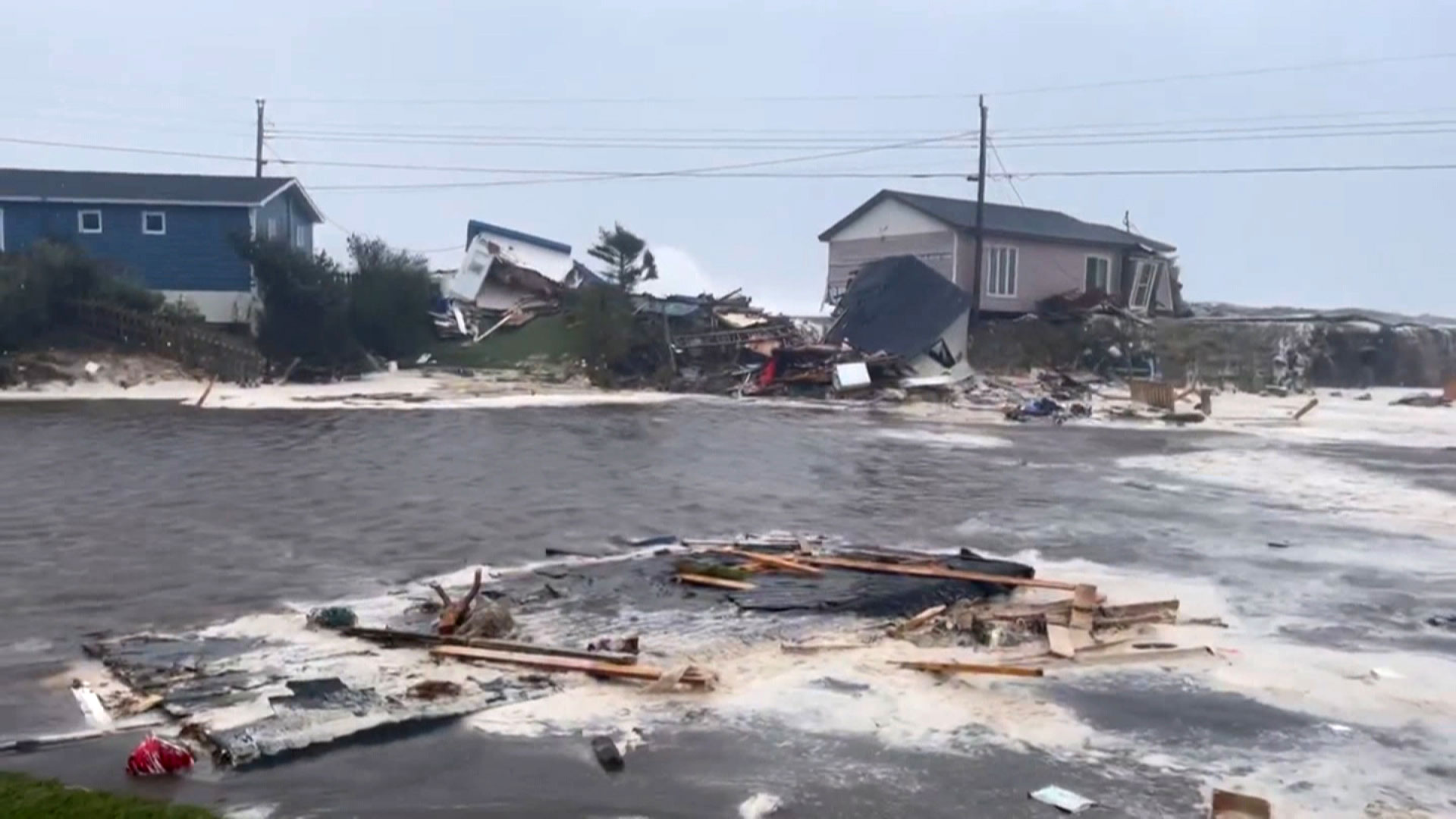 Damage and debris is seen in Burnt Islands, Newfoundland, on Saturday, September 24. (Pius Scott)
The mayor of a town in Newfoundland urged residents to take caution and follow emergency orders as Fiona made landfall on Canada's Atlantic coast this morning.
Port aux Basques Mayor Brian Button posted a video on his Facebook, pleading with residents to stay off the streets unless an evacuation order is issued. He said too many people are walking around town now and taking pictures.
Button said he "can't stress it enough" that people need to go inside and stay there throughout the duration of the storm, as there's already some destruction with downed telephone poles and trees.
"If you know someone that's in your family that's getting ready ... to go out to take a look around and go for a drive — there's nothing open. There's nothing open in the community. There's nowhere to go," Button said. "There's nothing to see right now. If you want to go out and have a look around, let's wait till this is over."
"We don't need more people out on the go at this time," Button continued. "That's all I can stress to people. That is becoming a major hindrance to us."
Button also implored residents under evacuation order to leave their homes.
"Anyone being told to leave their homes – you need to leave. No ifs, ands or buts," Button said. "My only message to you people right now is: If you don't leave now, we may not be able to get you out of there when we really need to. So, you need to go now. Houses can be replaced, but you can't be."
The coastal town is located in southwestern Newfoundland.
1 min ago
There is some "severe damage" from Fiona, Halifax mayor says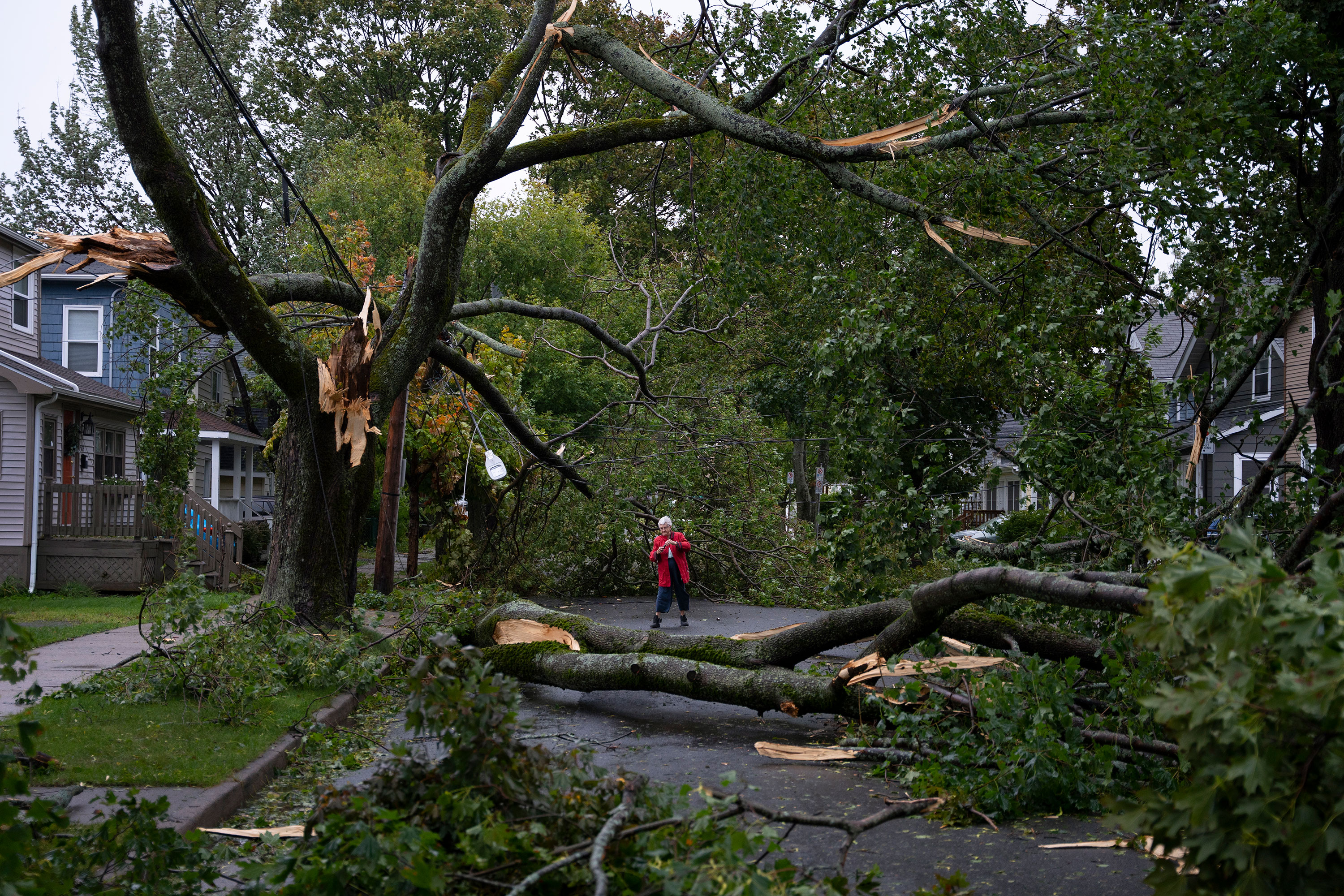 A resident surveys damage on her street in Halifax on September 24. (Darren Calabrese/The Canadian Press/AP)
Halifax Mayor Mike Savage updated CNN on the damage that his city, the capital of Nova Scotia, has sustained due to Fiona.
"It's been a wild night. ... We've had hurricanes here in Nova Scotia and in Maritime Canada before, but this one is pretty bad. A lot of uprooted trees, power outages all over the place, and our bridges and our connections to transit are all closed out," he told CNN's Boris Sanchez.
"Here in Halifax, we're starting to see the end of the active part of this and we can start to do more damage assessment," he said.
There's some "severe damage for sure," he continued, as officials just found out about an apartment that had a roof collapse and needed to have 100 people evacuated.
Savage also discussed the impact of climate change, noting that storms have become more extreme.
"With climate change, these (are) becoming more frequent, as are the volatility of winter storms, snow. So we're taking a lot of measures here in the city of Halifax to protect our city. We have a very good climate action plan; that's going to require investment and support. ... But absolutely, we're getting more of these and we have to be ready for them," he said.
50 min ago
"Like nothing we've ever seen": Here's what destruction looks like on Prince Edward Island
Police in Charlottetown, Prince Edward Island, urged residents to stay off the roads as Fiona downed power lines and trees.
"Conditions are like nothing we've ever seen," authorities said in a series of tweets.
The island is one of eastern Canada's maritime provinces, which are taking the brunt of the storm Saturday morning. The large island is located off New Brunswick and Nova Scotia in the Gulf of St. Lawrence.
1 hr 14 min ago
Shelter in place order issued as Fiona hits northeast end of Nova Scotia
From CNN's Hannah Sarisohn
Officials issued a local state of emergency this morning in Cape Breton Regional Municipality, Nova Scotia according to a statement on the municipality's Facebook.
Fiona slammed into Maritime Canada early Saturday morning with hurricane-force winds, heavy rain and large surf. Cape Breton was among the areas expected to take the brunt of the storm.
The municipality is asking residents to shelter in place as there's widespread power outages, road closures and structural damage across the region, according to the statement.
The municipality is located in the northeast end of Nova Scotia where Fiona is now passing through, according to tweets from the Nova Scotia Emergency Management Office.
"Across the province, we're hearing reports of damaged trees and power lines as the storm continues to pass through," NSEMO said. Crews are currently assessing damage, according to NSEMO.
1 hr 30 min ago
Over 400,000 customers in Nova Scotia without power after Fiona makes landfall
From CNN's Rebekah Riess
As Fiona, now referred to as a post-tropical cyclone, has made landfall in Nova Scotia, there are over 540,000 outages reported in the Canadian Maritime provinces, according to poweroutage.com.
Nova Scotia is reporting 413,556 customers in the dark of the nearly 500,000 it tracks, according to the website. Outages are also affecting Prince Edward Island, with all of its 84,561 customers currently without power, and New Brunswick, with 44,159 customers without power.
1 hr 10 min ago
Canadian Prime Minister Justin Trudeau monitoring storm
From CNN's Tina Burnside
In a tweet late Friday night, Canadian Prime Minister Justin Trudeau said his team is monitoring the situation with Fiona in the Atlantic Canada and Quebec.
1 hr 29 min ago
Fiona brings hurricane-force wind gusts to Maritimes in Canada
From CNN meteorologist Allison Chinchar
1 hr 25 min ago
Fiona makes landfall in what could be a "landmark" weather event for Canada
From CNN meteorologist Derek Van Dam
Fiona made landfall at around 4 a.m. ET between Canso and Guysborough counties in eastern Nova Scotia, Canada, as a very strong post-tropical cyclone.
An unofficial barometric pressure of 931.6 mb was recorded at Hart Island, which would make this the lowest-pressure land-falling storm on record in Canada, according to a tweet by the Canadian Hurricane Centre. Wind observations on Beaver Island in eastern Nova Scotia were recorded at 94 mph (152 km/h).
Fiona is expected to pass through Cape Breton on Saturday morning and then reach the southeastern Labrador Sea by late tonight. Storm surge, heavy rain, strong winds and large waves will accompany this storm as it races northward at over 40 mph (65 km/h).
Fiona is "on track to be an extreme weather event here in eastern Canada," forecasters with the Canadian Hurricane Centre said on Friday afternoon. Recent rainfalls have left the region saturated and Fiona could bring another one to two months' worth of rainfall.
"This could be a landmark event for Canada in terms of intensity of a tropical cyclone," and it could even become Canada's version of Superstorm Sandy, said Chris Fogarty, Canadian Hurricane Centre manager.
Fiona weakened slightly on Friday to a Category 2 storm. Fiona had been a Category 4 storm early Wednesday over the Atlantic after passing the Turks and Caicos and remained so until Friday afternoon.