We may receive commissions from some links to products on this page. Promotions are subject to availability and retailer terms.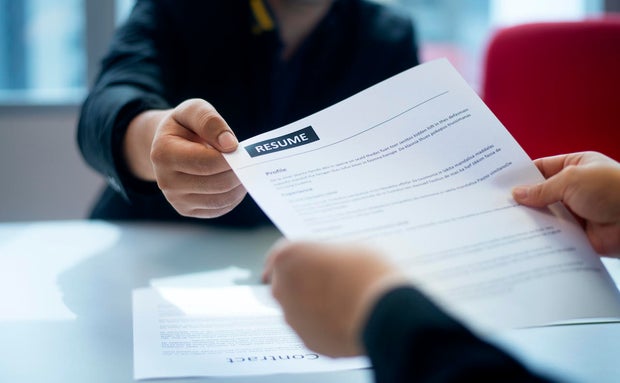 Consider utilizing a job posting site to find quality candidates.
Narisara Nami / Getty Images
In many ways, the job market has appeared to rebound in 2022 – with employers adding 457,000 jobs each month on average, easing recession anxiety. In fact, total jobs in the U.S. have climbed "240,000 higher than the pre-pandemic level," Lisa Sturtevant, chief economist at Bright MLS, said after the August jobs report was released.
"The economy does not generate 400,000 jobs a month in a recession," Dean Baker, senior economist at the Center for Economic and Policy Research, said in a July blog post. "Similarly, businesses have not put their expansion plans on hold, even with rising fears of recession," he added.
If your business is continuing this hiring trend, then you'll want to utilize all of the online tools available to recruit qualified job candidates. Here are some recruiting tips.
How to find qualified job candidates
To start, you'll want to evaluate where you're posting your job openings. Are you using job posting sites – or are you relying on your own website and social media? The only way to get a strong, diverse pool of job candidates is by expanding your reach. Job posting sites can help with this.
A job posting site allows you to post several openings at once and it may lead to better matches since job candidates can filter their searches by location, job title, skills and more. Each of these job marketplaces has different offerings, so review them carefully.
5 job posting sites to consider
There are several reputable job posting sites to choose from, including:
CareerBuilder
CareerBuilder has a variety of plans available, with prices ranging from $250 to $425. The different plans, including a value one that bundles several options together, allow you to post jobs, search from over 87 million resumes on file, send targeted emails and more. You can request a free demo or free trial through the site to learn more about the different functions.
This year, the employment website launched a hub called CoLab, which it says helps bring more transparency to job seekers.
"Candidates have been searching for a source of truth when it comes to understanding certain roles in specific industries. CoLab does just that," Susan Arthur, CEO of CareerBuilder, explained in a news release. "It outlines potential job trajectory, provides salary data, even showcases day-to-day responsibilities so folks can make informed decisions related to their careers."
ZipRecruiter
ZipRecruiter offers different plans, depending on the size of your business. Small and medium businesses with 1-5,000 employees can try posting jobs for free without any official commitment. Larger businesses with more than 5,000 employees can get an enterprise account, which offers AI matching technology, a resume database and more. Businesses interested in learning more or signing up should reach out to ZipRecruiter about pricing.
LinkedIn
According to LinkedIn, roughly 50 million job seekers are on their site every week. If you sign up for LinkedIn as a business, you can utilize the site's job post template and target potential employees that have specific skills and qualities. LinkedIn has promotional offers for first-time job posters. Learn more.
FlexJobs
FlexJobs dubs itself the "leader in the remote and flexible employment space," allowing employers unlimited job postings for a flat rate. The corporation, which was launched in 2007, helps employers and job seekers find flexible job opportunities, such as a remote or part-time job. There are several packages to choose from (monthly or annually) starting at $399.00 per month. Through these packages, you can conduct unlimited resume searches, submit jobs, receive customer support and more.
Indeed
With Indeed, you can post a job for free, though you may potentially get more hits if you pay to sponsor your postings. According to Indeed, sponsored posts are "4.5x more likely to result in a hire" compared to free postings, which can get buried by newer posts in the general search results. To post a job, simply create an employer account and fill in the job description and details regarding how you'd like to receive applicants.
Glassdoor
When you think of Glassdoor, you may think of reviews. That's because it's a place where prospective interns and employees look for specific feedback on a company. However, you are also able to use Glassdoor as a resource for finding jobs. On its website, Glassdoor touts 59 million unique monthly visitors with 2.2 million employers on the platform. Roughly 65% of users search or apply to jobs, Glassdoor says. Recruiters can get started on Glassdoor by creating a free employer profile. You must confirm you're an HR, recruiting, marketing, PR or executive to create a profile on behalf of your company. Once you create an account, you can get started on your profile and begin recruiting job candidates. Head to the website to learn more about Glassdoor for employers.
How to write an effective job posting
A job posting doesn't need to be too complicated. It simply needs to effectively communicate what the job is and the duty it entails. Before you officially post an open position on a job board or marketplace, make sure you include the following:
Company name
Job title
Location, schedule, etc.
A clear and concise job description that engages the reader
A list of day-to-day job responsibilities and duties

An overview of future goals and the potential for growth
Expected qualifications (such as degrees, skillsets and more)
LinkedIn also recommends keeping it short and direct with mobile users in mind. "Job posts with 150 words or less got candidates to apply 17.8% more frequently than job posts with 450 to 600 words," LinkedIn data showed.
Thanks for reading CBS NEWS.
Create your free account or log in
for more features.