How to watch the Republican response to the State of the Union
What: Republican response to State of the Union

Date: Tuesday, Feb. 7, 2023

Time: After President Biden's speech ends

Location: Little Rock, Ark.

TV: CBS television stations — find your local station here

Online stream: Live on CBS News in the player above and on your mobile or streaming device
Arkansas Gov. Sarah Huckabee Sanders will be delivering the Republican response to President Joe Biden's State of the Union address on Tuesday night.
CBS News will broadcast the Republican response as part of the special report on the State of the Union.
Sanders was first elected in November as the first female governor in Arkansas' history and the youngest current governor in America, after serving as the White House press secretary for former President Donald Trump. The person from the opposing political party who is chosen for the response to the president's speech is generally viewed as an up-and-comer in political circles. Sen. Tim Scott of South Carolina, who is mulling a presidential run, delivered the response in 2021 and former U.N. ambassador Nikki Haley, who is also considering a White House bid, delivered it in 2016.
Rep. Juan Ciscomani of Arizona will deliver the Republican response in Spanish.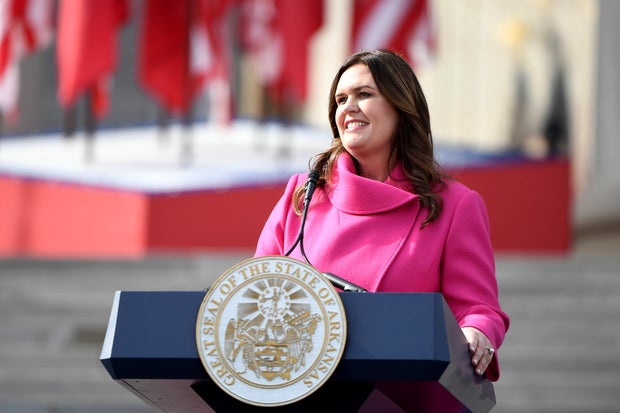 Arkansas Gov. Sarah Huckabee Sanders speaks after taking the oath of the office on the steps of the Arkansas Capitol, Jan. 10, 2023, in Little Rock, Ark.
Will Newton / AP
One topic that is almost certain to come up is the debt ceiling, which must be raised or suspended to avert default, since the U.S. hit the debt ceiling in mid-January. Treasury Secretary Janet Yellen has begun to undertake extraordinary measures to keep paying the nation's creditors and others to avoid default, but she expects to reach the limit of those measures some time in June.
Raising the debt limit will require the support of House Republicans, now in the majority, but there are deep disagreements with the White House on the way forward. Republicans are demanding spending cuts in exchange for raising the debt ceiling, while President Biden wants a "clean vote" on the debt limit.
On Monday, the eve of the State of the Union address, House Speaker Kevin McCarthy gave a speech focused on the debt ceiling and called the national debt the "greatest threat to our future." He said the current pattern of spending, which he blamed on Democrats, isn't an option, although he also emphasized that cuts to Medicare and Social Security are "off the table."
"Now, President Biden wants Congress to raise the debt limit yet again, without a single sensible change, to how government spends your hard earned money," McCarthy said. "Does that sound responsible to you?"