10 min ago
Florida's Lee County commissioner calls reports that officials delayed mandatory evacuation order "inaccurate"
From CNN's Michelle Watson
Lee County, Florida, Commissioner Kevin Ruane said reporting about county officials possibly delaying a mandatory evacuation order prior to Hurricane Ian's landfall was "inaccurate."
When pressed by CNN's Boris Sanchez Sunday, Ruane said the county did what it was supposed to do.
"It's inaccurate. We've done everything we can from using state resources, federal resources to make the necessary arrangements that we have," Ruane said. "I think the most important thing that most people need to understand is we opened up 15 shelters. During Irma there were 60,000 people in our shelters, there's 4,000 people in the shelters right now."
"So, I'm not necessary of the belief that if we opened up shelters the day before, that number would have grown much, because each shelter can hold an excess of 3,000 people. We have 250 people at each shelter," he added.
Florida Governor Ron DeSantis (R) also said Saturday that Lee County officials acted appropriately when they issued their first mandatory evacuation orders ahead of Hurricane Ian on Tuesday afternoon.
Ruane stressed that he and other officials urged people to get out sooner rather than later, calling Floridians, "no strangers" to storms.
"Unfortunately, people did get complacent," Ruane said when talking about why people may not have evacuated sooner. "As far as I'm concerned the shelters were open, they had the ability, they had all day Tuesday, they had a good part of Wednesday as the storm was coming down — they had the ability to do so."
Ruane said the prediction models "changed dramatically" from Monday night at 11 p.m. ET to Tuesday morning at 5 a.m. ET.
"As soon as we saw the model shift northeast, we did exactly what we could to encourage people to do so. I'm just disappointed that so many people didn't go to shelters, because they're open."
Recovery and rebuilding are the biggest challenges the county faces at this time, according to Ruane.
"Obviously, we now are in the recovery stage and the rebuilding stage. So that's a different stage. We protected and rescued so many people and I think that's important to recognize just the efforts."
"The rebuilding stage is going to take a long time. We recognize that."
10 min ago
President Biden to travel to Puerto Rico and Florida this week, White House says
From CNN's Gregory Clary
President Joe Biden and First Lady Jill Biden will travel to Puerto Rico on Monday in the aftermath of Hurricane Fiona, according to a statement from the White House.
The two will then travel to Florida on Wednesday in the wake of the devastation caused by Hurricane Ian.
The President touched on hurricane damage during remarks on Saturday night at an awards dinner in Washington.
"Our hearts, to state the obvious, can't go without saying, are heavy. We owe PR a hell of a lot more than they've already gotten," Biden said.
He said his administration will do "whatever it takes" to help search and rescue, recovery and rebuilding.
"It's going to take a long time, so we cannot tire," he said, adding, "It's times like these I'm reminded that America is about how we choose to see one another… how we choose to treat everyone with dignity and respect they deserve."
CNN's Betsy Klein contributed to this report.
34 min ago
Around 65% of Florida power outages from Hurricane Ian have been restored
From CNN's Chris Boyette
In Florida, 868,306 customers remain without power, according to PowerOutage.us, down from over 2.5 million outages on Thursday after Hurricane Ian made landfall in southwest Florida as a Category 4 storm with winds near 150 mph on the afternoon of Sept. 28.
Many outages remain in hard-hit Lee and Charlotte counties with each having over 60% of customers tracked without power.
31 min ago
Evacuations planned for Pine Island on Sunday
From CNN's Paradise Afshar
The US Coast Guard plans to evacuate people from Pine Island in Lee County, Florida, on Sunday, according to a Facebook post by the county's sheriff's office.
The Lee County Sheriff's Office said the "waterborne operation to help people evacuate Pine Island," and is slated to take place during "daylight hours."
Residents are being asked to go to the Pine Island Fire Department where they will be taken by truck to Yucatan Waterfront on Pine Island Road via truck.
From there, "various U.S. Coast Guard, other agency partners and volunteer vessels will take evacuees across Matlacha Pass to D & D Bait and Tackle where LeeTran buses will take them to a shelter," the post said.
Pine Island was one of the areas impacted by Hurricane Ian, which made landfall as a Category 4 storm.
31 min ago
Electric utility says power may not be fully restored until a week from Sunday
From CNN's Andy Rose
The head of Florida's main electric utility said Saturday that it could be more than a week before power lines are fully restored in storm-damaged areas of the state.
"It could take up until a week from this Sunday, October 9, before we're able to essentially restore everybody in those counties that can accept power," said Eric Silagy, the president and CEO of Florida Power & Light Company.
But Silagy warned some customers may not be back on the grid for "weeks or months" because buildings with structural damage must get a safety inspection before power can be turned back on.
Silagy said more than 20,000 workers from more than 30 states are working to fix downed power lines, but it still takes time. "We take our duty to serve very, very seriously. We also take our duty to make sure we do it safely very seriously," he said.
There are currently 867,903 customers without power in the state of Florida as of Sunday morning, according to the website PowerOutage.Us.
33 min ago
FBI warns Florida residents and donors of fraud schemes following Hurricane Ian
From CNN's Josh Campbell
The FBI is warning Florida residents and those seeking to make financial contributions supporting storm victims to be on the lookout for fraud schemes that often follow natural disasters.
"Watch out for scammers trying to use a natural disaster like Hurricane Ian to steal your money, your personal information, or both," the FBI's Tampa division

said Friday

.
The FBI is recommending tips for potential donors including giving to established charities, being aware of organizations that use copycat names of reputable organizations and also advises people to research charities by Federal Trade Commission's resources to examine its track record.
The bureau also recommends only donating via check or credit card, noting that groups asking for donations via "cash, gift card, virtual currency, or wire transfer," are "probably a scam."
The FBI's Miami field office cautioned potential donors to first "do your homework" before donating, including researching "charity reviews online, state regulators of charities, and charity reports and ratings via the Better Business Bureau."
1 min ago
Personnel and equipment deployed to Lee and Charlotte counties to assist medical examiners, official says
From CNN's Leyla Santiago
The Florida Emergency Mortuary Operations Response System (FEMORS) has deployed equipment and personnel to Lee and Charlotte counties in the wake of Hurricane Ian, FEMORS Commander Jason Byrd told CNN Saturday.
The deployment was made on Thursday at the request of the two hard-hit counties, Byrd says.
FEMORS is there to support medical examiners in Lee and Charlotte counties, according to Byrd, but he would not offer specifics on the equipment and personnel involved in the deployment.
FEMORS is also working with an assessment team from Florida's Disaster Mortuary Operational Response Team, (DMORT) Byrd tells CNN.
According to CNN's current reporting on deaths attributed to the storm through a combination of county and state reports, Lee County has at least 35 fatalities and Charlotte County has 12 fatalities from Hurricane Ian.
FEMORS is a collaboration between the state and the William R. Maples Center for Forensic Medicine, "to develop and implement protocols to respond to a mass fatalities incident within its borders using trained personnel from multiple state, and local agencies, as well as other specialized resources in the event of a human-made or natural catastrophic incident," according to its official website.
33 min ago
Florida barrier island "is going to be out of commission for some time," Coast Guard official says
From CNN's Aaron Pellish and Sonnet Swire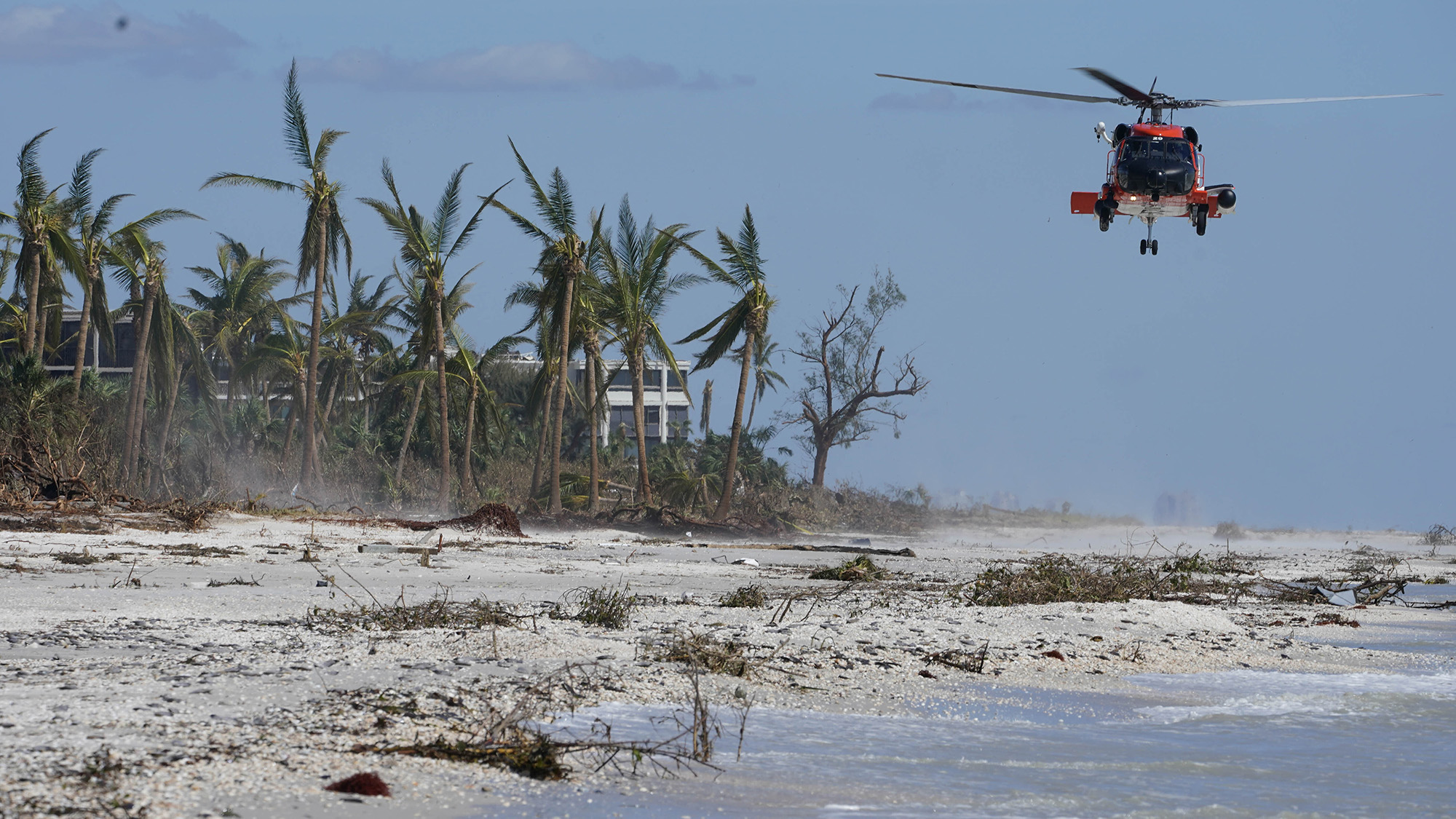 A U.S. Coast Guard helicopter prepares to land on a beach to ferry people off Sanibel Island, Florida, on Friday, September 30. (Steve Helber/AP)
US Coast Guard Commander Rear Admiral Brendan McPherson said all search and rescue agencies have rescued 4,000 people across the state in the past three days. Of those 4,000, McPherson said the Coast Guard has rescued "a little over 400" people in that time
"I'd say the large majority of those (400 rescues) are from the barrier islands that were cut off from the mainland part of Florida," McPherson said.
He said the Coast Guard's search and rescue efforts are primarily focused on evacuating people stranded on barrier islands with no access to the rest of the state.
"We are seeing far fewer cases of people who are in urgent need of medical assistance in our search and rescue cases and more people who are simply stranded," McPherson said. "Now, that's a challenging situation, but we're working with our unified command team here to address those concerns."
McPherson offered a stark assessment of the damage to Sanibel Island, one of the barrier islands in Southeast Florida that was hard-hit.
"That area is going to be out of commission for some time," McPherson said. "It was hit very hard, it does not have water, it doesn't have the basic infrastructure."
"I think some people might have thought they could stay there for a little while. I think after camping out there after about a night or two, they're realizing that's not a viable option," McPherson added.