1 hr 2 min ago
Trump attacks special counsel Jack Smith on social media despite warnings from his legal team
From CNN's Kaitlan Collins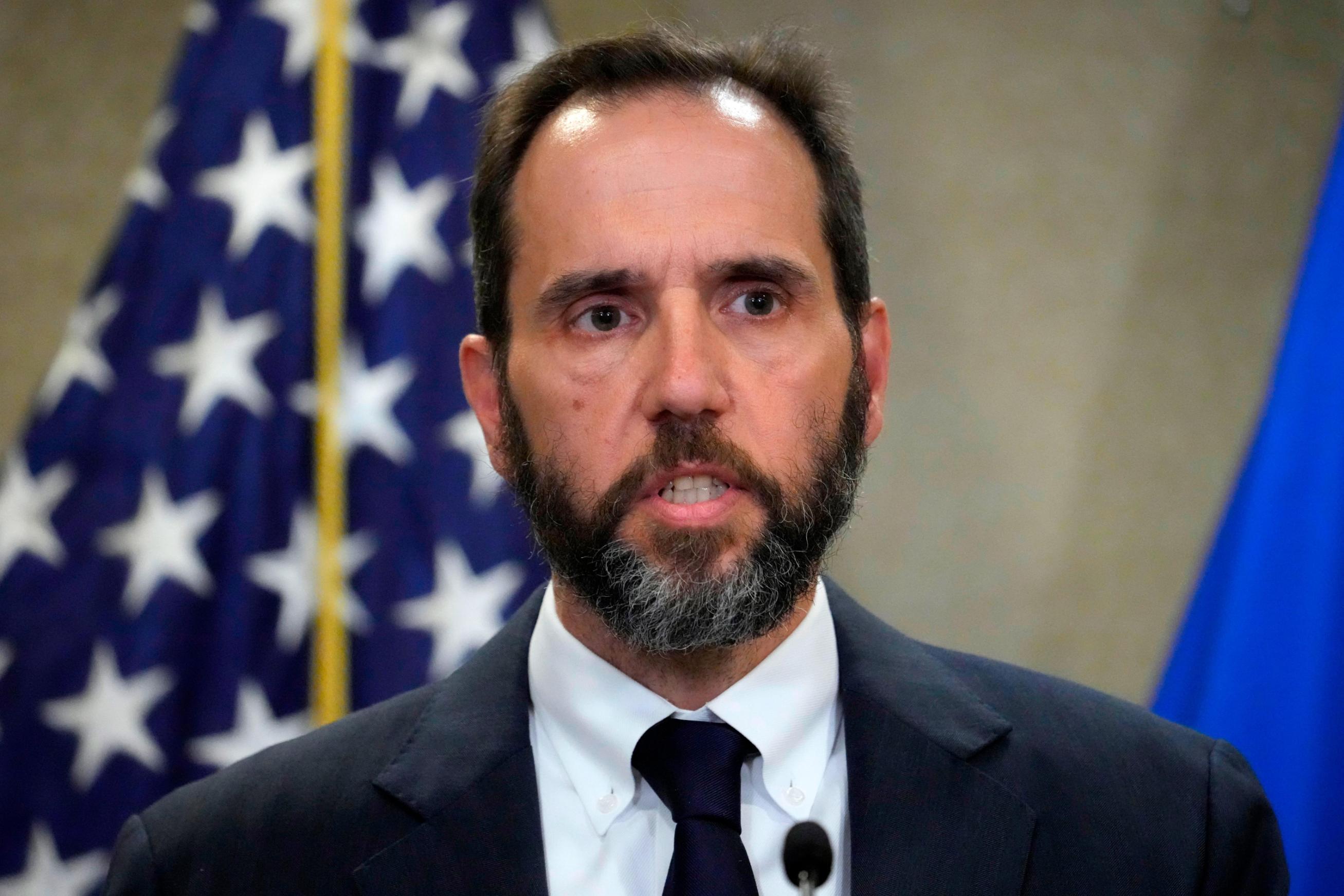 Special counsel Jack Smith speaks to reporters on June 9 in Washington, DC. Alex Brandon/AP
Former President Donald Trump is attacking special counsel Jack Smith in a series of posts on Truth Social following his indictment, despite repeated warnings from his legal team that everything he says publicly could be used against him.
Trump has claimed Smith is "deranged," a "Trump hater" and labeled him "a thug" after the special counsel made a brief statement about the former president's indictment Friday.
While, unsurprising, given his attacks on the last special counsel who investigated him, Trump's latest diatribe comes as he is still finalizing what his legal team will look like when he arrives in Miami on Tuesday. Todd Blanche has taken the lead on the team but is trying to add another Florida-based attorney before Trump is due in court after two attorneys also handling the case departed abruptly.
Whether the client's repeated attacks on Smith hurt those efforts remains to be seen. But Trump's legal team has cautioned him in recent days not to attack Smith — advice he has clearly ignored.
1 hr 4 min ago
Republican donor class scrambles to boost alternatives to Trump as his legal troubles grow
From CNN's Fredreka Schouten
Critics of former President Donald Trump in Republican fund-raising circles fear that even with his looming legal troubles, the 2024 contest is shaping up as a repeat of 2016 when the brash then-celebrity real-estate developer seized on GOP divisions to bulldoze a path to the nomination and then the White House.
As it was in 2016, there are again many candidates to choose from. Former New Jersey Gov. Chris Christie, former Vice President Mike Pence and North Dakota Gov. Doug Burgum all kicked off campaigns for the GOP nomination this week.
Florida Gov. Ron DeSantis, South Carolina Sen. Tim Scott, former South Carolina Gov. Nikki Haley, former Arkansas Gov. Asa Hutchinson, entrepreneur Vivek Ramaswamy and talk radio host Larry Elder all have previously announced their candidacies for the nomination.
"Too big a Republican field is just handing Donald Trump the nomination on a silver platter," said Chicago executive William Kunkler, an avowed Never Trumper and a longtime GOP donor.
Some deep-pocketed groups, including one aligned with billionaire industrialist Charles Koch, have pledged to elevate a Trump rival, although it's not clear at this stage whether all the outside organizations that oppose Trump will coalesce around a single candidate.
Asked for comment Thursday before the indictment news broke, Trump spokesperson Steven Cheung did not directly address the actions of the groups opposed to the former president but said that Trump was "dominating in poll after poll – both nationally and statewide – because voters want someone who can beat Joe Biden and retake the White House."
Trump has denied any wrongdoing, and has cast the federal investigation and indictment as "election interference." His campaign – which saw a surge in donations after his March indictment in a separate New York case connected to an alleged hush-money scheme – also quickly sought to raise political donations off the latest indictment news.
A CNN poll in May underscores the challenges Trump's rivals face. He was the first choice of 53% of Republican and Republican-leaning voters in the primary, even after his earlier indictment. Trump's support was roughly double the 26% who backed DeSantis as their first choice.
Read more
2 hr 40 min ago
DOJ believes it will take prosecutors about a month to present their case against Trump to a jury
From CNN's Katelyn Polantz
The Justice Department believes it will take prosecutors in the classified documents case against former President Donald Trump 21 business days, or about a month, in court to present their case to a jury at trial, according to a document that prosecutors filed with the court alongside the indictment.
The estimate does not include how long the defense might take to present its case, which includes the possibility that Trump could choose to testify in his own defense.
3 hr ago
The federal indictment against Donald Trump and one of his aides was unsealed. Here's what we learned
From CNN staff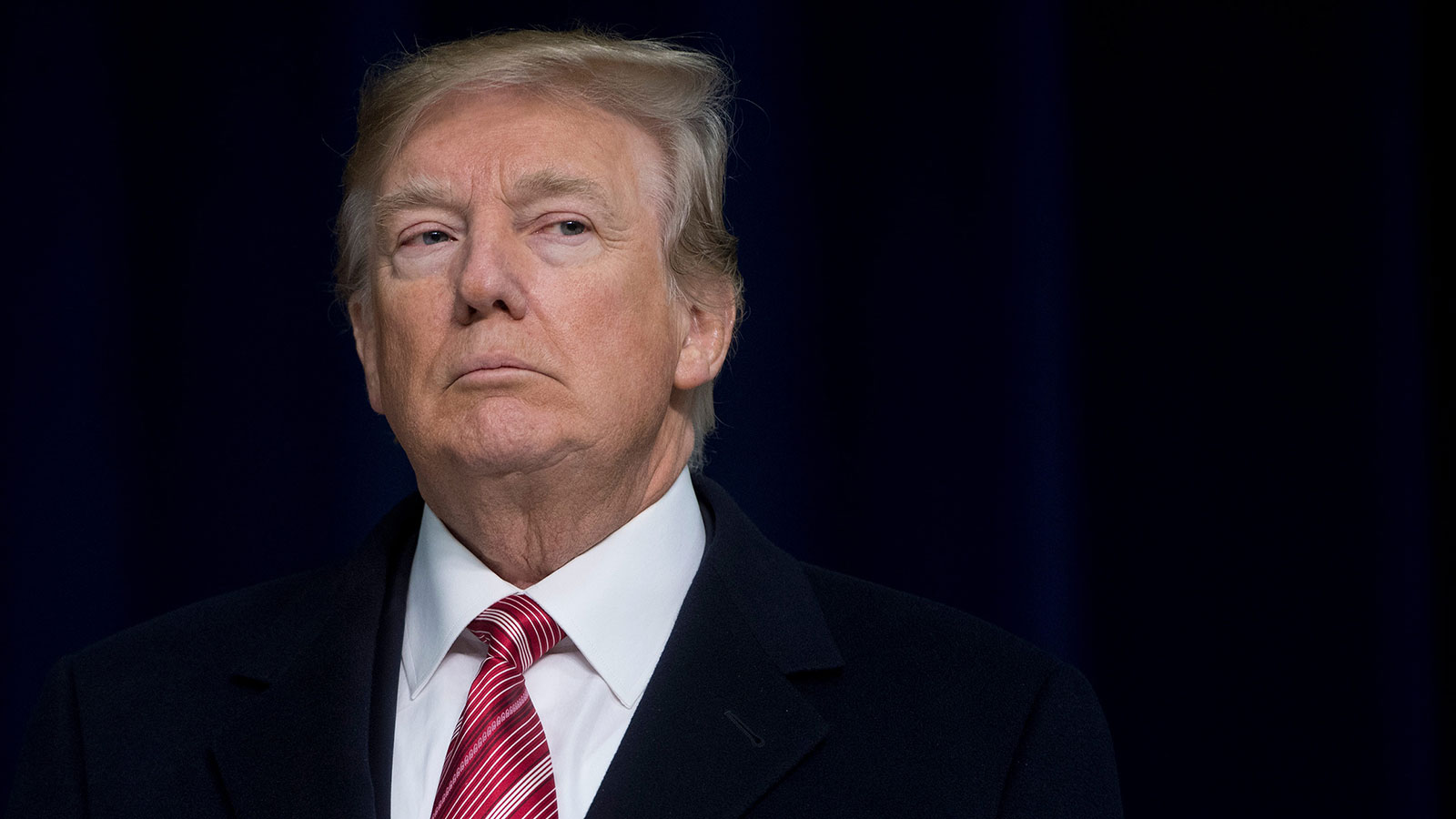 Trump seen on January 6, 2018. Saul Loeb/AFP/Getty Images/FILE
The federal indictment against Donald Trump and his aide, Walt Nauta, was unsealed Friday, providing more details about the special counsel's investigation into the former president's handling of classified documents.
Trump faces a total of 37 counts, including 31 counts of willful retention of national defense information, according to the indictment.
The former president, who has denied any wrongdoing, is expected to appear in a Miami courthouse on Tuesday afternoon.
Here's what else we learned:
Sensitive information: The classified documents that Trump supposedly stored in boxes at Mar-a-Lago included information regarding

defense and weapons capabilities

, US nuclear programs and potential vulnerabilities of the US and its allies to a military attack,

the indictment said.

Some were classified at the highest levels and some were so sensitive they

required special handling

, according to the indictment.
Sharing classified documents: Trump is accused of

showing classified documents on two occasions

to others, according to the indictment. One of those occasions was a 2021 meeting in Bedminster, New Jersey, where Trump "showed and described a 'plan of attack' that Trump said was prepared by the Defense Department." He also showed a classified map related to a military operation at Bedminster in August or September 2021.
Where documents were stored: Trump allegedly kept classified documents in

various places at Mar-a-Lago

, including "in a ballroom, a bathroom and shower, an office space, his bedroom, and a storage room." Other classified documents were found spilled out of the boxes onto the

floor of the storage room

.
How documents were moved: Boxes were initially stored in a ballroom at Mar-a-Lago, prosecutors alleged, before Nauta moved some of them to a business center at the estate in March 2021. The indictment alleges some movement of the documents

was directed by Trump

. According to the indictment, two people who worked for Trump discussed over text message whether they were able to move boxes holding classified documents.
Alleged attempts to conceal documents: Trump told his attorney to tell the Justice Department that

he didn't have the documents sought by the subpoena

, prosecutors say in the indictment. In addition, it alleges Trump directed Nauta to move documents to hide them from Trump's own attorneys and FBI agents and even suggested to his lawyer to "hide or destroy documents" sought by the subpoena. It also said Nauta

lied to investigators

about moving boxes.
3 hr 12 min ago
Here's how GOP lawmakers have reacted since Trump's indictment was unsealed
From CNN staff
Some Republican members of Congress have quick to condemn the historic federal indictment against former President Donald Trump and come to his defense in the hours since the document was unsealed on Friday.
Others, most notably the top two Senate Republicans, Minority Leader Mitch McConnell and Minority Whip John Thune, have remained conspicuously silent thus far.
Rep. Don Bacon of Nebraska, meanwhile, proved to be a rare member of his party willing to criticize Trump over the probe and defend the Department of Justice's investigation, saying he's "shocked" at Trump's "alleged callousness" and calling the obstruction allegations in the newly unsealed indictment "inexcusable."
Here are some of the other remarks from members of the GOP since the document became public:
Sen. Cynthia Lummis of Wyoming said that although she does have "serious concerns with the classified documents being handled improperly in this case," she questions the prosecutors' motivations.
"The Department of Justice should never be weaponized to target President Biden's political opponent," she said.
Sen. Cindy Hyde-Smith of Mississippi said in a statement: "The Justice Department shouldn't be weaponized against the President's political opponents, regardless of party. It's an affront to our faith in the American legal and justice system when they are used for political purposes, whether real or perceived."
Sen. Mike Lee of Utah called the indictment an "affront to our country's glorious 246-year legacy of independence from tyranny."
Sen. Marsha Blackburn of Tennessee accused the DOJ of pursuing "its political agenda to take down a former president."
Sen. Mike Braun of Indiana said the "Biden administration is arresting their top political adversary for something Biden himself admitted to doing just this year. President Biden's weaponization of our justice system against his enemies will do lasting damage to the rule of law."
Rep. Chris Stewart of Utah said the charges "are equally unprecedented and unconscionable. This is a sad day for any American who believes in the rule of law. The National Archives have confirmed that every single president since Ronald Reagan has mishandled classified materials."
3 hr 53 min ago
Fact check: Trump's baseless "1,850 boxes" attacks on Biden's University of Delaware documents collection
From CNN's Daniel Dale
In the weeks before Donald Trump was indicted over his alleged mishandling of classified defense documents and alleged attempt to cover it up, the former president kept arguing that it would be unfair to prosecute him given that President Joe Biden took "1,850 boxes" of documents to the University of Delaware.
But Trump's vague insinuations that there is something improper about the existence of the Biden collection at the University of Delaware are baseless. The collection of donated documents is from Biden's 36-year tenure as a US senator for Delaware. Unlike presidents, who are subject to the Presidential Records Act, senators own their offices' documents and can do whatever they want with them – donate them to colleges, keep them at their homes, give them to journalists, even throw them in the trash.
It has been public knowledge for more than a decade that Biden donated his Senate documents to the University of Delaware, from which he graduated in 1965. Biden announced the donation in a public appearance at the school in 2011, generating media coverage.
Biden did impose conditions on public access to the collection. According to the university website, the papers will only be made widely accessible two years after Biden retires from public life. Until then, they can only be accessed with Biden's express consent.
That restriction has frustrated Biden critics who want the documents to be made available publicly much sooner, but it is common for senators to place timing conditions on the documents they have donated to universities.
Trump's claim in late April that Biden has "been totally uncooperative – won't show the documents under any circumstances" is not true. Reid reported in February that the FBI had conducted two searches at the university, with the consent and cooperation of Biden's legal team, in connection with the federal investigation into Biden's handling of classified documents.
Read more details here.
4 hr ago
How GOP presidential candidates are reacting to the Trump indictment
From CNN staff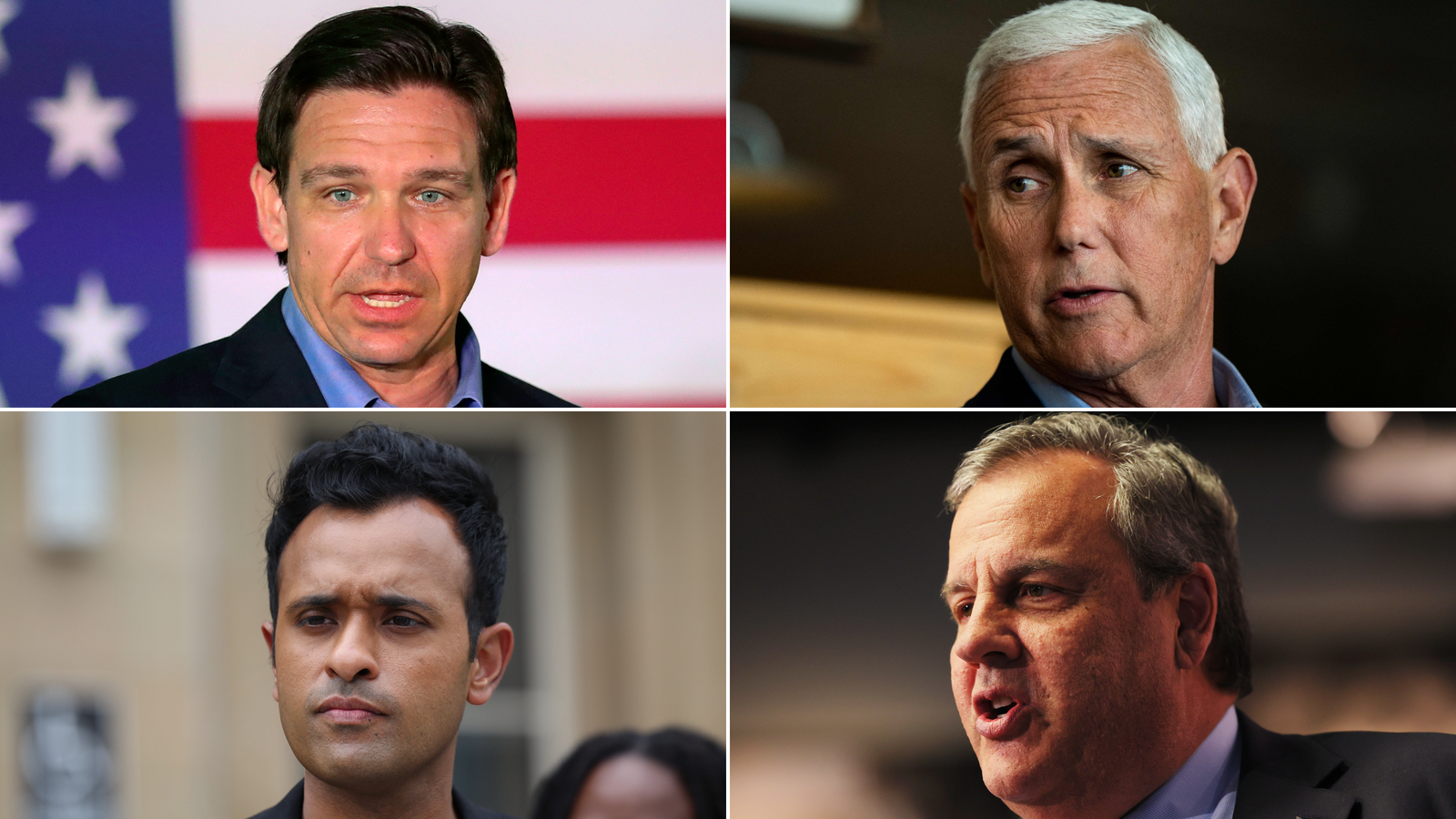 Clockwise, from top left: Florida Gov. Ron DeSantis, former Vice President Mike Pence, former New Jersey Gov. Chris Christie and Republican presidential candidate Vivek Ramaswamy AP, Getty Images/File
Donald Trump's rivals in the race to be the Republican nominee for president are reacting to the former president's indictment.
Here's what some of them have said:
Ron DeSantis: People close to DeSantis' political operation told CNN after the indictment was unsealed Friday that they do not expect him to deviate from the statement he made the day prior.
The Florida governor tweeted Thursday, "The weaponization of federal law enforcement represents a mortal threat to a free society. We have for years witnessed an uneven application of the law depending upon political affiliation."
"Why so zealous in pursuing Trump yet so passive about Hillary or Hunter? The DeSantis administration will bring accountability to the DOJ, excise political bias and end weaponization once and for all," he added.
A Republican fundraiser close to the campaign said Friday that within the governor's close circle of confidants, there is not a push for him to change his posture toward Trump's alleged actions. They have been satisfied with the tack he has taken since Trump's first indictment in March, according to the fundraiser.
Nikki Haley: The former South Carolina governor and ambassador to the United Nations released a statement Friday that characterized the indictment as "prosecutorial overreach," adding that it was time to "beyond the endless drama and distractions."
"This is not how justice should be pursued in our country," Haley said.
Chris Christie: On the heels of the indictment, Christie's super PAC "Tell It Like It Is" is launching its first TV ad of the 2024 cycle this weekend. The spot takes a direct shot at the former president's qualifications to run.
"The latest round of indictments serve as another reminder that the Republican Party needs a new direction," Colin Reed, senior adviser for Tell It Like It Is PAC, said Friday.
The former New Jersey governor tweeted Thursday that "no one is above the law."
"Let's see what the facts are when any possible indictment is released. As I have said before, no one is above the law, no matter how much they wish they were. We will have more to say when the facts are revealed," he wrote.
Asa Hutchinson: The former Arkansas governor – who said he read through the indictment against Trump after it was unsealed Friday – called the charges against the former president "serious" and argued that Republicans should not lightly dismiss the indictment.
On Thursday night, Hutchinson had called for Trump to drop out of the 2024 race after the former president said he has been indicted.
He doubled down in an interview with CNN on Friday, arguing that Trump should end his campaign "for the good of the country and for the good of the office of presidency."
Mike Pence: Before the indictment was unsealed Friday, the former vice president called on US Attorney General Merrick Garland to release the document so Americans can "judge for themselves whether this is just the latest incident of weaponization and politicization at the Justice Department or it's something different."
Pence had also said he thought any demands for Trump to suspend his campaign had been "premature," saying "everyone is innocent until proven guilty" and that Trump has a right to make his defense.
Pence did not acknowledge a question about his reaction to the indictment's unsealing later Friday as he met with New Hampshire Gov. Chris Sununu.
Vivek Ramaswamy: The entrepreneur released a statement Thursday saying, "This is an affront to every citizen: we cannot devolve into a banana republic where the party in power uses police force to arrest its political opponents."
Ramaswamy also repeated his pledge to pardon Trump should he be elected.
CNN's Kit Maher, Omar Jimenez and Brian Rokus contributed to this reporting.
4 hr 53 min ago
National Archives pushes back against claims made by Trump and allies related to classified documents
From CNN's Jamie Gangel, Zachary Cohen and Elizabeth Stuart
The National Archives is pushing back on claims made by former President Donald Trump, his lawyers and his allies over his retention of classified documents, for which he now faces a federal indictment.
On Friday, the Archives took the rare step of releasing a public statement rebuking claims suggesting that Trump was allowed to keep classified materials under the Presidential Records Act.
"Recent media reports have generated a large number of queries about Presidential records and the Presidential Records Act (PRA). The PRA requires that all records created by Presidents (and Vice-Presidents) be turned over to the National Archives and Records Administration (NARA) at the end of their administrations," according to the statement released by the National Archives on Friday afternoon.
Former Trump attorney Tim Parlatore, who worked on the classified documents case before leaving the former president's legal team in recent weeks, mischaracterized the Presidential Records Act repeatedly during media appearances this week, including on CNN on Thursday night.
Parlatore said that a president "is supposed to take the next two years after they leave office to go through all these documents to figure out what's personal and what's presidential."
In its statement Friday, the National Archives flatly disputed that claim, stating, "There is no history, practice, or provision in law for presidents to take official records with them when they leave office to sort through, such as for a two-year period as described in some reports."
Parlatore also suggested Thursday that the National Archives was somehow delinquent in its duty to set up a separate government facility for Trump after he left office in 2021.
In the past, this has been true for presidents who notified NARA before leaving office that they intended to build a presidential library — something Trump did not do.
"Prior to the end of his administration, President Trump did not communicate any intent to NARA with regard to funding, building, endowing, and donating a Presidential Library to NARA under the Presidential Libraries Act," the Archives said in its statement.
"Accordingly, the Trump Presidential records have been and continue to be maintained by NARA in the Washington, DC, area, and there was no reason for NARA to consider a temporary facility in Florida or elsewhere," the statement added.
Read more.
4 hr 28 min ago
Trump suggested his lawyer "hide or destroy documents" sought by subpoena, indictment says
From CNN's Kara Scannell
Prosecutors allege former President Donald Trump took several steps to obstruct the investigation into his handling of classified documents, according to the federal indictment unsealed Friday.
Trump told his attorney to tell the Justice Department that he didn't have the documents sought by the subpoena, prosecutors say in the indictment.
In addition, it alleges, Trump directed his aide Walt Nauta to move documents to hide them from Trump's own attorneys and FBI agents, and even suggested to his lawyer to "hide or destroy documents" sought by the subpoena.
The charge: Trump and Nauta both face a count of conspiracy to obstruct justice, according to the federal indictment.
"The purpose of the conspiracy was for TRUMP to keep classified documents he has taken with him from the White House and to hide and conceal them from a federal grand jury," the indictment read.