Our live coverage for the day has ended. Follow the latest Ukraine news here or read through the updates below.
2 hr 9 min ago
Florida governor shifts tone on Ukraine war in new interview, calls Putin a war criminal
From CNN's Kit Maher
Florida Gov. Ron DeSantis answers questions from the media at the Florida State Capitol in Tallahassee, Florida, on March 7. (Cheney Orr/AFP/Getty Images)
Florida Gov. Ron DeSantis is making a significant shift in tone toward the war in Ukraine, calling Russian President Vladimir Putin a "war criminal" who should be held accountable, in another portion of a Piers Morgan interview teased in the New York Post.
DeSantis had previously labeled the war a "territorial dispute."
DeSantis' comments to Morgan come after he fielded criticism from Republicans including Gov. Chris Sununu, Sen. Lindsey Graham and Sen. Marco Rubio for saying US support of Ukraine is not of "vital" national interest via in a statement to Fox News' Tucker Carlson.
In his fiercest rebuke of Putin yet, DeSantis told Morgan he thinks his statement to Carlson has "been mischaracterized."
"Obviously, Russia invaded (last year) — that was wrong. They invaded Crimea and took that in 2014 — That was wrong," DeSantis said.
Addressing the criticism for the first time, DeSantis attempted to clarify during the interview.
"What I'm referring to is where the fighting is going on now which is that eastern border region Donbas, and then Crimea, and you have a situation where Russia has had that. I don't think legitimately but they had. There's a lot of ethnic Russians there. So, that's some difficult fighting and that's what I was referring to and so it wasn't that I thought Russia had a right to that, and so if I should have made that more clear, I could have done it," he said.
Morgan said he asked DeSantis if he thought Ukrainians would take issue with him labeling the war a "territorial dispute."
DeSantis said in response:
"If I could snap my fingers, I'd give it back to Ukraine 100%. But the reality is what is America's involvement in terms of escalating with more weapons, and certainly ground troops I think would be a mistake. So, that was the point I was trying to make but Russia was wrong to invade. They were wrong to take Crimea."
President Joe Biden has made clear he will not send US troops to Ukraine to take part in the conflict.
Ultimately, DeSantis told Morgan he thinks Ukraine will prevail in the war.
"I do not think it's going to end with Putin being victorious. I do not think the Ukrainian Government is going to be toppled by him and I think that's a good thing," DeSantis said.
5 hr 8 min ago
China's top diplomat praises Xi's trip to Russia, rejecting "unilateralism and hegemonism"
From CNN's Shawn Deng and Radina Gigova
China's Foreign Minister Qin Gang attends a press conference in Beijing on March 7. (Lintao Zhang/Getty Images)
China's Foreign Minister Qin Gang said Wednesday his country's relationship with Russia could be "even more precious in the face of rampant unilateralism and hegemonism" as he praised President Xi Jinping's trip to Moscow.
Qin described the relations between China and Russia as representing "the correct direction of historical development" and having "world significance beyond the scope of the two sides," according to a statement released after Xi's state visit.
China and Russia will continue to uphold "good-neighborliness and mutual trust," as Xi's decision to choose Russia as his first foreign visit in his new presidency was a political decision made after careful consideration, Qin said.
In addition to praising the cooperation and friendship with Russia, Qin reiterated China's stance on what the statement describes as the "Ukrainian crisis."
"Certain countries deliberately obstruct peace talks for their own geopolitical interests, and even concocted all kinds of rumors and fallacies to attack and discredit China," Qin said.
He added that China is "neither the maker nor the party" involved in the crisis but "an advocate" that supports a political settlement and promotes peace talks.
The statement did not name the country obstructing peace talks.
3 hr 18 min ago
Several people killed in Russian missile strikes. Here's what to know to get up to speed
From CNN staff
Russian missile strikes killed at least eight people in the Kyiv region and injured nearly three dozen people in Zaporizhzhia, where strikes hit residential buildings, officials said. Heavy fighting also continues in the eastern part of Ukraine.
The latest wave of attacks follows meetings this week between Russian President Vladimir Putin and Chinese leader Xi Jinping in Moscow.
Here are the top headlines to get up to speed:
Russian strikes: At least eight people were killed in the

Kyiv region

following a wave of Russian attacks with Iran-made Shahed drones, according to Ukrainian authorities.

In Zaporizhzhia,

at least one person was killed and 34 were injured, Ukraine's State Emergency Service said. At least 21 drones were launched shortly before midnight local time on Tuesday, 16 of which were shot down, according to the Ukrainian air force.
Fighting in eastern Ukraine: The

town of Avdiivka

in the Donetsk region is coming under heavy attacks by Russian artillery and rocket systems, according to the head of the local military administration. Ukraine says the offensive capacity of Russian forces

in and around Bakhmut

is diminishing. According to the Ukrainian military, Russian forces are continuing to expend large numbers of men trying to re-take the city.
Zelensky visits troops: President Volodymyr Zelensky paid an unannounced visit to the eastern Donbas region. He said it was distressing to see the aftermath of Russian bombardments there and thanked soldiers for their bravery. The president also visited wounded troops at a hospital near the front lines, some of whom helped defend the city of Bakhmut, according

to a statement from the Presidency

.
Xi-Putin meetings: The two leaders made a sweeping affirmation of their alignment on a host of issues — and shared mistrust of the United States — in a lengthy statement

following talks

that took place under the shadow of Russia's

onslaught in Ukraine

. The meetings yielded

no breakthrough in resolving the conflict

, but both leaders called for the cessation of actions that "increase tensions" and "prolong" the war. Find the biggest takeaways from Xi's visit to Moscow

here

.
Patriot missile system: Ukrainian soldiers have been

training intensively

on how to use the Patriot weapons system over the past 10 weeks in Oklahoma, instructed by US Army trainers at the base. The system is now set to be deployed in Ukraine in the coming weeks – much

sooner than anticipated

.
Additional aid for Ukraine: Japan will provide

$30 million to help Ukraine

acquire non-lethal equipment, Prime Minister Fumio Kishida said, according to public broadcaster NHK. The International Monetary Fund also has agreed to supply Ukraine with a

$15.6 billion loan

to help stave off financial woes due to the war, it said in a statement.
Where things stand with NATO: Sweden's parliament

formally approved

the country's accession to NATO on Wednesday, the government said in a statement. Sweden requested to join the military alliance alongside Finland last year, citing Russia's invasion of Ukraine, but its application is currently being stalled by Turkey and Hungary.
Nuclear threat: The risk of a nuclear conflict is now at its highest level in decades, Russian Deputy Foreign Minister Sergei Ryabkov said, according to state news agency TASS. He said Moscow and Washington currently have

no common ground

on the new Strategic Arms Reduction Treaty, according to state outlet RIA Novosti. Putin said

he was suspending

Moscow's participation in the

nuclear arms

reduction treaty with the US last month.
Also in the news: Spanish Prime Minister Pedro Sánchez will meet with Chinese President Xi Jinping on March 31, according to a senior aide. They are expected to discuss Russia's war on Ukraine.
7 hr 2 min ago
8 killed in Kyiv region after drone strike on residential building, Ukrainian officials say
From CNN's Svitlana Vlasova in Kyiv
At least eight people were killed in a Russian drone strike in the Kyiv region, Ukraine's state emergency service said in a statement on Wednesday.
"As of 18:00 (6:00 p.m.), 8 people died, 7 people were injured and 1 person was rescued," the statement read. "Four people are likely to be under the rubble."
Earlier in the day, the state emergency service told CNN a Russian drone strike hit a residential building in the town of Rzhyshchiv, which is about 50 miles (85 km) southeast of the capital of Kyiv.
Andrii Niebytov, the Kyiv region police chief, previously said that a drone had struck a dormitory building.
Police and emergency services evacuated more than 200 people after the strike, Niebytov said.
7 hr 13 min ago
At least 1 dead and 34 injured in Zaporizhzhia missile strikes
From CNN's Olga Voitovych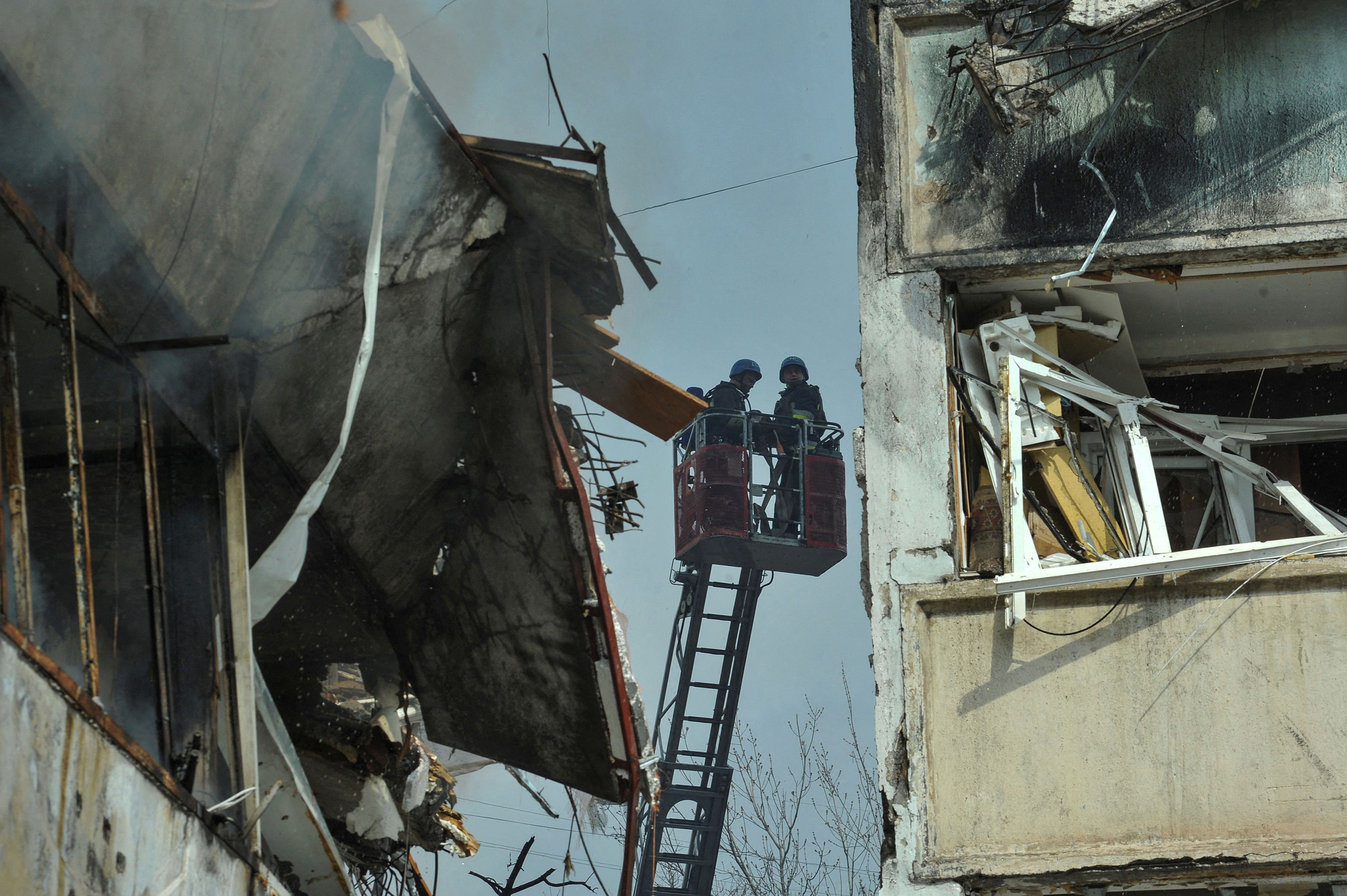 Rescuers work at a site of a residential building damaged by a Russian missile strike in Zaporizhzhia on March 22. (Reuters)
At least one person was killed and 34 were injured by missile strikes in Zaporizhzhia, Ukraine's State Emergency Service said on Wednesday.
Among the injured are three children, it said.
According to the Ukrainian prosecutor's office, Russian forces fired at least six missiles at Zaporizhzhia and the strikes caused significant damage to civilian infrastructure.
Mykhailo Podolyak, a senior Ukrainian official and adviser to President Volodymyr Zelensky, previously said the strikes deliberately targeted civilians.
5 hr 11 min ago
Risk of nuclear conflict at highest level in decades, Russian minister says
From CNN's Radina Gigova
Russian Deputy Foreign Minister Sergei Ryabkov delivers a speech during a session of the UN Conference on Disarmament in Geneva, Switzerland on March 2. (Fabrice Coffrini/AFP/Getty Images)
The risk of a nuclear conflict is now at its highest level in decades, Russian Deputy Foreign Minister Sergei Ryabkov said Wednesday, according to state news agency TASS.
"I would not like to indulge in a discussion whether the probability of a nuclear conflict is high today, but in any case it is higher than anything that we have seen over the past decades, let's put it this way," Ryabkov said during a discussion on the platform of the Valdai discussion club, according to TASS.
Ryabkov reiterated that Moscow is not departing "from the key provisions, doctrinal and political ones." He said non-nuclear states, especially those not aligned with the United States, should "more loudly to call to order politicians in the Western capitals, including Washington, who have absolutely lost their sense of reality."
President Vladimir Putin said he was suspending his country's participation in the New START nuclear arms reduction treaty with the United States during his much-delayed annual State of the Nation Address to the Federal Assembly last month.
7 hr 53 min ago
Zelensky says it was distressing to see aftermath of Russian bombardment in Donbas
CNN's Vasco Cotovio and Victoria Butenko
Ukrainian President Volodymyr Zelensky said Wednesday it was distressing to see the aftermath of Russian bombardments after he made an unannounced visit to the eastern Donbas region.
"It is distressing to look at the cities of Donbas, to which Russia has brought terrible suffering and ruin," Zelensky said in his nightly address. "The almost constant, hourly air-alert siren in Kramatorsk, the constant threat of shelling, the constant threat to life..."
"Right there, in Donbas, in the Kharkiv region — wherever Russian evil has come, it is obvious that the terrorist state cannot be stopped by anything other than one thing — our victory," he added.
Zelensky said he felt there was hope in every eastern Ukrainian city that was not under occupation, adding that it was an honor to support those closest to the front.
"I started from the front, from the Bakhmut area. It is an honor for me to support our warriors who are defending the country in the toughest frontline conditions," he said. "I presented state awards, thanked our soldiers for their bravery, for their resilience, for Ukraine — which we are preserving thanks to such heroes, thanks to each and every one of them who is fighting against Russian evil."
The Ukrainian president also visited injured soldiers to pay tribute.
"I wished them — and I'm sure on behalf of all of you, all of our people — a speedy recovery," he said. "I thanked the doctors and nurses. And now I want to thank everyone who supports our soldiers recovering from injuries. Who helps with everything necessary, our doctors, everyone who works for rehabilitation after injuries."
He finished his address by marking the beginning of Ramadan and remembering the Crimean Tatars, currently under Russian occupation.
"May the power of prayer in this holy month help us cleanse Ukraine of Russian godless evil, of those who truly believe in nothing, and that is why they are capable of such terror," he said. "Let the next Ramadan begin in peace and on the entire Ukrainian land free from Russia. Ramadan Mubarak!"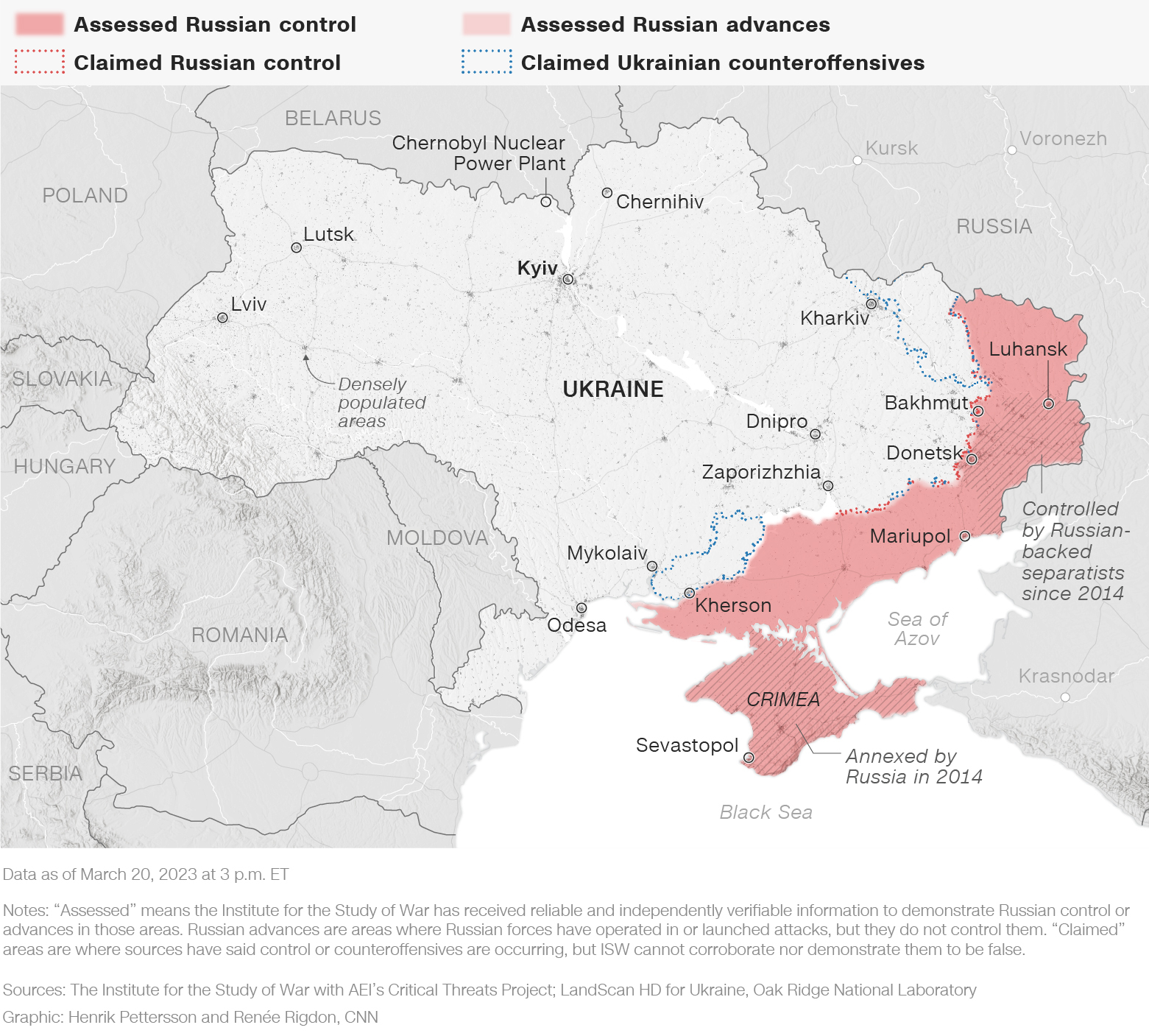 8 hr 49 min ago
Russian "offensive capacity" in Bakhmut is decreasing but fierce fighting continues, Ukrainian military says
From CNN's Vasco Cotovio and Olga Voitovych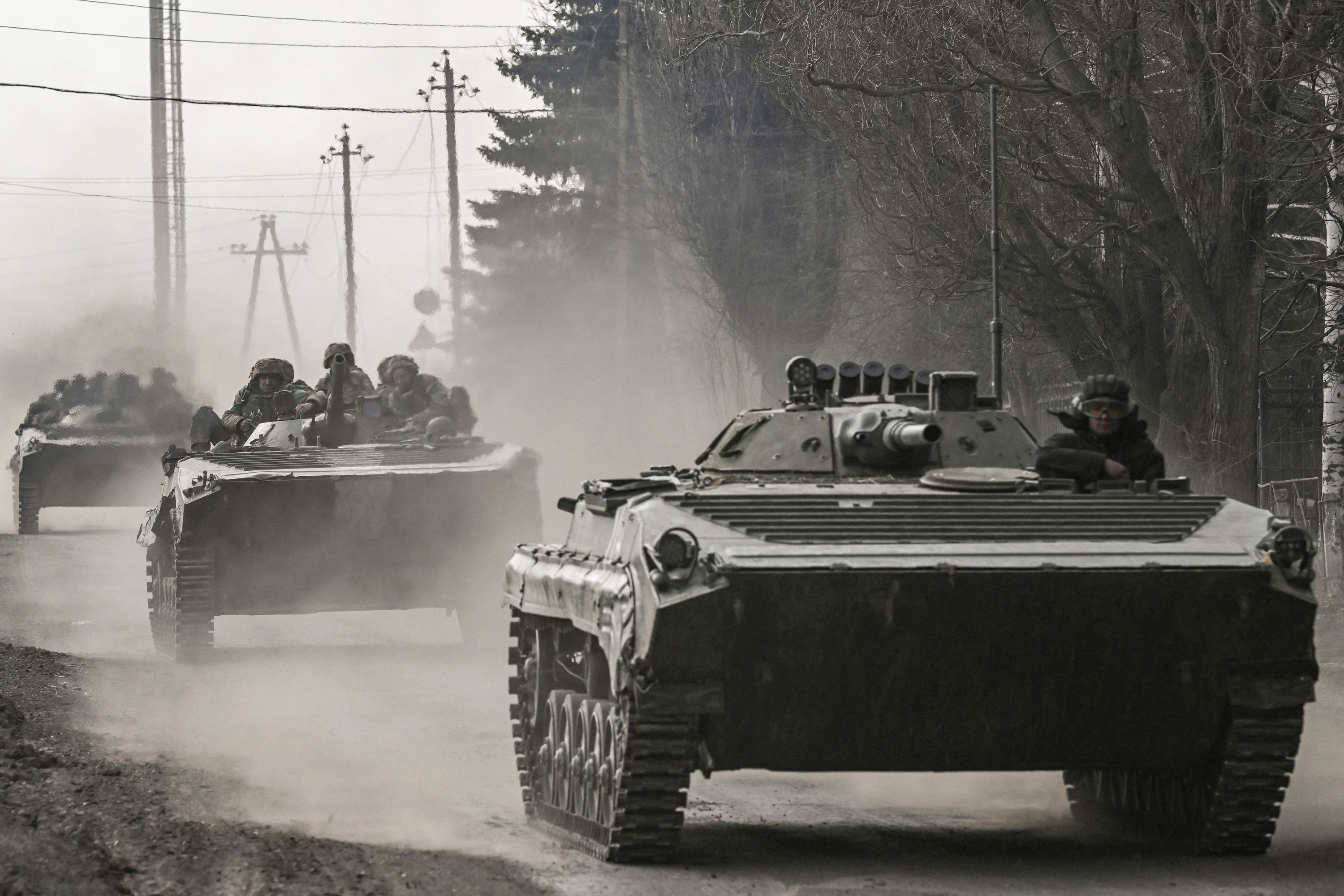 Ukrainian servicemen head toward Bakhmut in BMP infantry fighting vehicles on March 22. (Aris Messinis/AFP/Getty Images)
Ukraine says the offensive capacity of Russian forces in and around Bakhmut is diminishing, but cautions that it remains one of the areas where the fiercest fighting is ongoing.
"The Russian Federation continues its armed aggression against Ukraine, focusing its main efforts on attempts to completely seize Donetsk and Luhansk regions within the administrative borders," the Ukrainian military's General Staff said in an evening update on Wednesday. "The fiercest fighting is taking place in the southern and northern parts of Bakhmut."
"In the Bakhmut direction, the enemy continues to conduct offensive actions, but its offensive potential is decreasing," it added.
According to the Ukrainian military, Russian forces are continuing to expend large numbers of men trying to re-take the city.
"The enemy keeps trying to take the city, losing a significant amount of manpower, weapons and military equipment," it said on Wednesday. "Our defenders have been repelling numerous enemy attacks around the clock in the areas of Bakhmut, Bohdanivka and Predtechyne."
The Ukrainian military went on to say Moscow's armies were on the defensive in some areas in the southern part of Ukraine.
"The enemy is conducting defensive actions in the Zaporizhzhia and Kherson directions. Areas near the contact line came under fire," it said.