Gun legislation and the new Congress
New Jersey's top law enforcement official brought criminal charges Monday against a police officer he said shot a fleeing person in the back, wounding him severely.
Attorney General Matthew Platkin said the state filed charges of second-degree aggravated assault and official misconduct against Paterson Police Officer Jerry Moravek.
The charges stem from a June 2022 incident in which Moravek saw the victim, who is not identified in the charging documents, run past him soon after hearing gunshots. Moravek shouted for the person to drop the gun before firing, striking him in the back.
Platkin said the person did not have a gun in his possession or within reach. A firearm was found near the site of the shooting, according to the charging document, but Platkin said there was no DNA or fingerprint evidence linking it to the man.
"We have promised to never be complacent and we have made a commitment to stand up against unnecessary and excessive uses of force by those with a duty to protect the public," Platkin said.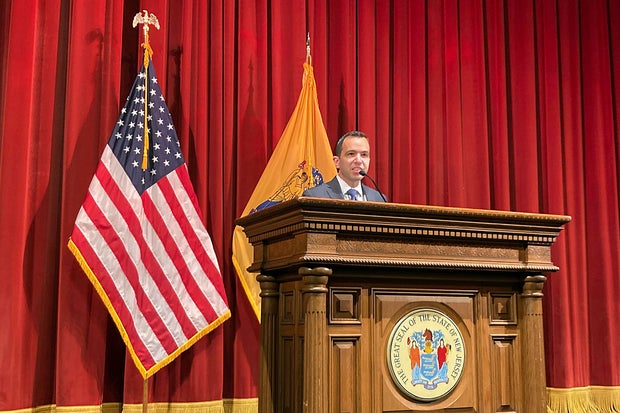 Matt Platkin speaks in Trenton, N.J., Feb. 3, 2020.
Mike Catalini / AP
Moravek's attorney, Patrick Caserta, said in a statement that his client had been falsely accused. He said the officer had a duty to pursue the person he thought had fired shots.
"During a short foot chase, there came a time when Officer Moravek believed his life and the life of other people in the street was at risk. He believed at that split-second that the person he was chasing was turning to fire that handgun at him and he realized that if he missed, the bullets could strike anyone nearby," the statement read.
Moravek made repeated calls for an ambulance afterward, Caserta added.
Video released from the incident shows Moravek asking the person he shot why he ran from him.
"I was scared. I don't have no gun, though" he said.
Platkin said the officer didn't give the person he shot a warning that he was going to fire or order him to stop running or get down on the ground.
The shooting left bullet fragments in the person's spine, Platkin said. He has not been able to walk since, according to the charging document.
If convicted of the charges, Moravek could face up to 10 years in prison on each count.
Paterson Mayor Andre Sayegh said in a statement that a preliminary review found that Moravek followed guidelines while responding to a service call and after hearing gunshots fired. The mayor, a Democrat, cited the pending legal process and said he wouldn't comment further.
The charges come as New Jersey has sought to increase scrutiny of police officers involved in shootings. In late 2020, Platkin's predecessor issued new use-of-force rules barring physical force against civilians except as a last resort, among other requirements.
In 2019, New Jersey Democratic Gov. Phil Murphy signed a measure requiring the state attorney general to conduct investigations when police fatally shoot someone.
Platkin, a Murphy appointee, said Monday's charges don't stem from that law and presenting the case to a grand jury isn't required, but his office "will not hesitate" to do so in cases like this one.
"Every case deserves a thorough investigation and here we have determined that the use of deadly force was not justified," Platkin said. "A young man's life will never be the same because of the unnecessary action by this officer, which contradicted his police training and his oath to protect and preserve life."
Paterson is a city of nearly 160,000 people about 20 miles (30 kilometers) west of Manhattan.
Last year, Paterson was listed as one of the 100 most dangerous cities in the U.S., according to crime data analyzed by NeighborhoodScout.com.
Thanks for reading CBS NEWS.
Create your free account or log in
for more features.