32 min ago
In Syria, millions of displaced people face harsh winter as quake destruction raises risk of disease
From CNN's Rhea Mogul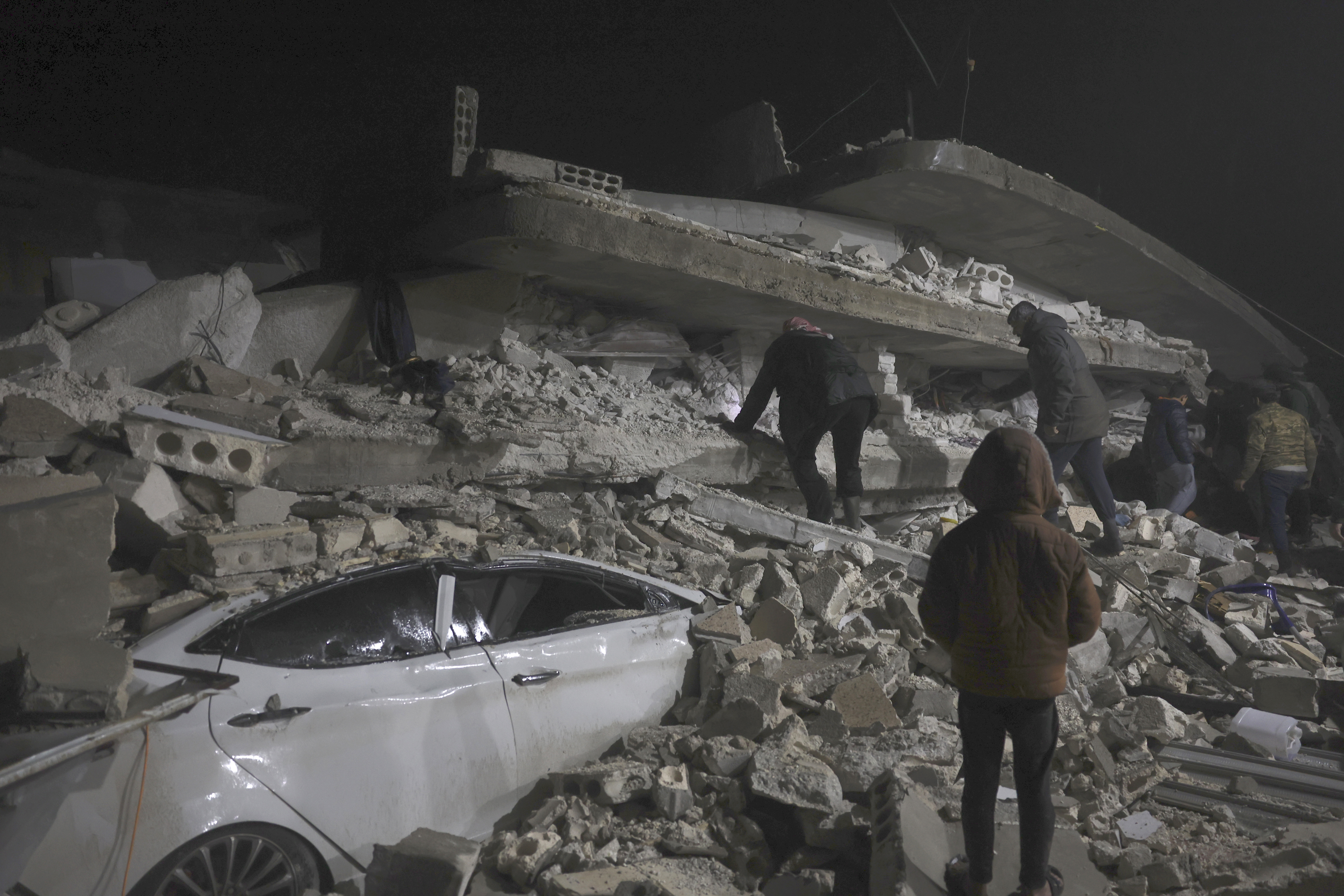 People search through the wreckage of a collapsed building in Idlib, Syria, on February 6. (Ghaith Alsayed/AP)
More than 4,300 people were killed either side of the Turkey-Syria border when the 7.8-magnitude quake hit southern Turkey in the early hours of Monday. But with thousands more injured and an unknown number missing, it's feared the final toll could be much higher.
In Syria, a country already suffering the effects of civil war, the devastation following Monday's earthquake is widespread.
Death toll: At least 1,136 people were killed in the quake, Syrian state news agencies reported, with fears more remain buried within rubble. Much of northwestern Syria, which borders Turkey, is controlled by rebels, and aid agencies warn of an acute humanitarian crisis that is likely to be felt for months to come.
Equipment shortfall: The UN's humanitarian coordinator in Syria, El-Mostafa Benlamlih, told CNN the search and rescue mission was being hampered by a lack of heavy equipment and machinery. He said the UN's supply of stock has been distributed and more medicine and medical equipment is needed, and especially fresh water or tools to repair damaged water tanks.
Vulnerable population: Around 4 million people in northern Syria were already displaced and relying on humanitarian support as a result of war, according to James Elder, spokesman for UNICEF. "Everyone is overstretched in that part of the world … there is an enormous amount do," he said. "People have fled their homes often standing around in bitterly cold conditions really without access to safe water. So water is key. Blankets, food, psychological support."
Disease risk: Hospitals in the country are overwhelmed as victims seek help, with some facilities damaged by the quake. And there is particular concern about the spread of illness, especially among children, who were already living in extreme hardship. This winter had been particularly tough due to the freezing conditions and a cholera outbreak, Elder said.
Plea for international aid: A volunteer with the "White Helmets" group, officially known as the Syria Civil Defense, said the organization does not have enough help to handle this disaster. "Our teams are working around the clock to help to save the injured people. But our capabilities, our powers are not enough to handle this disaster," Ismail Alabdullah told CNN. "This disaster needs international efforts to handle."
27 min ago
In Turkey, rescue workers are racing to find survivors following the deadly quake
From CNN's Rhea Mogul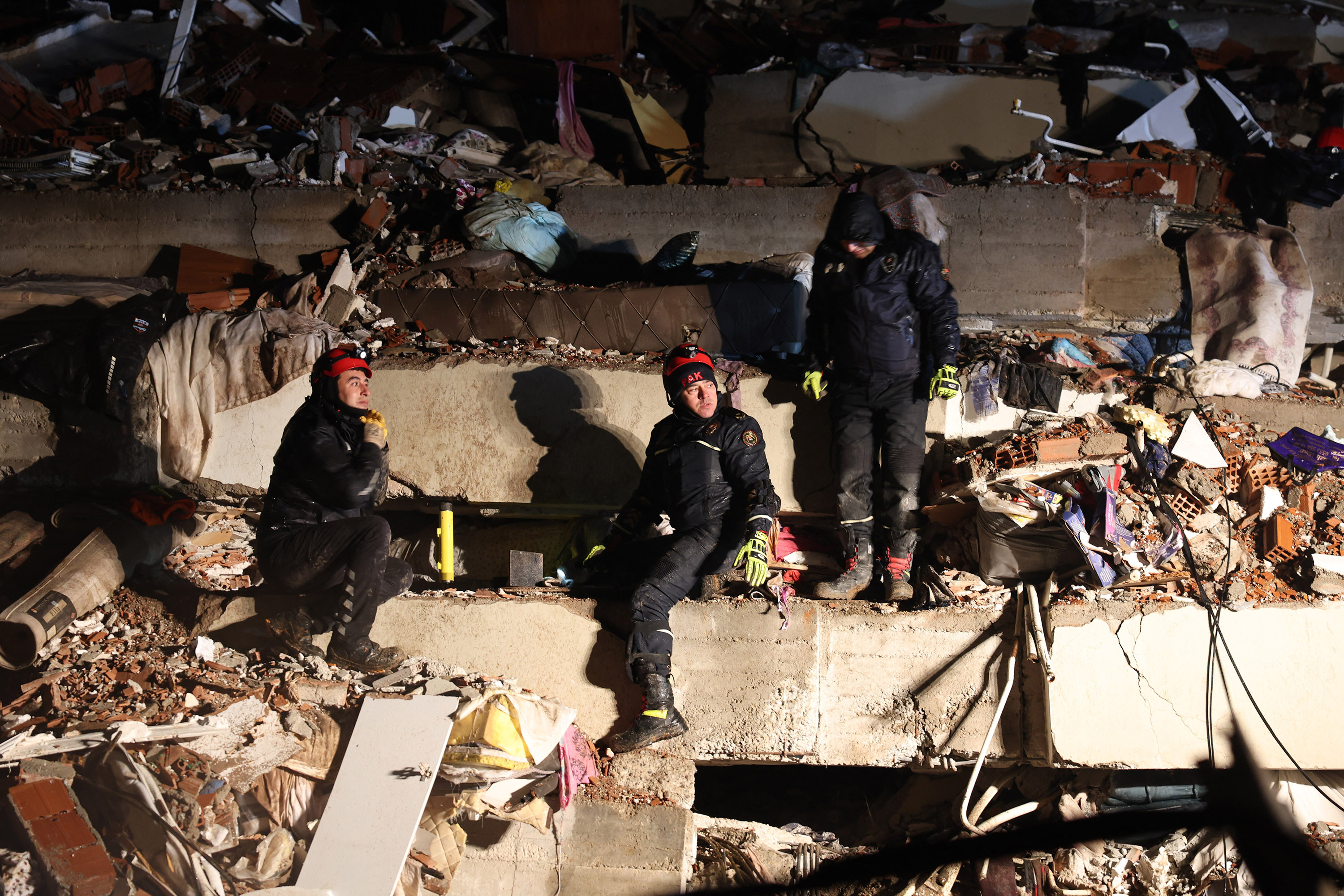 Rescuers search for victims and survivors amidst the rubble of collapsed buildings in Kahramanmaras, Turkey, on February 7. (Adem Altan/AFP/Getty Images)
A massive international rescue effort is underway in Turkey and Syria to reach victims trapped within rubble as survivors endured their first night in freezing conditions beside the crumbled remains of thousands of homes and buildings.
The death toll continues to climb more than 24 hours after the quake as search terms navigate blocked roads and damaged infrastructure to reach the affected area, which has been rattled by at least 100 aftershocks.
In Turkey: At least 2,921 people have died and several thousand are injured, the head of the country's disaster services, Yunus Sezer told a news conference Monday night.
Plunging temperatures: The weather and the scale of the disaster were making it challenging for aid teams to reach the affected area, Turkish Health Minister Fahrettin Koca said, adding that helicopters were unable to take off on Monday due to the poor weather. Heavy snowstorms have recently hit parts of Syria and Turkey, according to CNN meteorologist Haley Brink, and by Wednesday already cold temperatures are expected to plummet several degrees below zero.
Survivors sheltering: Photos taken in earthquake-hit cities in southeastern Turkey show families huddling around fires to keep warm. Some sought shelter in buses, sports centers, mosques and underneath temporary tarpaulin tents — structures sturdy enough to withstand further aftershocks or flimsy enough not to cause severe injury should they collapse.
Buildings destroyed: At least 5,606 structures crumbled during the quake and in the hours after, Turkey's disaster agency (AFAD) said. Iskenderun State Hospital in the city of the same name was among them, Koca, the health minister said. "We are trying to save the medical workers and patients there," he added. "These sorts of disasters can only be overcome with solidarity." By late Monday, at least 300,000 blankets, 24,712 beds, and 19,722 tents had been sent to the quake-affected areas, AFAD said.
1 hr 3 min ago
Monday's earthquake is the most powerful recorded in Turkey since 1939, UN says
From CNN's Sahar Akbarzai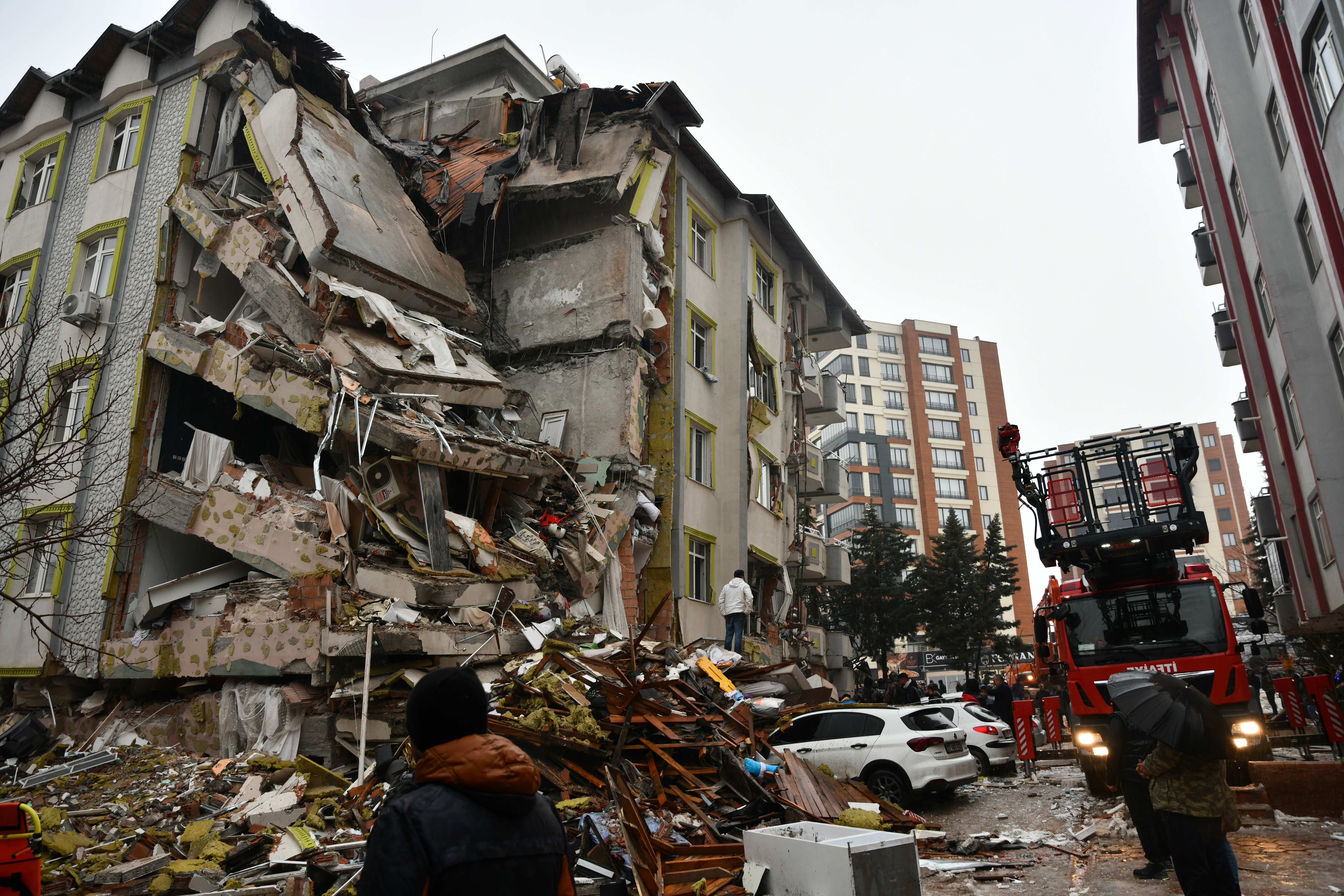 A view of debris in Kahramanmaras, Turkey, on February 6. (Adsiz Gunebakan/Anadolu Agency/Getty Images)
The United Nations said the 7.8 magnitude earthquake that struck southern Turkey early Monday was the county's most powerful quake in more than 80 years.
"This is Türkiye's most powerful earthquake recorded since 1939," a situational report released Monday by the UN Office for the Coordination of Humanitarian Affairs (UNOCHA) said.
UNOCHA said emergency response teams from the United Nations Disaster Assessment and Coordination (UNDAC), the International Search and Rescue Advisory Group (INSARAG) and World Health Organization's Emergency Medical Teams (EMT) are being mobilized to Turkey to assist in the humanitarian response.
"The UN and partners are closely monitoring the situation on the ground and are looking to mobilize emergency funds in the region," the report said.
1 hr 39 min ago
Boy, 14, rescued from rubble in Turkey a day after deadly earthquake
From CNN's Beroj Siya
A 14-year-old boy was rescued from the rubble in the city of Kahramanmaras more than 24 hours after a powerful earthquake struck the region, according to CNN affiliate CNN Turk.
His rescue, broadcasted live on CNN Turk, showed emergency teams carrying the boy on a stretcher through crowds to an ambulance.
"Finally! He has been rescued," a CNN Turk reporter said from the scene, calling it a "miracle."
The boy has been transferred to hospital, the reporter said. His condition is not known.
55 min ago
There have been 100 aftershocks so far in Turkey, USGS says
From CNN's Taylor Ward
An aerial view of debris as rescue workers conduct search and rescue operations on a collapsed building in Osmaniye, Turkey on February 6. (Muzaffer Cagliyaner/Anadolu Agency/Getty Images)
At least 100 aftershocks measuring 4.0 or greater have occurred since the 7.8 magnitude earthquake struck southern Turkey on Monday morning local time, according to the United States Geological Survey.
As the time from the original earthquake extends, the frequency and magnitude of the aftershocks tend to decrease. However, 5.0 to 6.0-plus aftershocks are still likely to occur and bring a risk of additional damage to structures that are compromised from the original earthquake. This brings a continued threat to rescue teams and survivors.
The aftershocks stretch for more than 300 kilometers (186 miles) along the fault zone that ruptured in southern Turkey, oriented from southwest to northeast and stretching from the border with Syria up through the province of Malatya.
3 hr 17 min ago
Aid planes from Iraq and Iran land in Syria
From CNN's Ruba Alhenawi and Mitchell McCluskey
Planes carrying aid shipments from Iraq and Iran arrived at Damascus International Airport after a magnitude 7.8 earthquake devastated Turkey and Syria, Syrian state media SANA reported.
The Iranian aid arrived on Monday and the Iraqi aid was delivered early Tuesday morning local time, SANA reported.
Mahdi Ghanem, an official at the Iraqi Ministry of Foreign Affairs, told SANA that each plane carried about 70 tons of food, medical supplies, blankets and necessary supplies.
On Monday, Iraq's Prime Minister Mohammed S. Al-Sudani announced they would send a shipment of emergency medical supplies, first aid and shelter supplies as well as medicine and fuel.
Iran's Foreign Minister Hossein Amir-Abdollahian told Syrian Foreign Minister Faisal Mekdad he would dispatch humanitarian aid to the area, Iranian state media IRNA reported.
49 min ago
Death toll rises to more than 4,300 after earthquake rocks Turkey and Syria
From CNN's From Gul Tuysuz in Ankara, Turkey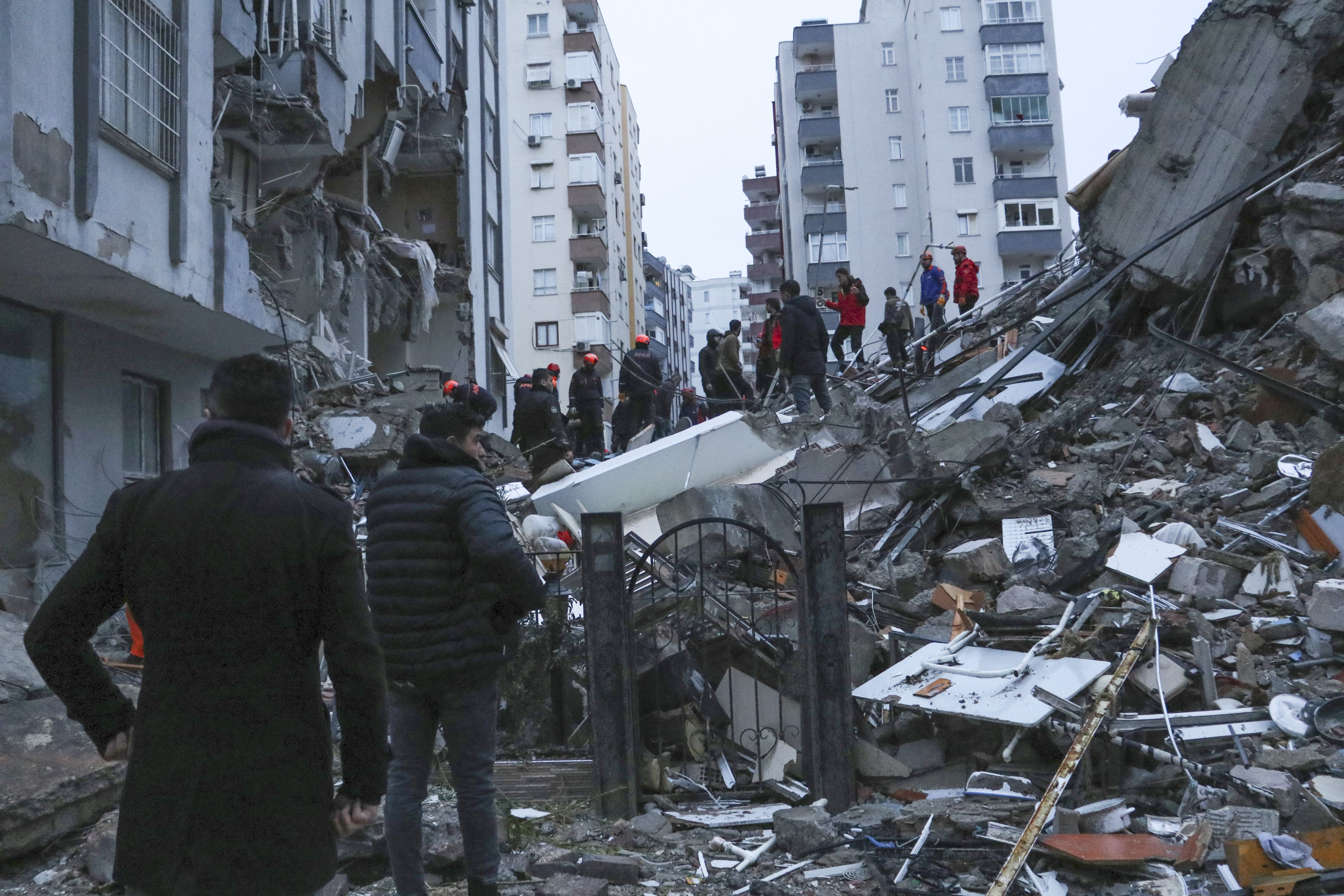 People and rescue teams try to reach trapped residents inside collapsed buildings in Adana, Turkey, on February 6. (IHA agency/AP)
At least 4,372 deaths have been confirmed after a powerful magnitude 7.8 earthquake rocked Turkey and Syria early Monday.
Turkey's toll rose to 2,921 as of Tuesday morning, according to Yunus Sezer, Turkey's head of disaster services.
A total of 15,834 injuries have been reported, Sezer said in a news conference in Ankara.
Sezer said he would provide a more comprehensive update at 6 a.m. local time (10 p.m. ET).
In Syria, 1,451 deaths and 3,531 injuries have been reported by officials.
4 hr 7 min ago
Weather and scale of disaster make it hard to reach quake-affected regions, Turkish health minister says
From CNN's Sahar Akbarzai
Poor weather and the scale of the disaster are creating challenges for aid teams, according to Turkish Health Minister Fahrettin Koca.
"The weather conditions and the scale of the disaster make it hard for our teams to reach the region," Koca said at a news conference, adding "our helicopters could not take off today due to weather conditions."
Parts of southern Turkey and northern Syria have been hit by heavy snowstorms in recent days, with further sub-zero temperatures forecast.
All state institutions have been mobilized in the recovery effort, including the national police, municipal workers, the Disaster and Emergency Management Agency and the Gendarmerie, an armed general law enforcement organization part of the Interior Ministry.
At least 2,256 emergency health personnel workers have so far reached earthquake-affected provinces, the health minister said.
At least 602 ambulances and two ambulance planes have been dispatched from neighboring cities. Also, 187 teams part of Turkey's National Medical Rescue Team (UMKE) have also been dispatched.
"We have moved teams from surrounding provinces to the region," the minister said.
Iskenderun State Hospital, a hospital in the city of Iskenderun, collapsed due to the earthquake.
"We are trying to save the medical workers and patients there," Koca said. "These sorts of disasters can only be overcome with solidarity."
5 hr 7 min ago
Thousands of homes likely destroyed following earthquake in Syria and Turkey, UNICEF says
From CNN's Sahar Akbarzai and Ghazi Balkiz
UNICEF says thousands of homes have likely been destroyed following an earthquake in Turkey and Syria on Monday.
"Thousands of homes are likely to have been destroyed, displacing families and exposing them to the elements at a time of year when temperatures regularly drop below freezing and snow and freezing rain are common. Heavy snowstorms have also recently hit parts of Syria and Türkiye, with further sub-zero temperatures forecasted," UNICEF said in a statement.
At least 3,830 deaths have been confirmed after a powerful magnitude 7.8 earthquake rocked Turkey and Syria early Monday. In Turkey alone, at least 5,606 buildings collapsed, according to Turkey's Disaster and Emergency Management Agency. There are reports of similar devastation in northern Syria.
It is also likely that hospitals and schools, along with other medical and education facilities, were "damaged or destroyed," UNICEF said.
UNICEF is working with the Turkish government and Turkey's Disaster and Emergency Management on the "emerging needs linked to the wider humanitarian response," the statement said, adding that the group is also preparing to support efforts in Syria.
"Children in Syria continue to face one of the most complex humanitarian situations in the world. A worsening economic crisis, continued localized hostilities after more than a decade of grinding conflict, mass displacement and devastated public infrastructure have left two-thirds of the population in need of assistance... waterborne diseases pose another deadly threat to children and families affected," UNICEF said.