In exchange for its work, the group has gained direct access to the Central African Republic's natural resources, according to Sorcha MacLeod, a member of the U.N. working group on the use of mercenaries.
"We received information in Central African Republic that the Wagner group was being paid in mining concessions," she said.
Trading in natural resources gives Wagner, and Russia, a way to evade sanctions put in place since the start of the war in Ukraine last February.
And now, despite Wagner sending tens of thousands of fighters to the war in Ukraine, many of them former prisoners, there's been no exodus of the group from Africa. Instead there's been a "doubling-down of Wagner's presence" and an expansion into other countries, MacLeod said.
The mercenary group is operating in a volatile environment. The Central African Republic has suffered from a series of coups and failed governments since gaining independence from France in 1960. The latest coup in 2013, which saw Christian and Muslim militias pitted against each other, was organized by Séléka, a coalition of rebel groups.
A U.N. peacekeeping mission have not stamped out the violence and in fact hundreds of its soldiers have been sent home after reports of sexual abuse.
Mines and mercenaries
Wherever Wagner has gone, accusations of widespread and unchecked human rights abuses have followed, including execution, rape and torture.
While Touadéra never used the word Wagner, Sewa Security Services and the Officers Union for International Security both operate in the Central African Republic on behalf of the mercenary group, according to the U.S. Treasury, which has sanctioned them.
Before the interview with Touadéra, an NBC News crew saw two of the top Wagner representatives in the country, Vitaly Perfilev and Dmitry Sytii, escorting a Russian television crew in the president's offices. Perfilev has been sanctioned by the European Union for being "responsible for serious human rights abuses" while working for Wagner in the country.
NBC News has investigated Wagner's role in taking control of the Ndassima gold mine in the center of the nation, and developing the site into a large-scale operation with the potential to net the group hundreds of millions of dollars in profits.
Officially, the Russian "instructors" were on a mission to clear rebels from the area in 2021. However, witnesses and official reports accuse the group of targeting civilians, some of whom had been engaging in small-scale or "artisanal" mining in the area.
According to the U.S.-based advocacy group The Sentry, Wagner violently seized control of Ndassima.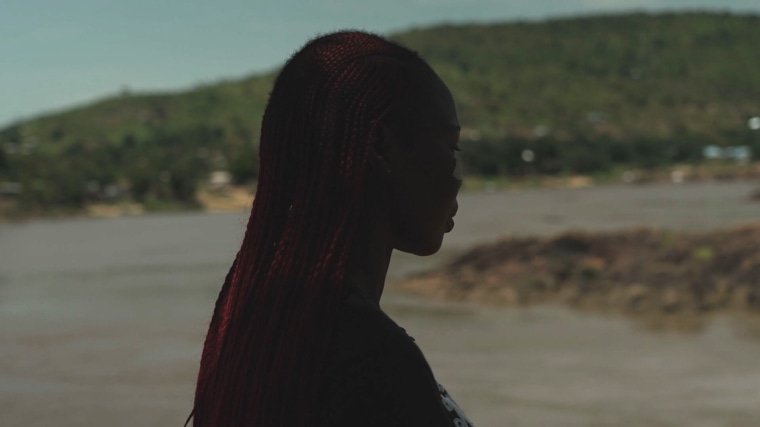 "They came for our wealth, for our gold," said a woman who told NBC News that her husband was killed by Russians.
Gabe Joselow / NBC News
A 25-year-old woman, whose name is being withheld for her protection, told NBC News her husband had been working at the mine when he was ordered out by Russian fighters in the fall of 2021.
"When they came, they presented documents saying that it was the government of our country that gave them permission and that this territory now belongs to them," she said. "They didn't say with their own mouths that they were Russians, but we knew they were Russians."
After her husband refused to leave and abandon his work at the mine, she said, he was shot to death, along with seven colleagues.
"They came for our wealth, for our gold," she said. "They've already started killing our husbands because of our own country's wealth."
NBC News could not independently verify the specific account, and traveling to the areas around the mines can be dangerous. In 2018, three Russian journalists were killed in the Central African Republic while investigating Wagner, the team's editor at Investigation Control Centre was quoted by saying. (The news group, backed by leading anti-Putin activist Mikhail Khodorkovsky, closed down after the journalists' deaths.)