CNN's continuing coverage of Hurricane Ian can be found here. Bookmark CNN's lite site for fast connectivity.
1 hr 28 min ago
Jacksonville International Airport cancels all flights Thursday
From CNN's Dave Alsup
All flights through Jacksonville International Airport are canceled Thursday and the terminal is closed, the airport announced in a tweet.
JAX joins Orlando International Airport and Tampa International Airport in discontinuing flights due to Hurricane Ian.
The Tampa airport announced that no flights would depart from the airstrip Thursday and has not provided a reopening date. Orlando International said in a Wednesday update that its commercial operations are "expected to resume sometime Friday."
1 hr 54 min ago
Photo shows damage to theatre in Venice, Florida
From CNN's Elizabeth Wolfe and Amy Simonson
Damage to Venice Theater is seen on September 28. (City of Venice, Florida)
The city of Venice, Florida, posted a picture of the storm damage to its award-winning Venice Theatre, which has operated since the 1950s, according to the theatre website.
The performing arts facility hosts two stages, a 432-seat main venue and a 90-seat theatre.
The theatre canceled show performances, rehearsals and classes through Thursday due to the storm, according to its website.
57 min ago
"We will hunt you down," sheriff says to those thinking of looting during storm
From CNN's Amy Simonson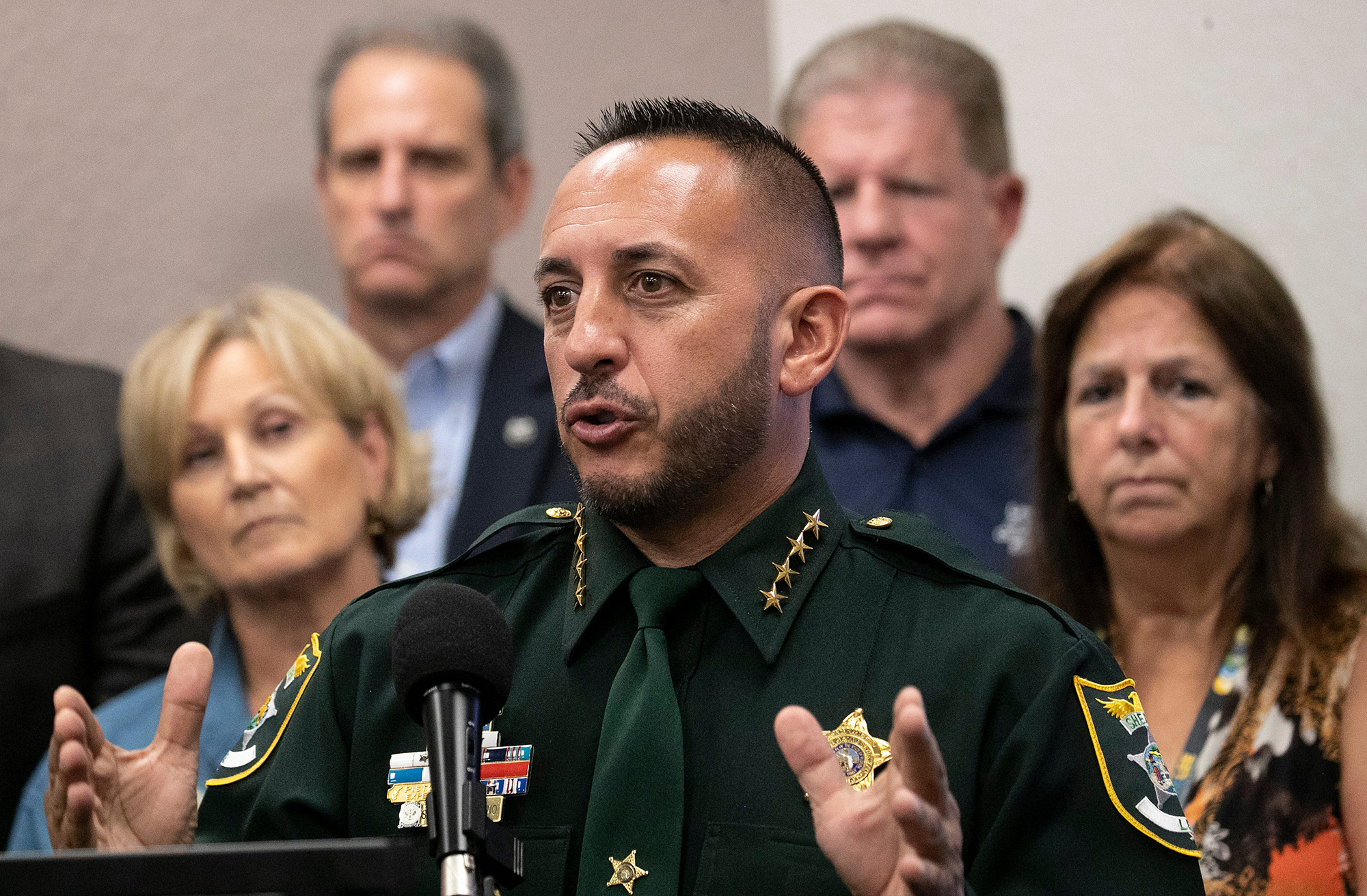 Lee County Sheriff Carmine Marceno speaks during a press conference about Hurricane Ian preparations on Monday, Sept 26. (Amanda Inscore/The News-Press USA Today Network)
Any individual who is thinking of looting a business or residence will be caught by police and sent to jail, Lee County Sheriff Carmine Marceno warned Wednesday night.
"The one thing I do have is absolute, and that is a message that's very clear for any of those individuals that think they're going to go out there and loot or prey on people during this horrific event: you better think twice," Marceno said at a news conference.
"When I say zero tolerance, zero tolerance means we will hunt you down, track you down and you're going to jail if you're lucky," he said.
An incident of someone trying to loot a gas station was reported and police will not tolerate such behavior, the sheriff said.
Calls are also coming in for people to rescue them, but officers will not be able to go out until the winds die down to less than 45 mph, Marceno said.
"Obviously, there are a lot of challenges that we face. We don't even know exactly what we face just yet. We know we've been hit very hard," he said.
Reports are coming in of damaged buildings as well as vehicles floating to the ocean, but until deputies can get out to assess they are unable to give specific details, he said.
"We don't know exactly what's out there. There are residents that are desperate for help. Their homes are compromised, businesses are compromised. We have water issues," he said.
Officials are asking residents to stay off the roadways in the meantime, he said.
2 hr 16 min ago
Sarasota first responders will clear emergency routes once winds decrease to under 45 mph
From CNN's Amy Simonson
Once winds decrease to under 45 mph, Sarasota County's Tactical First-In teams will begin clearing emergency routes so that authorized staff can begin conducting damage assessments, the county said in a statement.
"We will also be evaluating our county infrastructure, like water and wastewater systems. Please be patient with this process as we do not know how long this will take," the statement said.
Residents are urged to stay off the roadways until local officials say they are clear.
Sarasota schools are also closed through Friday and schools will be assessed for any damage, the county said in a separate statement.
2 hr 26 min ago
Charlotte County hopes to start answering emergency calls Thursday morning, official says
From CNN's Jamiel Lynch
Emergency crews in Charlotte County are not able to respond to 911 calls due to dangerous storm conditions, the county emergency director told CNN.
"Unfortunately our dispatch continues to receive calls – our 911 center – and just like every other county, our emergency response agencies cannot safely operate," Charlotte County Emergency Management Director Patrick Fuller told CNN's Anderson's Cooper Wednesday night.
"We are receiving calls about water in homes, other situations, but until the hazards conditions end, they won't be able to answer those calls," he added.
Overnight damage and storm surge levels are still unclear, but the department hopes to resume emergency services Thursday morning, Fuller said.
"We do fear that there is some catastrophic damage out there that we are going to see come morning time and come when the winds abate," he said, adding, "I hope it did not reach that catastrophic worst-case scenario. I fear, we are preparing for that regardless."
The majority of the county is without power, Fuller said.
2 hr 29 min ago
Hurricane Ian weakens to a Category 1 storm
From CNN's Taylor Ward
Hurricane Ian has weakened to a Category 1 hurricane as it moves across central Florida, the National Hurricane Center said late Wednesday. The storm's sustained winds are down to 90 mph.
Ian is now centered about 70 miles south of Orlando. East-central Florida, including Orlando, is also under a tornado watch through 1 a.m. ET Thursday.
Overnight, widespread tropical storm-force winds with gusts above hurricane force will continue to impact central Florida, the hurricane center said.
"Hurricane conditions are expected along the east-central Florida coast overnight through early Thursday," the hurricane center said.
The storm will also bring a continued threat of heavy rain into Thursday.
"Widespread, life-threatening catastrophic flooding, with major to record river flooding, will continue across portions of central Florida tonight," the hurricane center said, also warning of "considerable flooding in northern Florida, southeastern Georgia and eastern South Carolina" through the end of the week.
2 hr 45 min ago
More than a foot of rainfall has been recorded in some areas, preliminary totals show
From CNN's Gene Norman
26 min ago
Roof of ICU in hospital housing 160 patients blew off mid-storm, doctor says
From CNN's Jamiel Lynch
In a photo provided by Dr. Birgit Bodine shows a staff member standing in a flooded hallway at HCA Florida Fawcett Hospital in Port Charlotte, Fla., Wednesday, Sept. 28. (Dr. Birgit Bodine/AP)
The roof above an ICU at a hospital in Port Charlotte was torn off by the storm, Dr. Birgit Bodine, an internal medicine specialist at the facility, told CNN's Anderson Cooper.
"Unfortunately, today we had about 160 patients in-house and our roof blew off, part of the roof above the ICU. So, of course, we had torrential rains coming in which then went down the stairwell, which then went onto other floors," Bodine said.
The staff worked together to move patients to a safe place but they can't evacuate yet because of the conditions outside, the doctor said. Some rooms that are built for two people are now housing three and four patients, she said.
"It's actually pretty terrible. I'm actually still in the hospital. We still have not been able to leave," she said.
They hope to be able to evacuate patients in the morning, she said.
While the air conditioner is not working, the hospital is running on backup generators and all other vital systems are working, Bodine said.