A father of three girls said it's a miracle most of his family survived Hamas' massacre on Kibbutz Nir Oz in southern Israel.
"Every time I looked inside at my daughters, I couldn't believe that somebody was going to kill them," Mati Dancyg told Fox News. "I thought that eventually they will come to our house."
Almost half of Kibbutz Nir Oz's 400 residents were murdered or taken captive during Hamas's brutal Oct. 7 attack, reported The New York Times.
Dancyg's believes his father and beloved 75-year-old Yad Vashem Holocaust educator, Alex Dancyg, is believed to be a hostage in Gaza.
'WE WERE IN HELL:' VICTIM OF HAMAS ATTACK SHARES MIRACLES THAT SAVED HIS FAMILY
WATCH MORE FOX NEWS DIGITAL ORIGINALS HERE
Dancyg, a high school teacher, grew up in Nir Oz with his siblings and decided to start his own family there as well.
"It used to be a very, very beautiful place," he said. "It's all green and full of trees and plants."
Dancyg said his village turned into a horror scene on Oct. 7.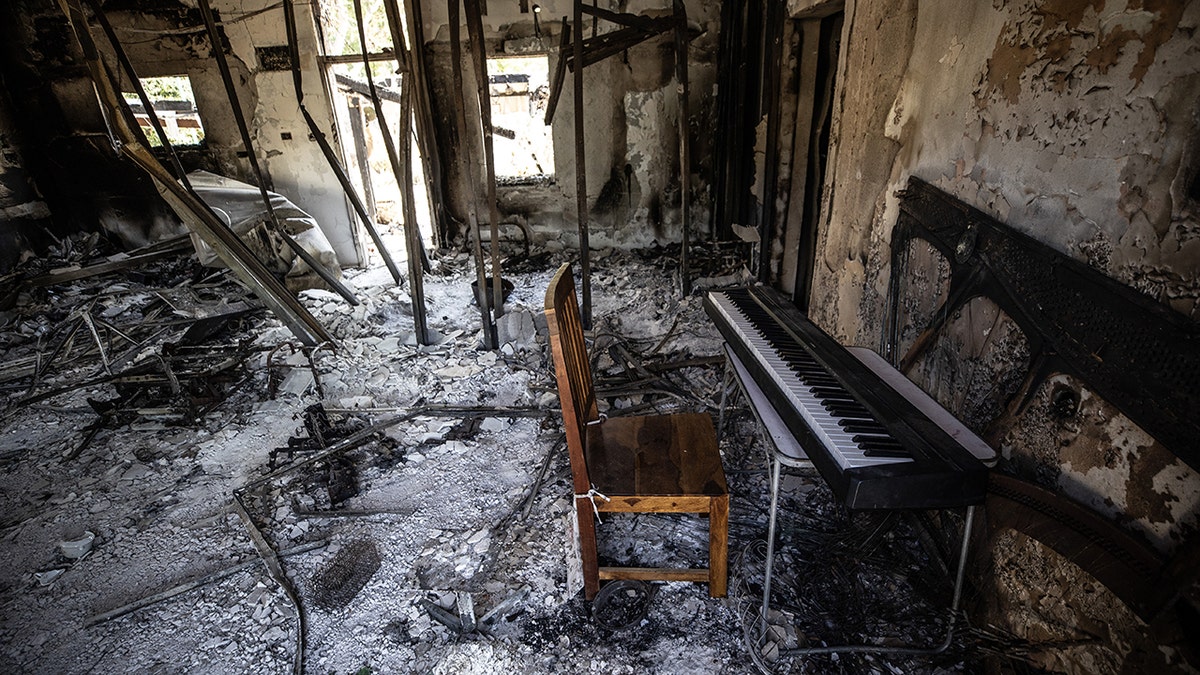 An interior view of a burnt down house in Nir Oz where Hamas terrorists killed or captured nearly half of the Israeli residents. (Mostafa Alkharouf/Anadolu via Getty Images)
"At 6:30 in the morning, we got the missile alarm, and we got to the shelter," he said, adding that heading to the shelter from Hamas' rockets.
"Very soon, we started getting messages that there are terrorists inside the kibbutz," he said.
JEWS RESPOND TO NEW YORK TIMES INITIAL REPORT ON GAZA HOSPITAL EXPLOSION: 'HARASSED AND ABUSED BECAUSE OF IT'
Dancyg said he didn't believe the messages at first and when the alarms stopped, he left the shelter to get food for his family.
"Then I heard shouting in Arabic and the noises of shooting," he said. "I went back to the shelter and closed the door, and since then, I was holding the handle of the door."
Dancyg said most shelters in his community don't have locks on the doors since they're intended as protection from rockets, not invaders. Dancyg said he held the door shut with one hand and with the other, watched for news on his phone.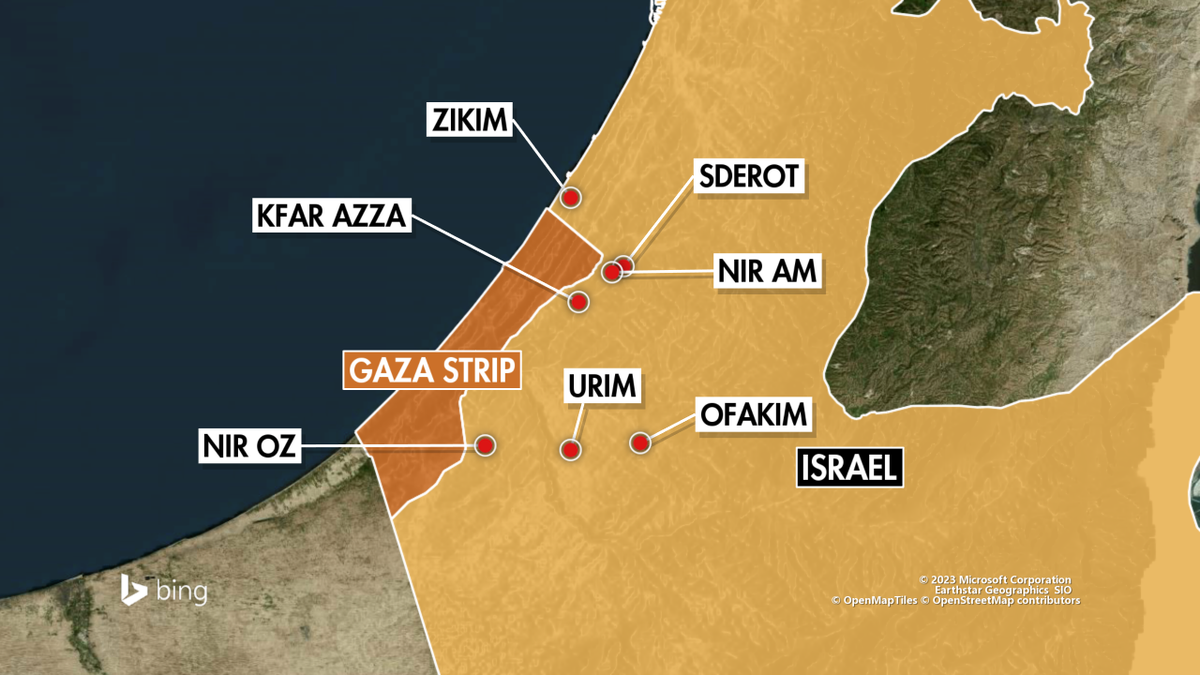 Kibbutz Nir Oz is just one of the villages neighboring Gaza that were attacked by Hamas terrorists. (Fox News)
"They started slaughtering people and burning houses," Dancyg said. "I was very, very terrified, and I was shaking from fear."
"In some kind of a miracle way, they didn't get inside," he continued.
THEY'RE 'CELEBRATING' A 'MASSACRE OF INNOCENT CIVILIANS': JEWISH COLLEGE STUDENTS DENOUNCE ANTI-ISRAEL PROTEST
Dancyg said he tried to keep his family as calm as possible by giving his young daughters — ages 2, 7 and 8 — toys and filtering the news reports he shared with his wife.
"I'm glad they didn't get very, very traumatized," he said. "I didn't tell my wife exactly what was going on because I wanted her to stay calm with the daughters."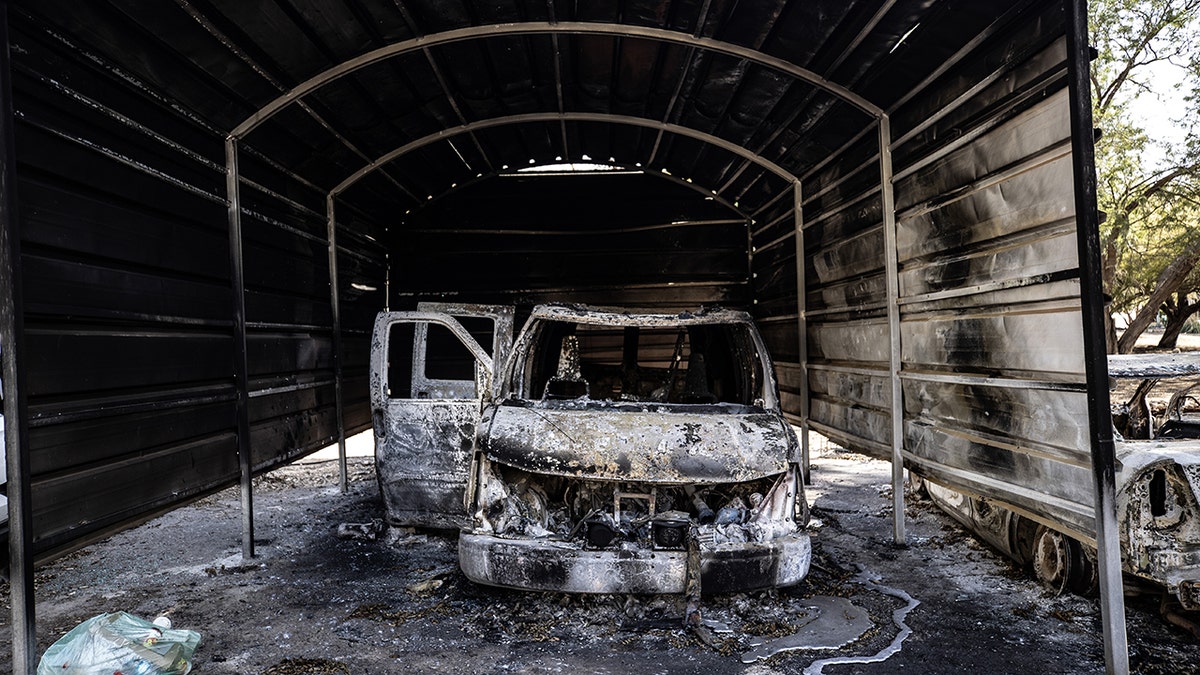 A view of a burnt down vehicle in Nir Oz. (Mostafa Alkharouf/Anadolu via Getty Images)
After about 10 hours, Dancyg said he was able to leave his home.
"We're talking about hours upon hours that the kibbutz just being slaughtered," he said. "Just hell. We were in hell."
As an Israel Defense Forces escort lead him to safety, Dancyg saw the destruction across the kibbutz, homes still burning.
He said that while he tried to shelter his daughters from their horrific reality, some of their classmates were murdered.
AMERICAN JEWS STEPPING UP: BOSTON COMMUNITY COLLECTS GEAR FOR ISRAEL DEFENSE FORCES
"They killed — slaughtered — children and babies," Dancyg said.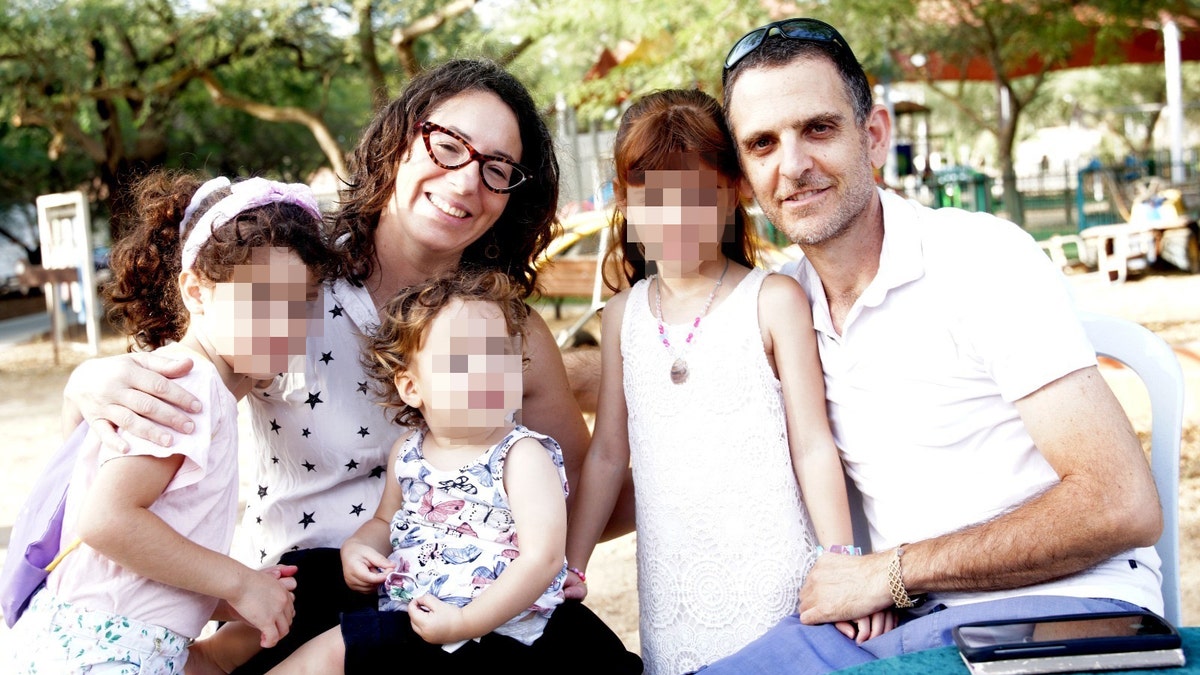 Mati Dancyg said he tried his best to shelter his wife and daughters to keep them calm during Hamas' brutal attack. (Courtesy of Mati Dancyg)
Dancyg also recounted how his 71-year-old mother protected her two teenage granddaughters in Nir Oz while sheltering in their safe room. It, too, didn't have a lock on the door.
"They were under the bed in the shelter and the terrorist got inside the house," Dancyg said. "Then they were trying to open the shelter, and I don't know how she did it. … She was able to hold the handle."
"The terrorists were trying to bring it down, and she was able to hold the handle successfully while all this time they were shooting the door and bullets were coming in," he added. "She managed to save herself and the two granddaughters."
Dancyg also said it was a miracle his sister's family also survived in the kibbutz. They escaped out of a window after terrorists set fire to their home.
Dancyg said her family was in the shelter, but when terrorists entered the home, his brother-in-law killed a few with his pistol.
'PURE HATE': JEWISH STUDENTS DISCUSS LIFE IN WAKE OF ISRAEL WAR
"They even throw grenades in his house and somehow with a very wise maneuver, he was saved but then eventually managed to get inside the shelter," Dancyg said, adding that their shelter did have a lock on it, either.
Hamas fighters "couldn't open the shelter, so they did what they did to many houses also: they just burned the house," he said. "The smoke from the fire started getting inside their shelter, and my sister said to her family and her husband 'okay I am not going to die like that.'"
Dancyg said his sister opened the window and the family escaped just as the Israeli army was entering their area.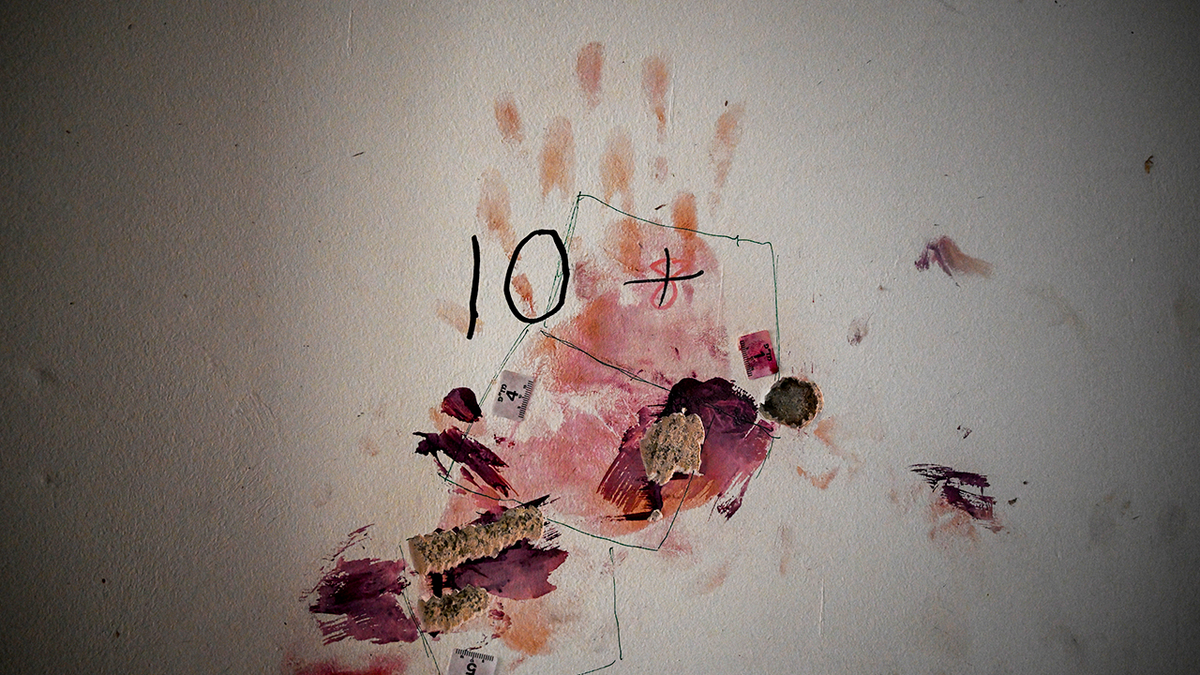 A bloodied handprint stains a wall in a Nir Oz house after Hamas militants attacked this kibbutz days earlier near the border of Gaza. (Alexi J. Rosenfeld/Getty Images)
"It's a matter of one minute or two minutes," he said. "If they would've left earlier, maybe the terrorists would have shot them."
CLICK TO GET THE FOX NEWS APP
Dancyg said his home was one of the few in the kibbutz that survived with minimal damage. He's currently in Israel's southernmost city, Eilat, with other survivors and says he has no plan to ever live in Nir Oz again.
"I don't think I can sleep there," he said. "I would be terrified. I must put my daughters and my family in a safer place."