NEWYou can now listen to Fox News articles!
"The View" hosts slammed criticism of President Biden's "where's Jackie" gaffe on Thursday and said that America was "ageist."
"I mean, she passed last month not, like, a hundred years ago," co-host Whoopi Goldberg said. Joy Behar added that former President Donald Trump forgot Fredrick Douglas was dead.
Sara Haines compared Biden's moment to a "brain fart" and "mommy brain."
Reacting to White House press secretary Karine Jean-Pierre answering questions about the obvious gaffe, Haines declared: "That was very apparent, what this gaffe was, I think her explanation made it worse though because in that moment I probably would have just said, 'okay guys, he had a moment, who in this room hasn't?'" The co-host added that Jean-Pierre kept repeating the same words.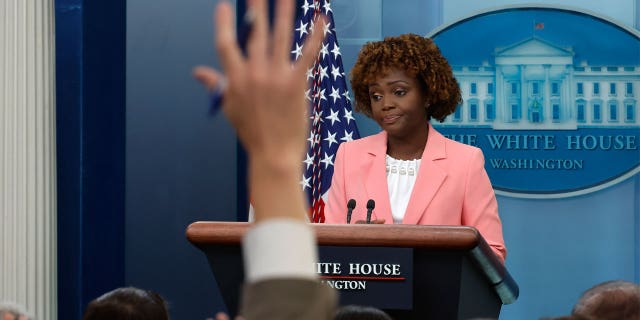 White House Press Secretary Karine Jean-Pierre talks to reporters during the daily news conference in the Brady Press Briefing Room at the White House on September 28, 2022 in Washington, DC. Jean-Pierre was repeatedly asked about why President Joe Biden was looking for the late Congresswoman Jackie Walorski (R-IN), who was killed in a car accident on August 03, during an event earlier in the day. (Photo by Chip Somodevilla/Getty Images)
CLEANUP OF BIDEN PANDEMIC COMMENT LATEST IN LONG STRING OF WHITE HOUSE WALK-BACKS
Behar claimed Republicans have "weaponized" Biden's gaffes in the past and have said that he's "senile."
"I think what it really shows is this country is so ageist. This country has a problem with age," co-host Sunny Hostin said. "You go to other countries and our elders are revered and they're revered because of the knowledge that they have acquired and this is a man who has worked in government his entire life, this is a man who probably had a relationship with this woman."
"I hate that about this country," she added.
WH PLAYS DAMAGE CONTROL YET AGAIN AFTER BIDEN SEARCH FOR DECEASED REP. WALORSKI ADDS TO LIST OF WALK-BACKS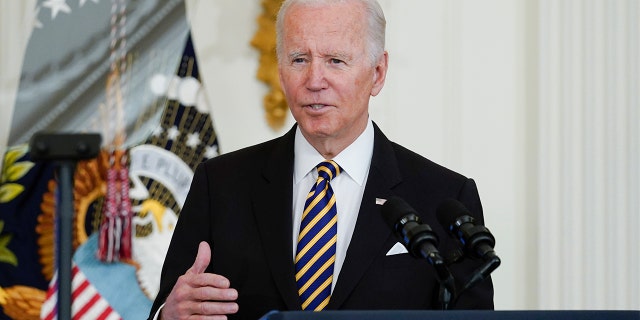 President Biden speaks during the 2022 National and State Teachers of the Year event in the East Room of the White House in Washington, Wednesday, April 27, 2022. (AP Photo/Susan Walsh)
Co-host Alyssa Farah Griffin said that the "cover-up was worse than the crime," and said the president has been "gaffe-prone" for his entire career.
During a press conference on Wednesday, multiple reporters asked Jean-Pierre about Biden's "where's Jackie" comments as she insisted he was not confused but rather had the deceased congresswoman "top of mind."
Griffin said Jean-Pierre could have just said it was a "mistake." And added that the reporters who asked questions about Biden's gaffe during a Wednesday press conference were not "right-wing reporters."
"But they reflect what people say," Behar pushed back.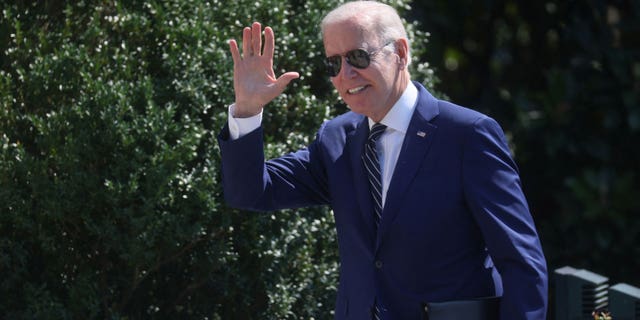 U.S. President Joe Biden greets people on South Lawn after arriving on Marine One from a trip to Delaware at the White House in Washington, U.S., August 24, 2022. (REUTERS/Leah Millis)
CLICK HERE TO GET THE FOX NEWS APP
Jackie Walorski, a Republican congresswoman from Indiana, passed away in early August. Walorski, along with two of her staffers, Zachery Potts and Emma Thomson, were killed in a car crash.
Jean-Pierre told reporters 14 times on Wednesday that Walorski was at the top of Biden's mind because he plans to meet with her family on Friday at the White House.
Hanna Panreck is an associate editor at Fox News.