Residents of a town in western Ecuador elected a man as their new mayor on Sunday just hours after he was assassinated. Mayoral candidate Omar Menendez took more than 46% of the vote in Sunday's election in Puerto Lopez.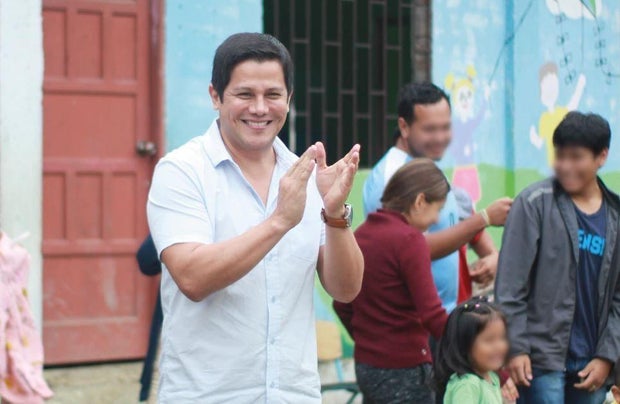 A file photo from his Facebook page shows Omar Menendez, a mayoral candidate in the town of Puerto Lopez, Ecuador, on the campaign trail.
Facebook/Omar Menendez
Menendez was fatally shot on Sunday evening, hours before the polls opened, inside an office building by unknown gunmen on motorcycles. A 16-year-old boy was also hit in the attack and died from his wounds.
On Monday, Menendez was buried at the local cemetery after being declared the winner of the election. The regional office of his Citizen's Revolution political party accepted his victory and said another member, Verónica Isabel Lucas Marcillo, would step in to fill the mayor's post on behalf of Menendez.
The slain politician's wife, Génesis Gonzáles, posted a message Sunday on her Facebook page paying tribute to Menendez.
"You taught me to love, learn and keep moving forward. To not be afraid, but you never taught me how to do it without you," Gonzáles said in the post.
She said her husband had always strived only to improve his town for its people, and that she was sure she would see him again — and when she did, she promised to tell him how the people of Puerto López had supported him right until the very end.
Menendez was the second candidate in a local mayoral election to be assassinated in Ecuador in the space of two weeks — part of a much wider spate of killings and violence linked to organized crime.
Local elections on Sunday coincided with a national referendum to decide whether Ecuador should allow its citizens to be extradited to other nations if they are accused of links to organized crime.
No results were announced after 10 hours of polling on Sunday, and authorities have 10 days to count the ballots and then announce results in the referendum.
Ecuador's Conservative President Guillermo Lasso has proposed changing the country's constitution to allow extraditions as a way of dealing with the violent crime wave gripping the country, including the killing of politicians.
Ecuador is sandwiched between Colombia and Peru, the world's two largest cocaine producers, and has itself become a hub for the global drug trade in recent years.
Despite not having any major drug plantations or cartels of its own, nor big laboratories for refining cocaine, Ecuador is listed by the United States among the top 22 drug-producing or transit countries in the world.
Drugs produced elsewhere are shipped from Ecuador's Guayaquil port to the United States, Europe and Asia. This has resulted in a bloody territorial war between gangs — some with ties to Mexican cartels according to the authorities — who brutally kill each other on the streets and in Ecuador's overcrowded jails.
The country's murder rate almost doubled between 2021 and 2022 from 14 to 25 homicides per 100,000 inhabitants, according to official figures.
In:

Drug Cartels

Mexico

Murder

Ecuador

Crime
Thanks for reading CBS NEWS.
Create your free account or log in
for more features.