Power restored at Ukrainian nuclear plant
The U.N. nuclear chief stressed Tuesday that the world is fortunate a nuclear accident hasn't happened in Ukraine and asked Moscow and Kyiv to commit to preventing any attack on Europe's largest nuclear power plant and make other pledges "to avoid the danger of a catastrophic incident."
Rafael Mariano Grossi reiterated to the U.N. Security Council what he told the International Atomic Energy Agency's board of governors in March: "We are rolling a dice and if this continues then one day our luck will run out."
The IAEA director-general said avoiding a nuclear accident is possible if five principles are observed at the Zaporizhzhia nuclear power plant, where fighting on seven occasions, most recently last week, disrupted critical power supplies, "the last line of defense against a nuclear accident."
Grossi "respectfully and solemnly" asked Ukraine and Russia to observe the principles, saying IAEA experts at Zaporizhzhia will start monitoring and he will publicly report on any violations:
Ban attacks from or against the plant, especially targeting reactors and spent fuel storage areas.
Ban the storage of heavy weapons or presence of military personnel that could be used for an attack.
Ensure the security of an uninterrupted off-site power supply to the plant.
Protect "all structures, systems and components" essential to the plant's operation from attacks or acts of sabotage.
Take no action to undermine these principles.
Grossi asked the 15 Security Council members to support the five principles, stressing that they are "to no one's detriment and to everyone's benefit."
The Kremlin's forces took over the plant after Russia's full-scale invasion of Ukraine in February 2022. Ukrainian President Volodymyr Zelenskyy opposes any proposal that would legitimize Russia's control.
Neither the Russian nor Ukrainian ambassador gave a commitment to support the principles.
Ukraine's U.N. Ambassador Sergiy Kyslytsya accused Russia of continuing "to actively use the nuclear plant for military purposes." He said Russia has mined its perimeter and is responsible for shelling that has inflicted "serious damage" on parts of the plant, undermining its safety. He claimed 500 Russian military personnel are at the plant along with heavy weapons, munitions and explosives.
"The threat of dangerous accident as a result of these irresponsible and criminal actions hangs over us," he said.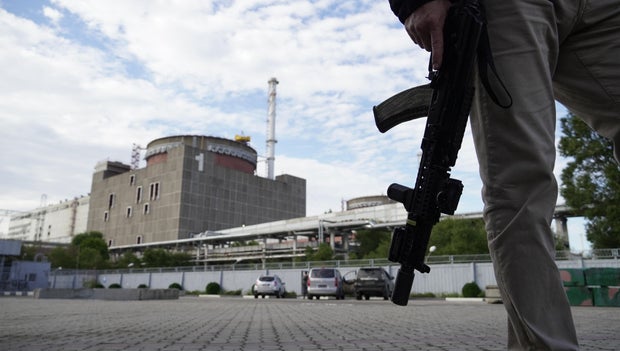 This photo taken on September 11, 2022 shows a security person standing in front of the Zaporizhzhia Nuclear Power Plant amid the ongoing Russian invasion of Ukraine.
STRINGER/AFP via Getty Images
U.S. Ambassador to the U.N. Linda Thomas-Greenfield said recent news reports indicate that Moscow has disconnected Zaporizhzhya's vital radiation monitoring sensors, which means the plant's data is now being sent to the Russian nuclear regulator.
"This is a clear escalation of Russia's efforts to undermine Ukrainian sovereignty and authority over the Zaporizhzhya plant. And this undermines our ability to have confidence in the level of nuclear safety at the plant," she said. "Let me be clear: the Zaporizhzhia Nuclear Power Plant belongs to Ukraine. And its data must go to Ukraine, not to Russia."
In response to a question by CBS News correspondent Pamela Falk after the meeting, Grossi addressed that issue: "This flow of information has been interrupted by the Russian management in control," he said.
"We have addressed this, in this aspect, with the Russian management at the plant, and we are going to be getting the information and transmitting it to the Ukrainian regulator for their information — which is a mitigation, is not an ideal situation," Grossi said, adding that the solution to the data question indicates the usefulness of the presence of the IAEA to bridge these gaps.
U.K. Ambassador to the U.N. Barbara Woodward was skeptical about how Russia will comply with the principles.
"New imagery shows Russian forces have established sandbag fighting positions on the rooves of several of the six reactor buildings. This indicates that they will have integrated the actual reactor buildings of Europe's largest nuclear power plant into tactical defense planning," Woodward said.
Russia's U.N. Ambassador Vassily Nebenzia denied that Russia has ever attacked the Zaporizhzhia plant, placed heavy weapons there or stationed military personnel at the plant to carry out an attack from its territory.
Grossi was guardedly optimistic about the views at the Security Council, although he said he was "not naïve" about the challenges ahead.
"We have gotten pretty close to consensus even though everybody wants a little more. … I think this is very encouraging," he told told Falk in an exclusive sit-down for CBS News after the meeting.
"You know, we have tried to have a practical approach here. We haven't been seeking Resolutions or things that are cast in stone or set in paper," he said.
Asked about the interest expressed by both Ukraine's Ambassador Kyslytsya and the U.S. to have an explicit reference in any agreement to include a recognition of Ukrainian sovereignty and territorial integrity, Grossi told CBS News: "It will be difficult to get universal consensus on that — this is obvious."
But he went on to say, "The IAEA is very clear, this being part of the U.N. system, that the U.N. Charter should never be violated and national borders are not to be changed by force."
Grossi said he has an "operational mandate" to do more to prevent a nuclear accident.
In:

International Atomic Energy Agency

Ukraine

Russia

United Nations
Thanks for reading CBS NEWS.
Create your free account or log in
for more features.