NEWYou can now listen to Fox News articles!
A pair of British climate activists glued hands to the frame ofVincent van Gogh's paintingat a gallery in London on Thursday to protest the government's climate policy.
Duo – Louis McKechnie and Emily Broklebank – are supporters of theactivist group "Just Stop Oil" engaged in promotional stunts to draw the public's attention to climate change.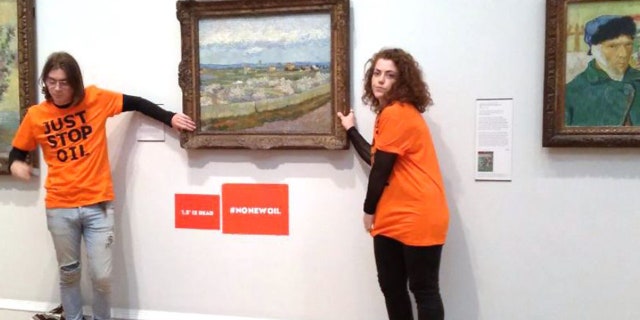 "Just Stop Oil" Adhesive Proponent Vincent van Gogh himself in the frame of the painting. (Just Stop Oil)
McKenny (21 years old) and Brocklebank (24 years old) wrote Van Gogh's 1889 painting "Flowers". I glued it to "Peach Tree". Hanging at the Courtauld Gallery in Somerset House, London.
In a statement released on the Just Stop Oil website, McKennie called on the arts to be more active in the fight against climate change.
EPA is a climate change program, EV RIDESHARES,'PRUNING WORKSHOPS'
, millions from BIDEN's COVIDBILL I'm spending dollars. "The government will immediately stop all new oil and gas projects," he said. "We are resisting or colluding."
The Courtauld Gallery was scheduled to be open to the public "as usual" on Friday, saying it would remain closed until the end of Thursday. Fox News is seeking comments from the gallery.
VideoPosted onlineJus t Stop Oil shows that police are responding to climate activists.
"Work of art is subject to this protection and national concern. People in Ethiopia, Somalia, India, Pakistan, the United States and Australia (to name a few) are now suffering from climate change. While I was there, I ignored it and left. " "What's more important? This picture or the future"? !!
Click here to get the Fox News app
Stunts were thrown by another climate activistIt happened later at the Leonardo da Vinci Mona Lisa at the Louvre Museum in Paris in late May.
Bradford Betz is a FoxNews Digital reporter. Story tips can be sent tobradford.betz@fox.com and Twitter:@ Bradford_Betz.