NEWYou can now listen to Fox News articles!
Two people,Washington D.C., died after a pickup truck crashed into a fireworks stand on Saturday. The
crash occurred around 5:30 pm on Saturday. Nanny Helen Burrows Avenue Near North East and Minnesota Avenue, when a pickup truck driver emits a red light and rides a bicycle at a pedestrian crossing.
After hitting the cyclist, the driver left the road and looked out, andpolice said he collided with afireworks stand.
The cyclist and the person behind the fireworks stand were both men and were sentenced to death, police said.
Texas teen killed after a pool party became violent, officially describing a "chaotic" scene
Police have experienced amedical emergencywhen the vehicle driver crashed.
According to police, no one else was injured in this incident.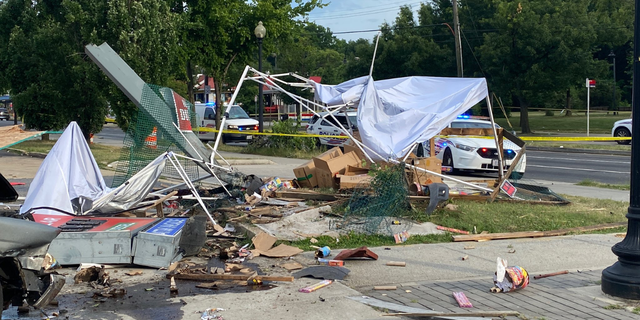 Two people died in Washington, D.C. Saturday After the car collided with the fireworks stand. (Washington, D.C. Police Station)
Click here to get the FOX News app
A photo shared by the Washington, D.C. police station shows fireworks scattered on the ground and a gas station sign that also appears to have been hit.
Adam Sabes is a writer for FoxNews Digital. Story tips can be sent toAdam.Sabes@fox.comand Twitter@asabes10.