How to watch the 2023 State of the Union
What: President Biden's State of the Union address

Date: Tuesday, Feb. 7, 2023

Time: 9 p.m. ET

Location: U.S. Capitol, Washington, D.C.

TV: CBS television stations — find your local station here

Online stream: Live on CBS News in the player above and on your mobile or streaming device

Follow: Live updates on CBSNews.com
3m ago
McCarthy calls joint session to order
The speaker then named the House members appointed to escort Mr. Biden into the chamber, which included House Democratic and Republican leadership.
Harris announced the senators appointed to the escort committee for the president.
The lawmakers selected to escort Mr. Biden then left the House chamber.
15m ago
Biden arrives at Capitol
That gives the president plenty of time to start his address on time.
19m ago
House convenes in joint session as vice president and Senate arrive at chamber
Ending a recess, McCarthy called the House to order as Vice President Kamala Harris and members of the Senate entered the chamber.
The House is convening for a joint session for the address from the president on the state of the union.
Harris then moved to take her seat at the dais and will sit next to the speaker for the speech.
"We've got a packed house," she told McCarthy.
25m ago
Biden departs the White House en route for the Capitol
President Biden and first lady Jill Biden left the White House en route for the Capitol at 8:30 p.m. He is motorcading from the White House South Lawn to the Capitol building along Pennsylvania Avenue.
Asked about the state of the union by awaiting reporters, Mr. Biden replied, "It's in great shape and getting better" as he walked out of the White House.
29m ago
Anita Dunn says the president "understands" people are feeling inflation, and gas prices "should be lower"
Anita Dunn, senior adviser to the president, said the president understands how inflation is affecting American families, and more needs to be done.
"The president took office during the pandemic," Dunn said. "Ten million people who were unemployed. Small businesses were shuttered. … And it has been a time of anxiety and exhaustion, and then we had the war in Europe begin and we've had inflation and of course, he gets it."
Dunn said the "good news" is Americans are going to begin to feel that the country is moving again, as manufacturing jobs return and as infrastructure projects improve roads and bridges across the country.
"I think that he understands, yes, of course people are feeling in particular the effects of inflation and it's starting to come down, but we have a lot more to do in order to get it where it needs to be," Dunn said, adding that gas prices have gone down but "should be lower."
Sanders will highlight the "radical left's America"
Arkansas Gov. Sarah Huckabee Sanders will highlight the "radical left's America" in the Republican response to the State of the Union, according to excerpts released ahead of the speech.
"And while you reap the consequences of their failures, the Biden administration seems more interested in woke fantasies than the hard reality Americans face every day," Sanders will say. "Most Americans simply want to live their lives in freedom and peace, but we are under attack in a left-wing culture war we didn't start and never wanted to fight. Every day, we are told that we must partake in their rituals, salute their flags, and worship their false idols…all while big government colludes with Big Tech to strip away the most American thing there is—your freedom of speech."
Sanders will call that "crazy" and "wrong," and will also highlight that "Republicans believe in an America where strong families thrive in safe communities."
Read more and watch the GOP response to the State of the Union here.
Biden faces divided Congress in State of the Union
President Biden will deliver his State of the Union address Tuesday night and is expected to tout the nation's economic progress and call for more bipartisan solutions to the nation's problems. Weijia Jiang has a preview.
Here's some of what Biden will say in his address
President Biden, according to excerpts released by the White House, will discuss America as a place of progress and resilience, talk about how "pride is coming back" to the country as blue-collar jobs return, and ask Republicans in Congress to work with him. That last piece is particularly relevant as the president works with a divided Congress for the first time in his presidency.
"Fighting for the sake of fighting, power for the sake of power, conflict for the sake of conflict, gets us nowhere," he is expected to say.
Here are three separate excerpts from the president's prepared speech:
"The story of America is a story of progress and resilience…We are the only country that has emerged from every crisis stronger than when we entered it. That is what we are doing again. Two years ago our economy was reeling. As I stand here tonight, we have created a record 12 million new jobs – more jobs created in two years than any president has ever created in four years. Two years ago, COVID had shut down our businesses, closed our schools, and robbed us of so much. Today, COVID no longer controls our lives. And two years ago, our democracy faced its greatest threat since the Civil War. Today, though bruised, our democracy remains unbowed and unbroken."
"My economic plan is about investing in places and people that have been forgotten. Amid the economic upheaval of the past four decades too many people have been left behind or treated like they're invisible. Maybe that's you watching at home. You remember the jobs that went away. And you wonder whether a path even exists anymore for you and your children to get ahead without moving away. I get it. That's why we're building an economy where no one is left behind. Jobs are coming back, pride is coming back because of the choices we made in the last two years. This is a blue-collar blueprint to rebuild America and make a real difference in your lives."
"To my Republican friends, if we could work together in the last Congress, there is no reason we can't work together in this new Congress. The people sent us a clear message. Fighting for the sake of fighting, power for the sake of power, conflict for the sake of conflict, gets us nowhere. And that's always been my vision for the country: to restore the soul of the nation, to rebuild the backbone of America: the middle class, to unite the country. We've been sent here to finish the job!"
Biden will outline his "economic vision" and tout bipartisanship, White House aide says
White House principal deputy communications director Kate Berner told CBS News' "Red & Blue" that Mr. Biden will be focusing on his "economic vision" in the State of the Union.
"Tonight in the State of the Union, the president is going to once again outline his vision, his economic vision, to grow the economy from the from the bottom up, middle up to reinvigorate parts of the country like Scranton, where he's from, that have fallen behind for so long," Berner said.
Berner also said Mr. Biden will be talking about his bipartisan record from the previous Congress, although the House has flipped to Republican control.
"The president believes that the American people sent him and members of Congress to Washington to get things done, to deliver," she said. "He'll extend, as you've heard say, an open say to members of Congress to work with him. The American people have an expectation that Republican members of Congress to work with him, and we expect to see them meet that obligation."
Sarah Sanders expected to contrast choice between Republicans and Democrats as that of "normal" versus "crazy"
GOP Gov. Sarah Sanders is delivering the Republican response to the president's address.
A Sanders official told CBS News she will say the president is unwilling to defend our border, our skies and our people, and isn't fit to serve as commander in chief.
The Arkansas governor will seek to contrast Republicans with Mr. Biden and the Democrats, claiming Republicans are for freedom while Democrats are for government control. The choice, she will suggest, isn't between right or left, but between "normal" and "crazy," the official said. Sanders will say Republicans are fighting to hold the president accountable, while they stand for safe communities, jobs, and freedom from the "woke" mobs in state capitals.
— Kristin Brown, Kathryn Watson
Trump says he will do a "Play-by-Play analysis" of State of the Union on Truth Social
Former President Donald Trump said Tuesday that he will give a "full 'Play-by-Play' analysis" of the State of the Union on his social media platform Truth Social.
"If properly done, and if Joe has just a modestly good night, this speech has the opportunity to rival any of the World's great orators, including, Lincoln, Washington, and, of course, the late, great, Prime Minister of the United Kingdom, Sir Winston Churchill," Trump posted on Truth Social..
It's unclear if Trump meant he will be posting text updates or make a video.
President Biden prepares to deliver his 2023 State of the Union address
President Biden is set to deliver his State of the Union address, facing new challenges from the Republican controlled House. CBS News chief Washington correspondent Major Garrett has more.
CBS News poll: In a divided nation, Americans do agree on this: Biden should talk about the economy
The State of our Union is… ?
We asked people to describe it, and got some dour assessments: they picked "divided" most of all, followed by "declining" and "weak." Few picked adjectives "strong," or - amid tough economic ratings - "prospering."
In all, it's a tough environment for a President addressing Congress and the nation.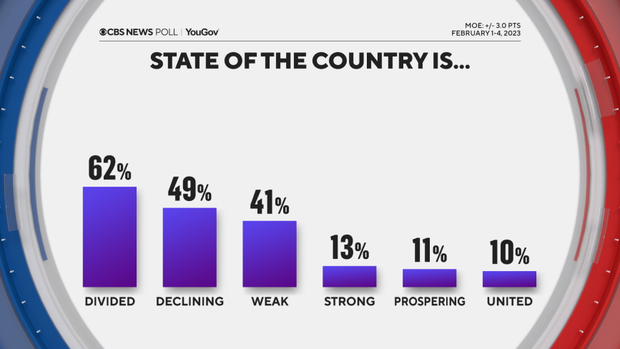 Read more here
— Anthony Salvanto, Jennifer DePinto, Fred Backus, Kabir Khanna