Government officials closely tracked a massive surveillance balloon believed to be from China as it traveled across the U.S. for several days.
The white balloon, which China's foreign ministry has claimed to be used for meteorological purposes, traveled at an altitude of around 60,000 feet with a vessel described as the size of three buses, officials said.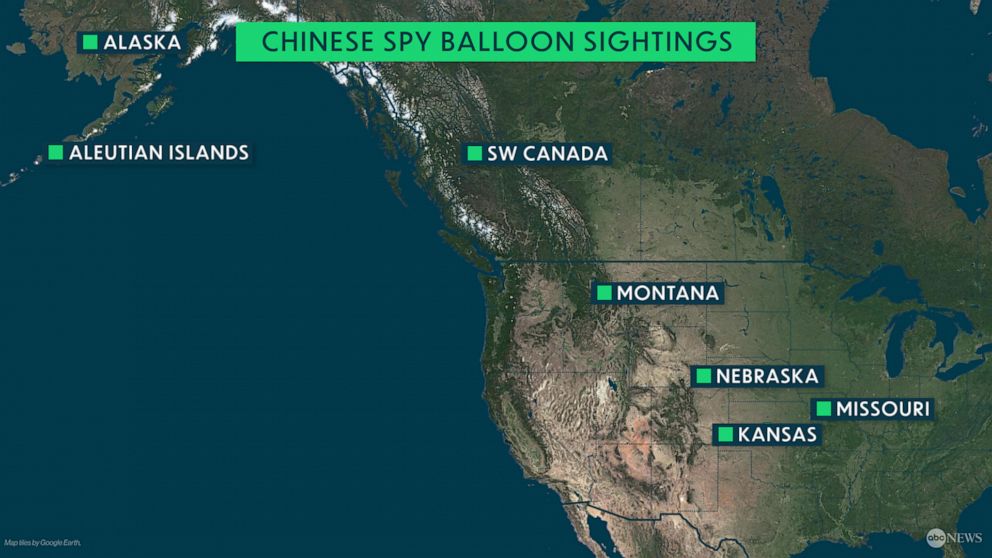 Chinese spy balloon sightings
ABC News Illustration / Google Earth
According to U.S. officials, the balloon traveled west of Alaska, south over the Aleutian Islands, over water into southwest Canada and then over Montana.
Social media sightings popped up as the balloon moved southeastwardly across the continental U.S. -- before it was shot down over the Atlantic Ocean Saturday afternoon.
One of the earliest sightings confirmed by ABC News was around 4:21 p.m. ET Wednesday in Reed Point, Montana.
More than two hours later, around 6:46 p.m. ET, it was filmed east of Reed Point, in Billings, Montana. Other footage captured it over Billings over the next hour, as civilians wondered what the object was.
From Montana, the balloon traveled southeast through South Dakota and Nebraska, according to U.S. officials.
ABC News has not confirmed any other sightings of the balloon until around 9:41 a.m. ET on Friday, when it was filmed over Sabetha, Kansas.
Over an hour later, it appeared farther east over Saint Joseph, Missouri, where it was filmed around 11 a.m. ET.
Video footage captured the balloon farther east, over Cameron, Missouri, between 11:56 a.m. and 12:28 p.m. ET.
About 30 minutes later, it was shot farther south within the Kansas City metro area, in Lee's Summit, Missouri.
The balloon appeared to be heading toward North Carolina, according to a senior U.S. official familiar with the situation. ABC News confirmed several sightings of the balloon over the state by Saturday morning.
The balloon continued to move southeastwardly, with sightings over the Hendersonville and Saluda areas, before being captured over the Eagle Lake neighborhood in Charlotte around 10:22 a.m. ET.
By about 11:15 a.m. ET, the balloon was captured over South Carolina, in Lancaster, as it continued to move southeastwardly toward the coast.
Around 1:30 p.m. ET, the balloon was seen over the coastal city of Myrtle, along with U.S. fighter aircraft close by.
Its voyage soon came to an end. Footage captured the balloon being shot down shortly after 2:40 p.m. ET. off the coast of South Carolina.
The balloon was ultimately downed in U.S. airspace over U.S. territorial waters by fighter aircraft assigned to U.S. Northern Command, according to Secretary of Defense Lloyd Austin.
ABC News' Victoria Beaule, Layla Ferris, Cheryl Gendron, Kerem Inal, Chris Looft, Josh Margolin and Luis Martinez contributed to this report.