Testing on a mysterious patch of bright green water in Venice's Grand Canal over the weekend revealed the strange color was caused by a non-toxic substance often used for detecting leaks, local officials said.
The green water was first noticed by the Rialto bridge, but it gradually spread because of the tide, the Regional Agency for the Environment in Venice (ARPAV) said. ARPAV officials have not said where the fluorescein that dyed the water on Sunday came from. The agency said there would be additional testing.
The governor of the Veneto region, Luca Zaia, said on Facebook that he was concerned about the risks of copycats trying to dye the canal.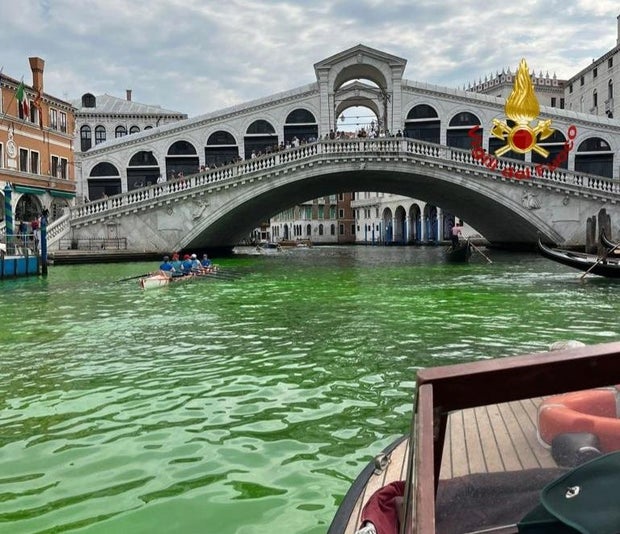 Water in the Grand Canal in Venice was green on May 28, 2023. The Italian police started to investigate the origin of the liquid.
Italian Firefighters (Vigili del Fuoco) / Handout/Anadolu Agency via Getty Images
Sunday was not the canal's first time being green. Argentine artist Nicolas Garcia Uriburu dyed the water green in 1968 as part of a stunt to promote ecological awareness. He used fluorescein, according to the Metropolitan Museum of Art. Garcia Uriburu later dyed the East River in New York, the Seine in Paris and the Rio de la Plata in Buenos Aires.
While no environmentalist group has claimed responsibility for Sunday's incident, there have been other, similar actions in Italy in recent weeks. Earlier in May, environmental activists poured black liquid into the water of Rome's Trevi Fountain as part of a climate change awareness protest.
Aliza Chasan
Aliza Chasan is a digital producer at 60 Minutes and CBS News.
Thanks for reading CBS NEWS.
Create your free account or log in
for more features.