1 min ago
Saudi Arabia's victory over Argentina was the greatest upset in World Cup history, says data company
From CNN's Alasdair Howorth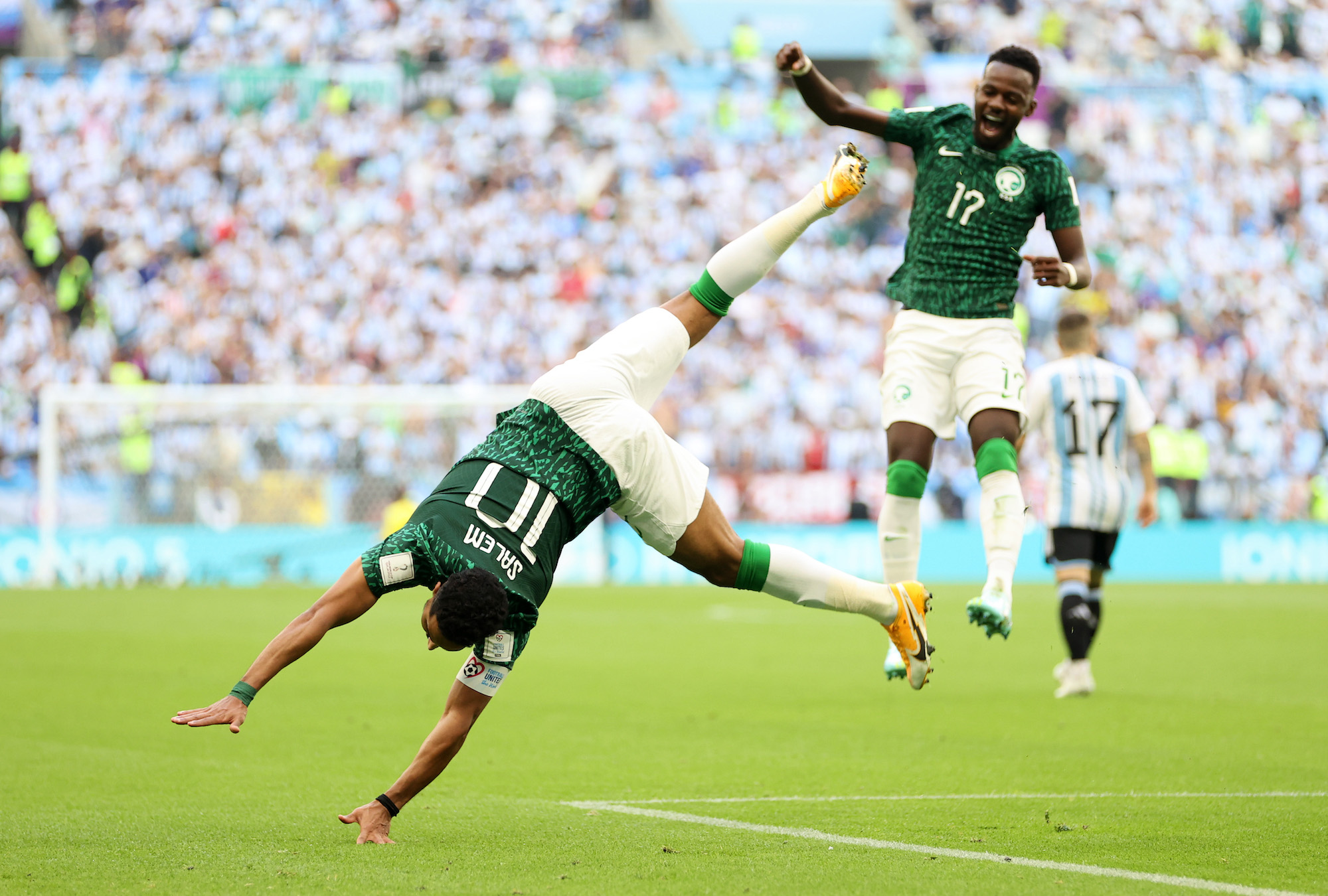 Salem Aldawsari celebrates after he scores Saudi Arabia's second goal against Argentina at Lusail Stadium on Tuesday. (Clive Brunskill/Getty Images)
Argentina has won the World Cup twice – in 1978 and 1986 – but at Qatar 2022, La Albiceleste wrote its name into the history books in an altogether different way.
According to sports data group Gracenote, Argentina's 2-1 defeat by Saudi Arabia in their Group C match is the biggest upset in World Cup history.
Led by Lionel Messi, ranked third in the world, unbeaten for three years and among the favorites to win the 2022 tournament, many had expected Argentina to sweep aside Saudi Arabia with 48 places separating the two teams in the world rankings.
All the pre-match talk focused on Messi, one of the world's greatest-ever players, who is likely playing his last World Cup.
The Argentina captain scored an early penalty to put his side in the lead, but two second-half goals from Saleh Al-Shehri and Salem Al-Dawsari turned the game on its head.
Al-Dawsari's incredible winner from distance – and subsequent acrobatic celebration – will become one of the defining moments of this World Cup.
According to Gracenote, the previous most surprising World Cup win was USA's victory against England in 1950, in which the American team had a 9.5% chance of victory.
But Saudi Arabia's chance of victory on Tuesday was estimated at 8.7%, which means the Green Falcons take over the number one spot.
Gracenote said it uses the company's "proprietary football ranking system to identify the most shocking upsets over the course of the World Cup's storied 92 years."
Read about more of the greatest upsets in tournament history here.
11 min ago
US can advance with a win over Iran. Here's how the standings look after tie vs England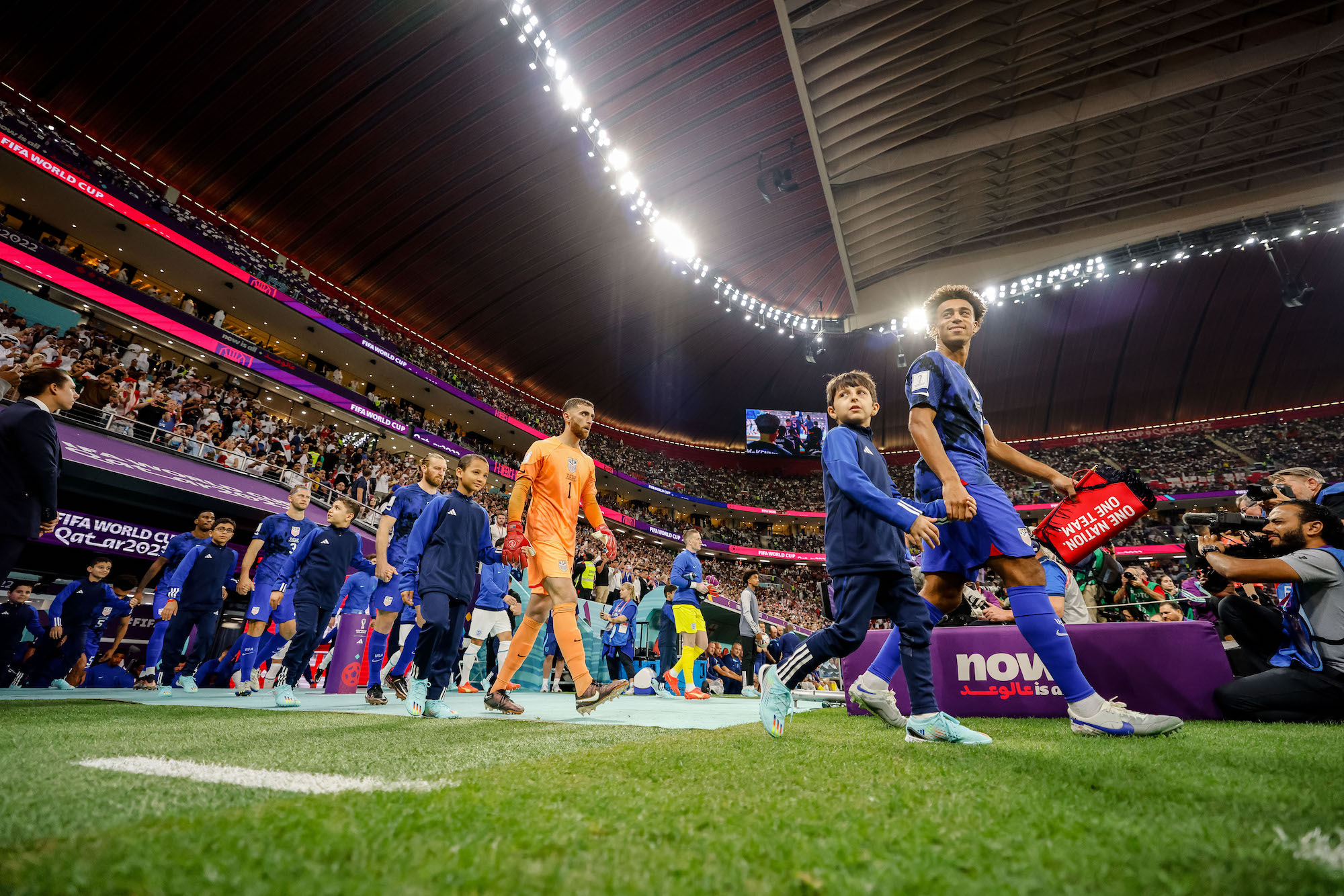 The United States team enters Al Bayt Stadium before facing England on Friday. (Berengui/DeFodi Images/Getty Images)
The US Men's National Team battled to a scoreless draw against England at the World Cup in Qatar on Friday, and both teams can still advance to the knockout stage from Group B with another match to play.
England tops the group with four points, followed by Iran with three, the US with two and Wales with one. (Teams earn 3 points for a win and 1 point for a tie.)
England faces Wales and the United States plays Iran on Tuesday.
The US must beat Iran to advance. It would mark their first victory in Qatar, as they've tied twice thus far.
England can advance with at least a draw on Tuesday. They thrashed Iran to start their campaign, winning 6-2.
41 min ago
Poland wins 2-0 as Saudi Arabia fails to repeat magical upset
From CNN's Issy Ronald
Polish striker Robert Lewandowski scored at a World Cup for the first time as Poland defeated Saudi Arabia 2-0 on Saturday, keeping its qualification hopes alive in Qatar.
Lewandowski, already Poland's leading goal-scorer and the third-highest scorer in Champions League history, did not play at the 2014 World Cup after Poland failed to qualify. He did not score at the 2018 tournament, and he also didn't find the net in his first 2022 match against Mexico.
Overcome by emotion after Saturday's goal, he slid across the pitch in celebration, where his teammates jumped on top of him as he buried his face in the turf.
It doubled Poland's lead late in the game, sealing an important victory over the Green Falcons, who were flying high after a shocking win over Argentina.
Poland's first goal came in the first half, when Lewandowski passed to his teammate Piotr Zielinski, who made no mistake with the finish.
Saudi Arabia missed several opportunities to equalize in the second half before Lewandowski sealed Poland's win.
What's next: Poland, who currently sit atop Group C, next face Argentina on Wednesday. Saudia Arabia, currently second in the group, take on Mexico also on Wednesday.
28 min ago
Australia defeats Tunisia 1-0 to win its first World Cup match since 2010
From CNN's Issy Ronald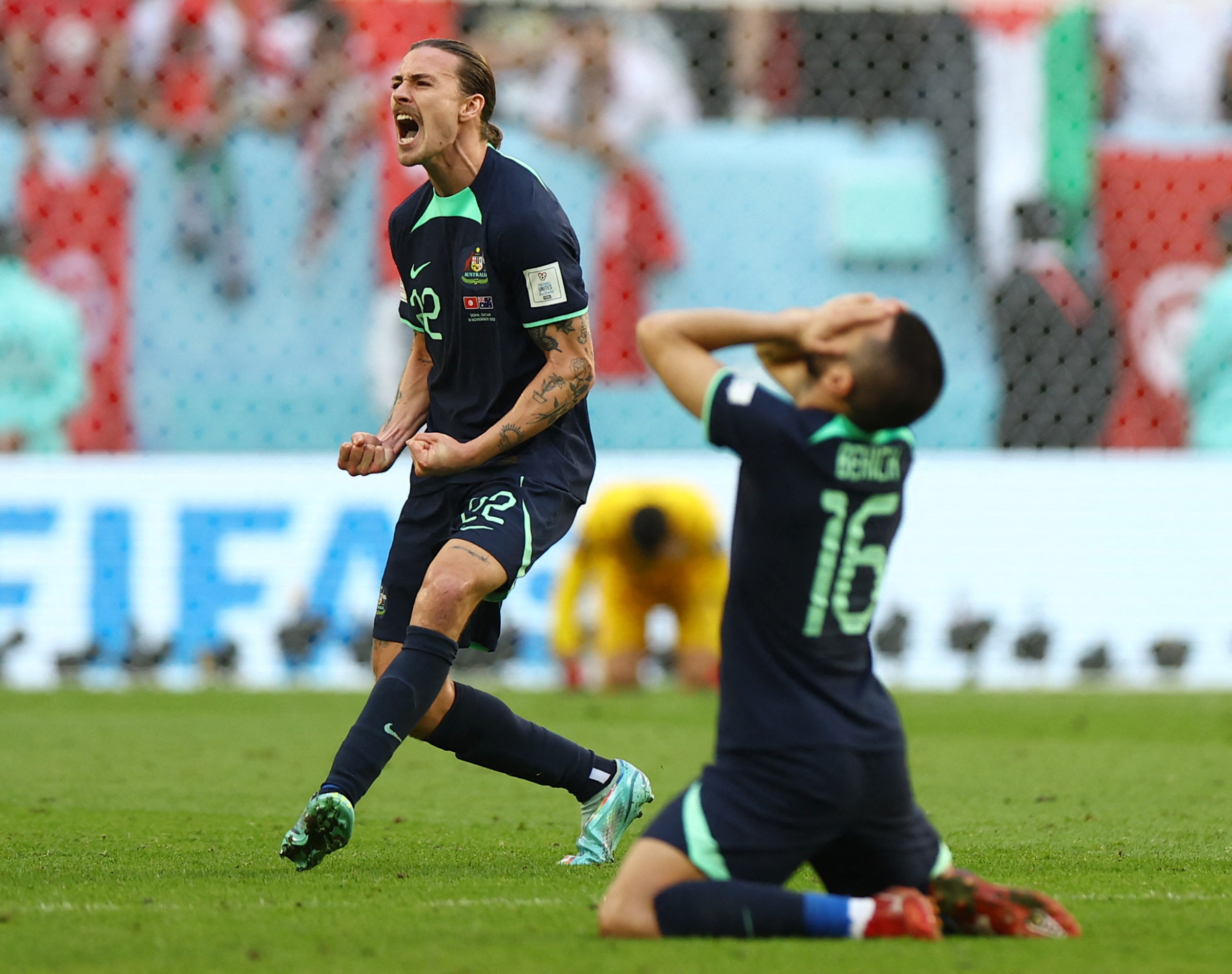 Australia's Jackson Irvine and Aziz Behich celebrate after the match against Tunisia on Saturday, November 26. (Hannah Mckay/Reuters)
Australia won its first World Cup match since June 2010 on Saturday, defeating Tunisia 1-0 to give itself a chance of qualifying for the knockout stages in Qatar.
A brilliant header from Mitch Duke in the first half proved the difference between the two sides, as Tunisia spurned chance after chance and could not find a way past the stubborn Australian defense.
For both teams seeking to reach the knockout stages from a group containing heavyweights France and Denmark, this was a must-win game.
Tunisia kicked off with the wind at their backs, having secured a 0-0 draw against Denmark in their opening match, while Australia had succumbed 4-1 to defending champion France and needed a win to keep them in the hunt for qualifying.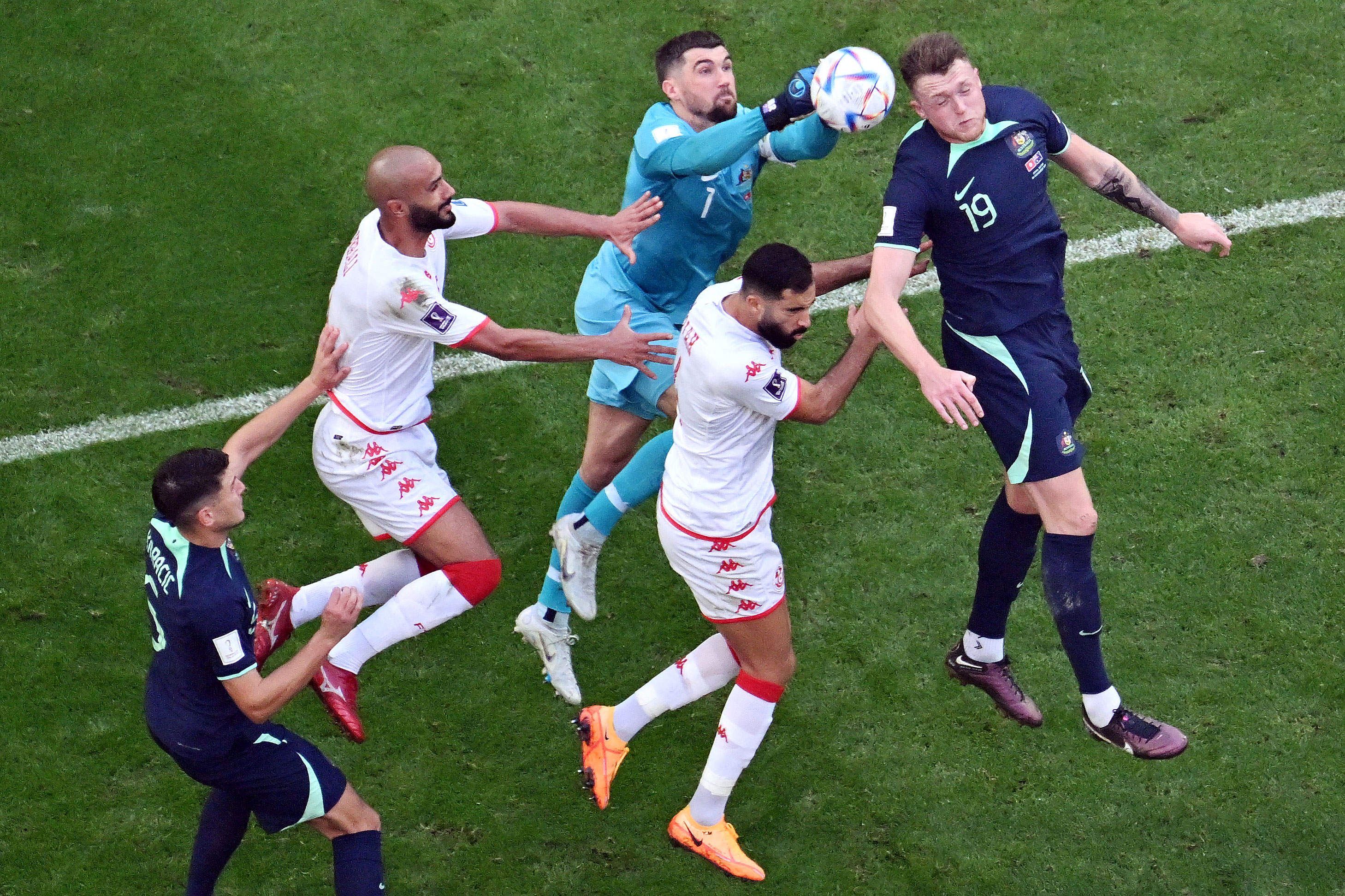 Australia's goalkeeper Mathew Ryan makes a save during Saturday's match. (Antonin Thuillier/AFP/Getty Images)
Australia began the stronger of the two teams, pinning Tunisia in its own half during the opening skirmishes, and the Socceroos took the early lead with an end-to-end goal.
They worked the ball up field, with Craig Goodwin finding space down the left wing and firing a cross into the box which, despite a deflection, found Duke. He leaped into the air to rocket the ball into the goal with a glancing header.
That slender 1-0 lead was all it took — Australia held on for its first win at the World Cup in more than a decade.
Australia's Mitchell Duke celebrates with teammates after scoring a goal against Tunisia on Saturday. (Robert Cianflone/Getty Images)
37 min ago
Neymar suffers ligament injury to right ankle and will miss next game
From CNN's Issy Ronald and Matias Grez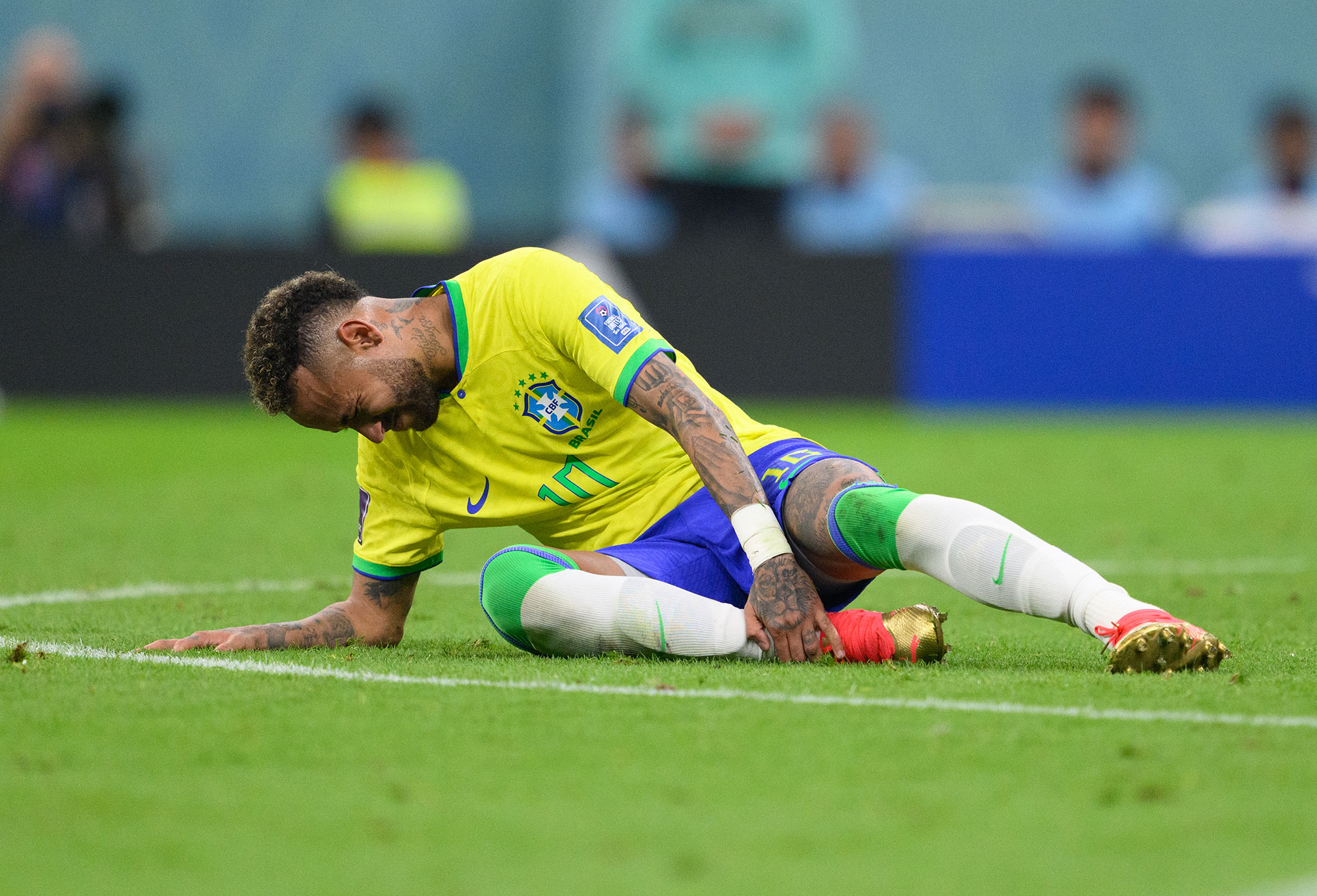 Brazil's Neymar holds his ankle after getting injured in a match against Serbia on Thursday, November 24. (Robert Michael/picture alliance/Getty Images)
Five-time World Cup champion Brazil will be without stars Neymar and Danilo for their next match due to injury, the team announced on Friday.
Brazilian team doctor Rodrigo Lasmar confirmed both players will miss the team's next match against Switzerland on Monday, but remained hopeful they would play again in the tournament.
"We thought it was important to do an image exam, an MRI so that we had more data on the evolution of the two players," Lasmar said.
"The scans showed a lateral ligament injury to Neymar's right ankle along with a small bone swelling. And a medial ligament injury to Danilo's left ankle," he said.
"Players remain in treatment. It is very important for us to be very calm, peaceful; this assessment will be carried out daily so that we have information and make the best decisions based on that," he said.
"We can already say that we will not have the two players for our next game, but they remain in treatment with our objective of trying to recover in time for this competition," Lasmar added.
Neymar sprained his right ankle in his side's opening World Cup match — a 2-0 win over Serbia — on Thursday.
Read more.