If you're cooking up plans to make meals in the near future, ensure you're prepared in the cookware department. As part of Woot!'s one-day deals, cast-iron chicken fryers from Cuisinart are down to their lowest prices ever in a few eye-catching hues.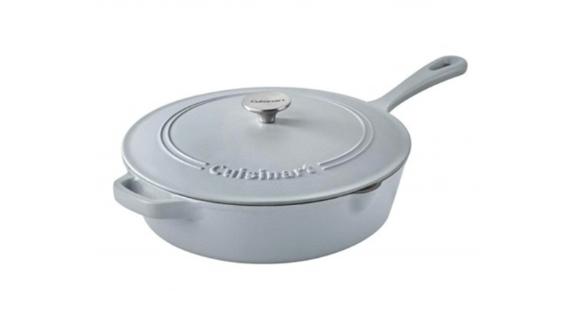 The iconic brand's 12-inch chicken fryer is up for grabs for $59.99 in gray, matte gray, snow white, mint, terracotta and teal. Looks aside, the pan's cast-iron construction ensures superior heat retention and even heat distribution for an ideal cooking surface, while the porcelain-enameled exterior provides durability — and looks pretty attractive, too.
The pan is highly versatile and suited for a variety of cooking methods, including stovetop, oven and broiler, so you'll find a way to incorporate it into your culinary pursuits no matter what's on your menu. Not to mention, it's dishwasher-safe for easy cleanup.
But don't forget: these prices are only available on Thursday or while supplies last, so don't let your preferred Cuisinart get eaten up. For more great deals, check out CNN Coupons.
Note: The prices above reflect the retailer's listed price at the time of publication.