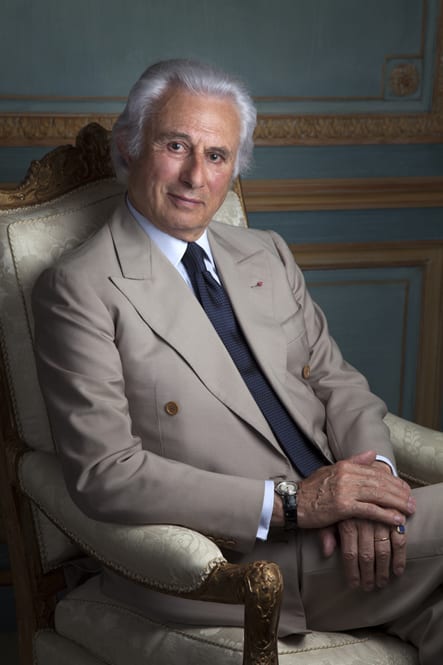 Monaco is typically associated with fast cars, luxury yachts and a famous Casino but in recent years, it's proving it has more to offer tourists than just a glimpse of the jetset lifestyle. Monaco is earning a place as a home to fine art.
The renowned French artist Thierry Bisch recently joined forces with Prince Albert II, to commemorate the 10th anniversary of the HSH's environmental foundation, FPA2, by creating 20 paintings of some of the world's most endangered species, which, from Wednesday June 29, will be featured for two weeks at the Opera Gallery in an exhibit called "Delete?"
A few days later, from July 2 to September 4, the greatly anticipated "Francis Bacon, Monaco and French Culture" exhibition, showing 60 works of the artist, including "Study of a Bull", will open at the Grimaldi Forum.
The same cultural centre at 10 avenue Princesse Grace at will also host the sixth edition of the European Art Fair Monaco, formerly known as PAM, or Point Art Monaco, from July 20-24, and under the High Patronage of HSH Prince Albert II.
EAF is the collective initiative of four prominent Monegasque galleries that make up the organising committee: Adriano Ribolzi Art Gallery, Maison d'Art, A. Pallesi Art Gallery and M.F. Toninelli Art Modern, and was launched in 2011 as an economic interest group GIE Point Art Monaco, successor of the Monaco Antique Biennial, founded in 1975.
As the new name reflects, EAF is an evolution of its former self. This year's edition includes the appointment of its new director, Mr Renaud Siegmann, an historian and art critic for over twenty years, who will help the fine art fair "promote the best of what humanity has created in the world of art, era notwithstanding". The 2016 fair showcases 30 international exhibitors, including the Yufuku Gallery from Japan, all underlining that the collection on offer of ancient or modern art, drawings or paintings, sculptures or jewellery, is as selective as it is prestigious, and "overseen by the largest international collectors and museums".
Members of EAF's Consultative Commission are amongst the world's leading old and modern art dealers, and while the founding four galleries are quick to share the credit of the success of this event held every summer, one name that is synonymous with fine art and Monaco is the first foreign galeriste, Mr Adriano Ribolzi.
Mr Ribolzi was born in Lugano, Switzerland, where his father ran a well-known decoration and antique business since 1920. In 1912 Mr Ribolzi senior went to Lyon, France, birthplace of fine fabrics, to study authentic French design but was forced to return to Switzerland in 1915 because of the war, and continued to develop his business there until his premature death in 1960. By that point, Adriano Ribolzi had finished his education at graduate school in his country of birth, and although he dreamt of being a sculptor or painter, he took over the family business. He found a successor to take care of the decoration trade while he expanded upon the 17th- and 18th-century French antique furniture and Master paintings.
His ambition was to open shop internationally and, in 1971, he wanted to test himself at the Florence Biennale – the international art fair that alternates annually with its sister show in Paris. Mr Ribolzi's exhibit covering the entire first floor of the Palais Strozzi was so triumphant that the City of Florence awarded him the Gold Medal; Le Figaro newspaper wrote on article about the visionary. He returned again in '73 and while he didn't win another gold… it was time to move to Monaco.
In 1974, he opened his gallery at 6 avenue des Beaux-Arts, specializing in 17th- to 19th-century French and continental furniture, with old Master Paintings, sculptures and works of art. "There may have been one other foreign dealer, but Monaco at the time was not the cultural place it is today," Mr Ribolzi told me from his gallery, where dozens of Warhols give life to the walls.
As luck would have it, shortly after opening, Sotheby's Auction House came to the Principality, followed by Christie's in 1975. Suddenly, Monaco was on the art map, attracting collectors in search of high quality pieces, which also led them to Gallery Ribolzi. That same year, he collaborated in the launch of the Monaco Antique Biennale.
In 1998, Mr. Ribolzi moved to avenue de l'Hermitage where you will find his two galleries today, at No 3 in a striking 17th-century setting with Louis XVI boiseries and, in contrast, the white wall gallery next door, by appointment only.
"I'm very grateful for the support of HSH Prince Albert II and HSH Princess Caroline," commented Mr. Ribolzi, both of whom attended a modern art exhibition of paintings and sculptures to mark the gallery's 35th anniversary in November 2009.
The art market has dramatically changed over the past four decades. The TEFAF Art Market Report 2016, put together annually by Dublin-based research and consulting firm Arts Economics, reported total sales in the global art market in 2015 at $63.8 billion (€56.9 billion), a 7% decrease from the previous year, although the US enjoyed a 4% jump in sales, while modern art "outperformed all other market sectors", achieving 30% of all works sold in 2015.
According to a Deloitte Art & Finance Report, "75 percent of art collectors and buyers are purchasing art for collecting purposes but with an investment view".
"I never sell art as an investment, even though I may think it," Mr Ribolzi commented. "It's the buyer who decides. I can guarantee the authenticity, but I cannot guarantee it will increase in value in ten or twenty years."
Mr. Ribolzi refers to Andy Warhol – a temporary exhibit of the pop artist's work in 2013 turned into a permanent home at Gallery Ribolzi – as an example of a piece of art that is worth more each year, even though 2017 will mark the 30th anniversary of his death.
There are serious art collectors in Monaco, Mr. Ribolzi confirmed, but they remain discreet. So what should a would-be collector consider when purchasing contemporary art? "It's a coup de coeur. You buy a piece of art to live with it and after the brain will follow. You need to compare though, to ensure that the price is correct."
The price. The world of art continues to explode with soaring price tags, like Sotheby's July 2015 Contemporary Art Evening Auction, which included Warhol's only hand-painted one-dollar bill painting (€28 million) and two newly found self-portraits by Francis Bacon. The event achieved a record €183.9 million, Sotheby's highest-ever total for a sale of Contemporary Art in Europe,
Yet the gentlemanly world of art dealing of which Mr. Ribolzi is an undebatable part, from his experience and knowledge in the field of fine and contemporary art to respecting the unspoken rules between gallerists and dealers, is morphing into something of an iPhone culture, instant gratification and short-lived pleasure to trade in for a flashier model.
A "new breed" of art advisors are rising up from Wall Street, say ex-hedge managers or investment bankers, who bring along their aggressive behaviour and analytical mentality. With low overheads and huge commissions, they are "advising" based on the potential for the seller, not the buyer, which can flood the market with certain artists. More concernedly, they have deals on the side or ask for broker's fees from both the client and the gallery.
Add in to the mix the new generation of collectors. As NPR reported in "For Many Art Dealers, 'Selling' Is A Dirty Word (But Not For Young Collectors)", Millennial and Generation X collectors are "far more interested in selling portions of their collection as they're building their own collection."
As Forbes estimates, a decade ago there were only ten art fairs worldwide, now there are over 60 competing for the eye of the collector. Yet Mr Ribolzi is rolling with the international punches, as evident with this year's edition of the European Art Fair Monaco. EAF is now a partner of the Grimaldi Forum and will share a joint ticket to the Francis Bacon exhibit. In addition, from July 5-25, Philippe Pastor, who represented the Monegasque Pavilion at the World Exhibition at "Expo Milano 2015", will be installing his monumental new sculpture "Burned Trees" (Arbres Brulés). Sixteen trees, each weighing one tonne, will line the Esplanade leading to the Grimaldi Forum and escort you to the entrance to EAF Monaco. By Nancy Heslin
EAF Monaco runs from July 20-24, 3pm to 9pm (10pm on Thursday). Joint tickets with the "Francis Bacon, Monaco and French Culture" exhibition are €16. Book tickets online at eafmonaco.com.
Article first published July 16, 2016.